Crispy fried falafel makes eating salad fun! Try it in this falafel kale salad with tomatoes, cucumbers, pita chips, and hummus dressing – you won't be disappointed.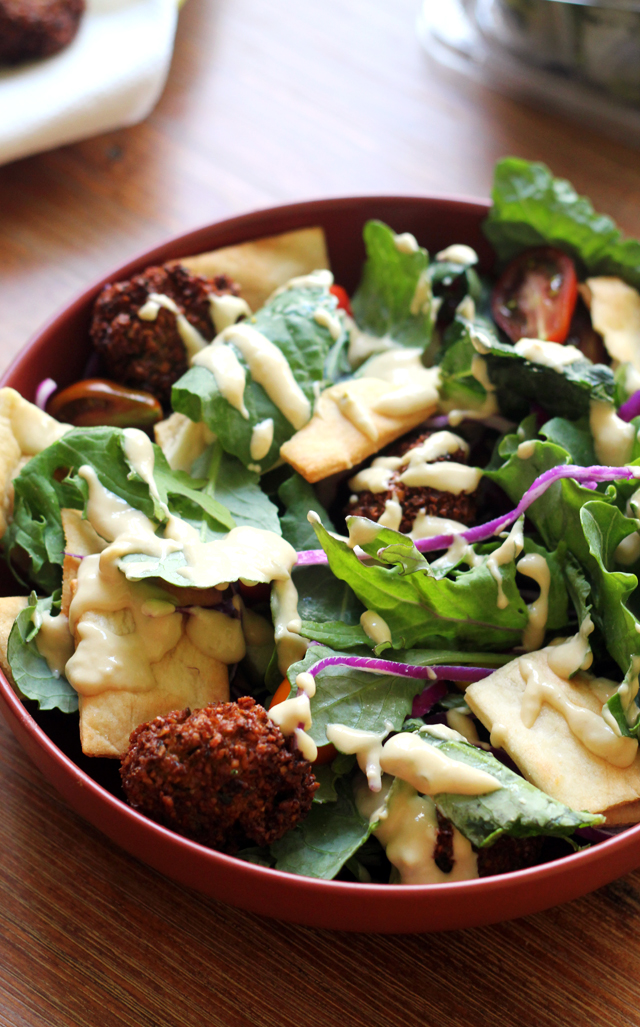 FAVORITE. SALAD. STATUS.
And I really don't let just any old pile of leafy greens into my inner salad circle.
So…you know I mean business.
Faaalllaaffeeelll!!! On a bed of BABY KALE. So, healthful. Does it get any better?
Lest you think I came up with this sort of genius all on my lonesome – uh, no. All credit goes to a local salad-based chain restaurant near where I work that beckoned me in with their dazzling promises of a healthy quick lunch and hooked me with their chickpea fritter prowess.
So basic! So brilliant!
So. Yum.
I'm pretty sure after that first falafel salad, I swore to myself that I would eat there at least on a daily basis, but apparently spending ten dollars a day on salad adds up? Or so my credit card statement said. (Oops.)
So, of course, I had to recreate it at home.
With legit fried falafel and my favorite hummus-based dressing. Natch.
YES I'm telling you to stand in front of a vat of hot oil and drop tiny chickpea balls into it…but it is easy and it is worth it. I pinky swear. The falafel cook pretty quickly and don't splatter or try to attack you in any other sort of inappropriate way (<– fried cheese, I'm looking at you), so the whole ordeal is over before you know it.
And then you get to eat falafel tossed into your salad greens when it's over with all sorts of summer freshness, like cherry tomatoes, cucumbers, cabbage and onions.
A handful of pita chips and a hummus dressing drizzle on top, and I daresay we have ourselves a salad party plate….
…all without having to leave the house. #Winning.
Falafel Kale Salad with Hummus Dressing
Crispy fried falafel makes eating salad fun! Try it in this falafel kale salad with tomatoes, cucumbers, pita chips, and hummus dressing - you won't be disappointed.
Ingredients
For the falafel
1 cup dried chickpeas, soaked overnight in cold water and drained
½ medium red onion, diced
3 large garlic cloves, coarsely chopped
1 tbsp all purpose flour
2 tsp ground cumin
pinch of cayenne pepper
1 tsp kosher salt
¼ cup packed fresh cilantro leaves
¼ cup packed fresh flat parsley leaves
5 cups oil for frying
For the dressing
10 oz hummus
½ cup olive oil
3 tbsp white wine vinegar
1 tbsp sesame oil
For the salad
5 oz baby kale
1 cucumber, seeded and cut into ½-inch dice
1 pint cherry tomatoes
½ red onion, diced
2 cups sliced red cabbage
pita chips
Instructions
To make the falafel, allow the chickpeas to soak in water overnight, at least 8-12 hours.
The next day, drain the chickpeas well. Place in a food processor, along with the red onion, garlic, flour, cumin, cayenne pepper, salt, cilantro, and parsley. Pulse until it just begins to come together. Place in the refrigerator, covered with plastic wrap, and refrigerate for one hour.
Pour the oil into a large, deep pot or skillet. Place over medium-heat. Set a paper towel-lined plate aside. Once the oil is hot, shape the falafel mixture into 1-inch round balls. Carefully place the falafel into the hot oil, making sure not to crowd the pan. Fry for 2-3 minutes, flipping constantly, until browned on all sides. Transfer to the paper towel-lined plate. Repeat until all of the falafel mix is used up.
For the dressing, whisk together the hummus, olive oil, vinegar, and sesame oil.
In a large bowl, toss together the kale, cucumber, cherry tomatoes, onion, and cabbage. Divide among serving bowls. Top with the falafel and a handful of pita chips.
More fun ways to eat salad: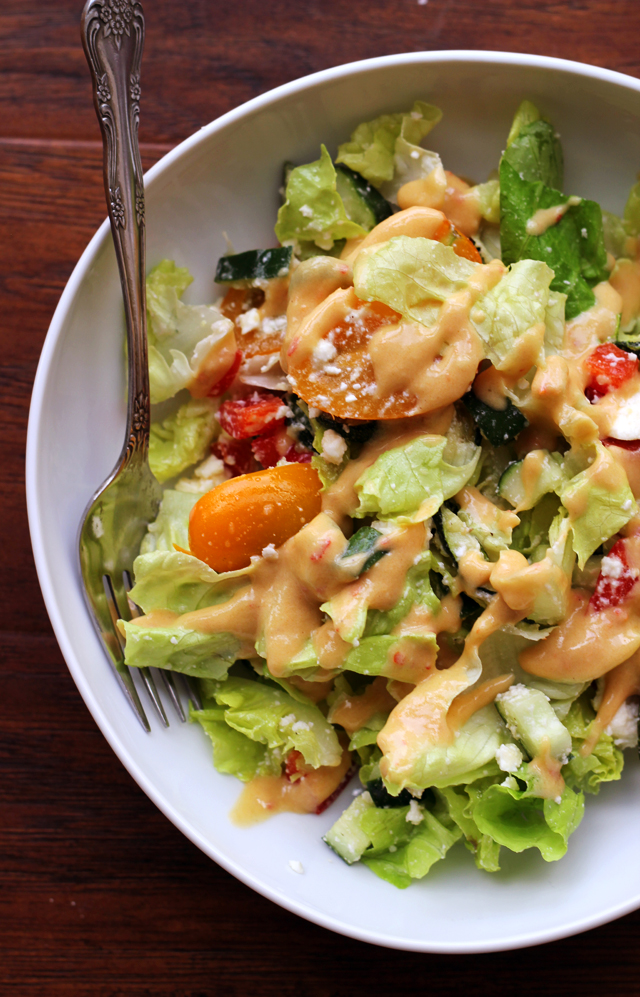 Greek Salad with Hummus Dressing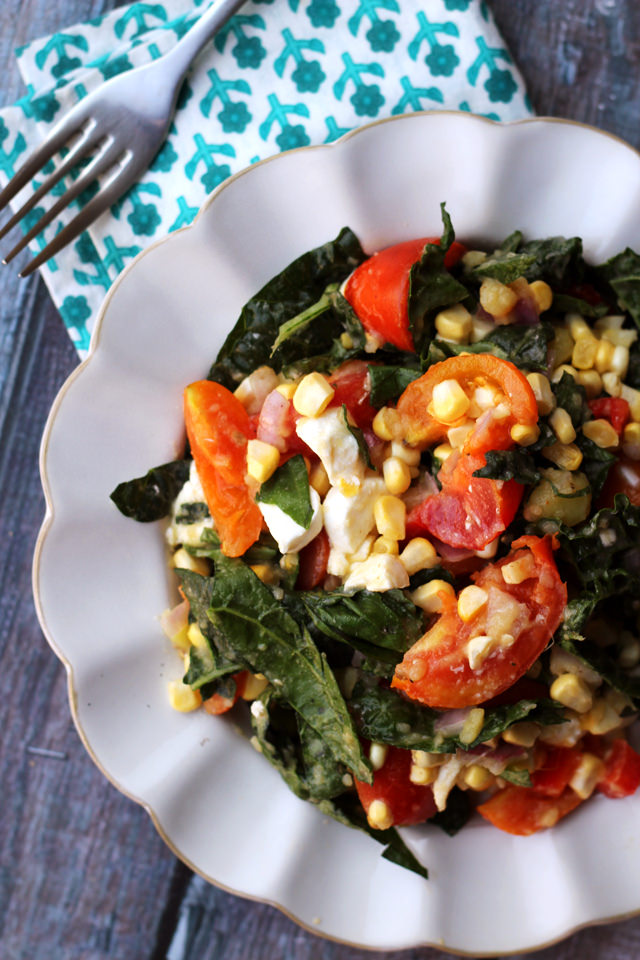 Golden Corn Salad with Tomatoes, Mozzarella, and Fresh Basil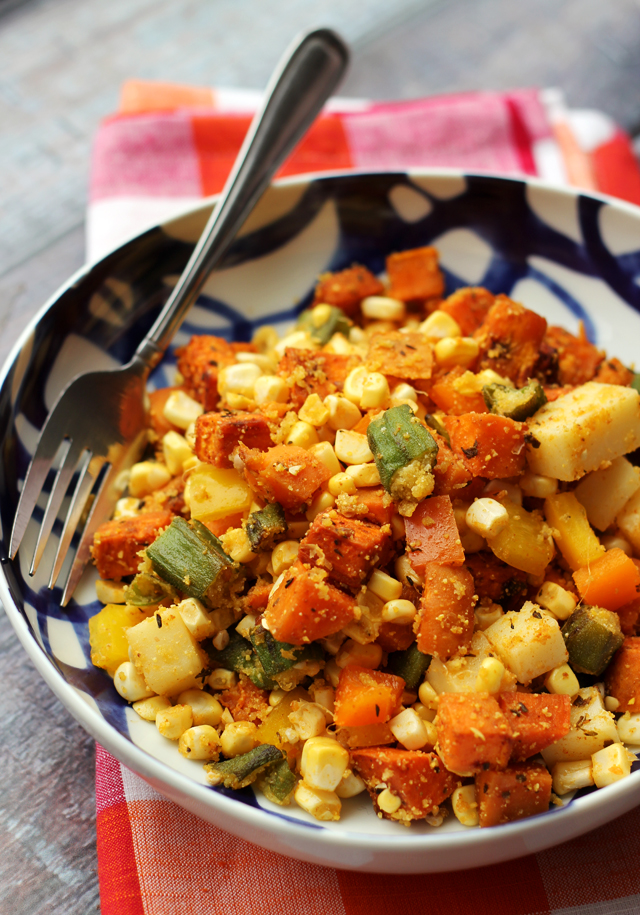 Cajun Sweet Potato Salad with Cornmeal-Crusted Okra, Corn, and Bell Peppers
From Around the Web:
Marinated Zucchini Feta Salad with Toasted Pistachio Breadcrumbs from How Sweet Eats
Zucchini Watermelon and Feta Salad from Hip Foodie Mom
Fig and Fried Goat Cheese Salad with Nectarine Vinaigrette from The View From Great Island
Peach Feta Salad with Peach Vinaigrette from Nutmeg Nanny
Roasted Red Onions with Walnut Salsa and Feta Salad from Ciao Chow Bambina