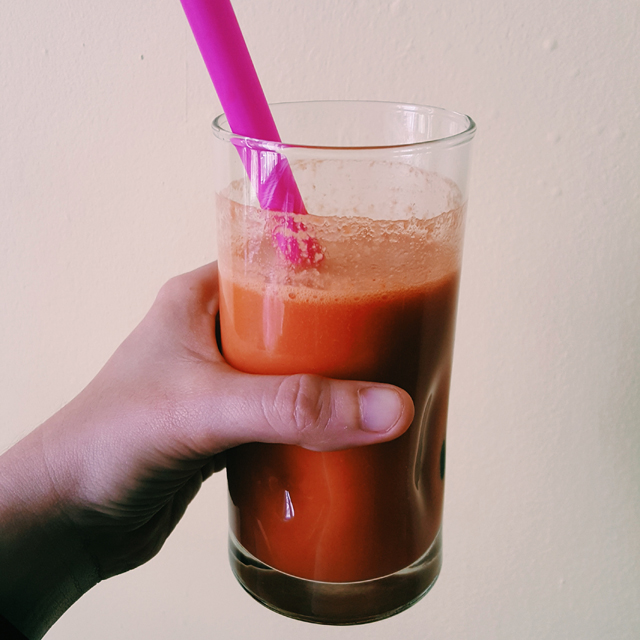 1. Does it make me more or less basic to (a) post a photo of a not-green green smoothie…
2. …or (b) admit that I really like both green and not-green green smoothies? Either way, I'm okay with it.
3. Also, I'm sure this makes me INCREDIBLY old, but when did the word "basic" become a thing!? I feel like this happened overnight. Or while I was in med school. Or living under a rock. (Same thing.)
4. I really do want to talk about the smoothies, though. So, as I mentioned two weeks ago, I signed the.boy and I up for Green Blender. Basically it's a smoothie delivery service. They deliver ingredients for 5 2-serving smoothies and the recipes for them straight to your door…and then you make them! Easy. We have spent the past week smoothie-ing every morning, and I have to say…we are really loving it. Now, that's not to say we LOVED every Green Blender smoothie. The one shown above, for instance, was filled with raspberries, an orange, a red bell pepper, and flaxseed…and it was a little funky. I think that one was the turning point, though, because after that every one we made was on point. I think I've also gotten pretty good at adding in random fruit to make them a bit sweeter and more palatable to the less vegetable-minded member of my household. We are doing it again this week, and then after that I think we'll try for every other week, just because it's a little expensive. During the off weeks, we'll still keep smoothie-ing, though! I'll just remake some of the recipes we loved from the week before.
5. All of that to say…even if you don't think you'll like green smoothies…TRY THEM. I feel so good knowing that I'm getting so many nutrients into my body at a time and if you add enough fruit, they really taste pretty super. Follow me on Instagram if you're interested in keeping up with my smoothie adventures (and seeing what I'm throwing in my blender). Also, none of this was sponsored. Just part of my real life!
6. What is with all of the celebrity couple break-ups lately?! Will and Jada really just broke my heart.
7. This ice cream HAS TO HAPPEN. And this one. And this one.
8. Is anyone else SO excited to listen to Donald Trump at the debate on Thursday? No matter your political affiliation, I think we can all agree that this will be hysterical.
9. CSA goodies this week! There were so many. Including: purple peppers, white cucumbers, swiss chard, and MORE EGGPLANT. I've already thrown the peppers into a veggie ragout, but I need some help with the cukes. Thoughts?