Iceberg lettuce, be gone! Caesar salad gets a nutritional boost in this kale and brussels sprout Caesar salad with parmesan toasts.
Disclosure: This post was sponsored by Pompeian. As always, my thoughts and opinions are my own. Thank you for supporting the brands that keep me inspired in the kitchen.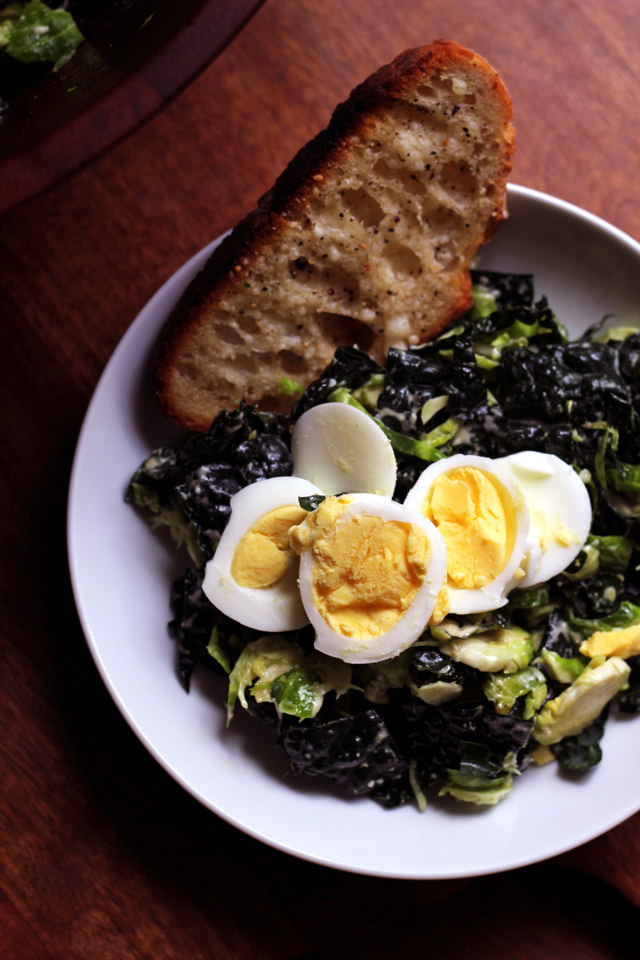 Confession: I used to be a dieting self-help junkie.
I could tell you every rule in every "how to lose 10 pounds in 10 days" guide (interestingly, they are quite similar to those found in the "how to lose a guy in 10 days" manuals, given that you will be so bitchy after the 10 days that any guy you once had, shall be no more), every "eat this, not that" recommendation, every tip and trick for how to eat at restaurants and still lose weight.
And if there is one cardinal rule/take-home message from all of these, it is this: DON'T EAT THE CAESAR.
And with good reason!
The Caesar salad is typically the most nutritionally devoid salad on the menu. It's usually made with romaine, which I think is useless (and fairly flavorless) as far as leafy greens go, and a thick, gloopy, creamy tangy dressing that is a caloric nightmare. I mean, I know I've had bad dreams about it.
If we're being honest, the only thing it really has going for it is the croutons and unless you're frequenting a really good restaurant, even those are pretty lackluster.
Recently, the.boy and I were dining at a local neighborhood establishment that I'm obsessed with when I spotted their version of a Caesar salad on the menu, and all of a sudden, I realized just what the Caesar needed to be elevated from it's current "DANGER ZONE" status.
An upgrade.
And a pretty serious one.
Out went the romaine, along with it's dressing sidekick that I not so affectionately call "gloop", and in trotted in kale, brussels sprouts, and a Greek yogurt-based Caesar dressing that won't have you falling into a food coma or gripping your chest with impending coronary artery disease after eating.
Oh, and I supersized the croutons.
You can thank me later.
But first, get in the kitchen and get this into your life.
We're in this wedding diet thing together.
One kale and brussels sprout Caesar salad at a time.
Rather than soak the parmesan toasts in olive oil before roasting them, I chose to lower their caloric load by instead spraying them with one of Pompeian's new oil sprays! The line includes Coconut Oil Spray, OlivExtra Original Spray, and Avocado Oil Spray. Specifically, I used the avocado oil spray which has no propellants added to it and is made from 100% avocado oil. This is a high-heat oil so it's great for baking, roasting, stir frying, searing, BBQ-ing or broiling. It has a fairly mild flavor and I loved how it melded with the parmesan in the toasts, without adding extra unneeded calories. A total win/win, if you ask me!
Kale and Brussels Sprout Caesar Salad with Parmesan Toasts
Iceberg lettuce, be gone! Caesar salad gets a nutritional boost in this kale and brussels sprout Caesar salad with parmesan toasts.
Ingredients
For the dressing
4 cloves garlic
3 tbsp 2% Greek yogurt
2 tbsp grated parmesan cheese
1 tbsp dijon mustard
2 tsp red wine vinegar
¼ tsp salt
¼ tsp black pepper
juice of ½ lemon
½ cup olive oil
For the salad
1 bunch lacinato kale, leaves thinly sliced
1 lb brussels sprouts, shredded
1 tbsp olive oil
pinch of salt
4 hard-boiled eggs
For the parmesan toasts
8 slices ciabatta
avocado or olive oil cooking spray
4 tbsp grated parmesan cheese
Instructions
For the dressing, combine the garlic, Greek yogurt, parmesan cheese, mustard, red wine vinegar, salt, black pepper, and lemon juice in the bowl of a food processor. Process until smooth. Slowly add the olive oil with the processor still running until it is combined and forms a creamy dressing. Set aside.
In a large bowl, combine the kale and the brussels sprouts. Add the olive oil and a pinch of salt. Massage the salad until the kale shrinks in volume by about a half. Toss with the dressing.
For the parmesan toasts, preheat oven to 350F. Arrange the bread slices on a baking pan. Spray the tops with avocado oil or olive oil spray. Sprinkle with the parmesan cheese. Bake in the oven for 5-10 minutes, until cheese is melted and starting to brown.
Serve the salads topped with a hard-boiled egg and 2 parmesan toasts per salad.
Nutrition Information
Serving size:
¼ of recipe
Looking for more kale salad inspiration? Check out these: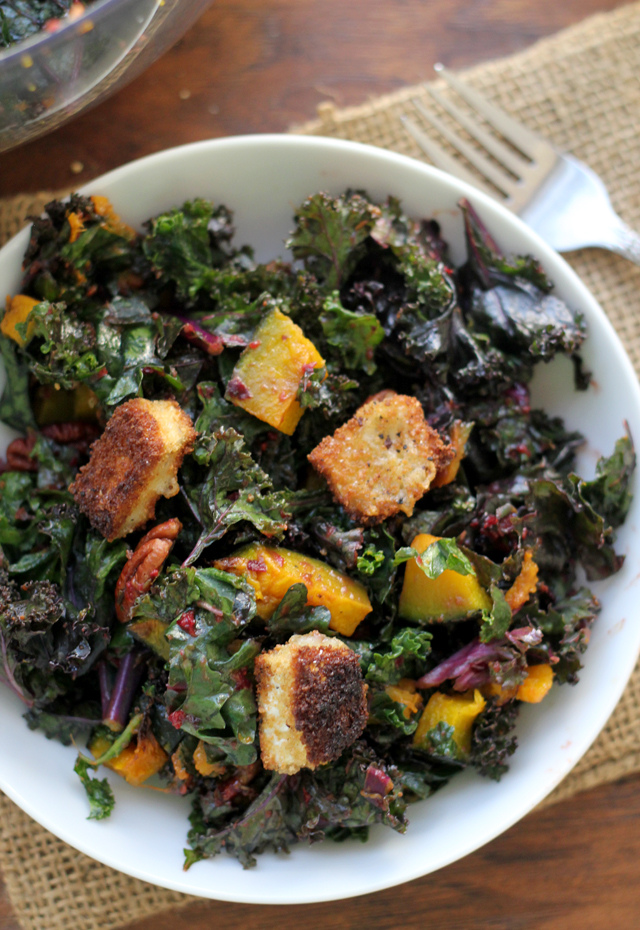 Kale Salad with Brie Croutons, Roasted Butternut Squash, Cumin-Spiced Pecans and Cranberry Vinaigrette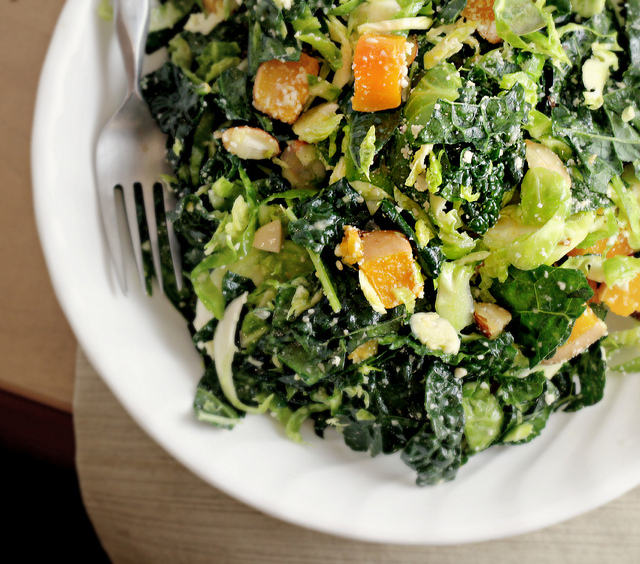 Kale and Brussels Sprout Salad with Almonds and Butternut Squash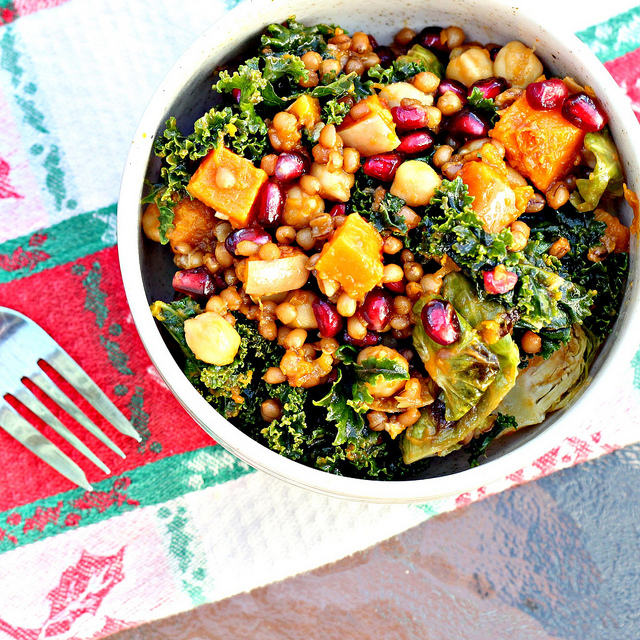 Garlic-Roasted Butternut Squash and Kale Wheatberry Salad with Pomegranate
From Around the Web:
Apple and Pomegranate Quinoa and Kale Salad from Closet Cooking
Kale Salad with Feta, Garlic Panko Crumbs, and Fried Poached Egg from Jeanette's Healthy Living
Detox Kale Salad from Food Fanatic
Feta Fiesta Kale Salad with Avocado and Crispy Tortilla Strips from Cookie + Kate
Kale and Roasted Red Kuri Squash Salad from A House in the Hills