Thank you to Whole Foods Market and Kitchen PLAY for sponsoring this post. This kale salad makes for the perfect Thanksgiving side dish with its mix-ins of roasted squash, cumin-spiced pecans, brie croutons, and cranberry vinaigrette.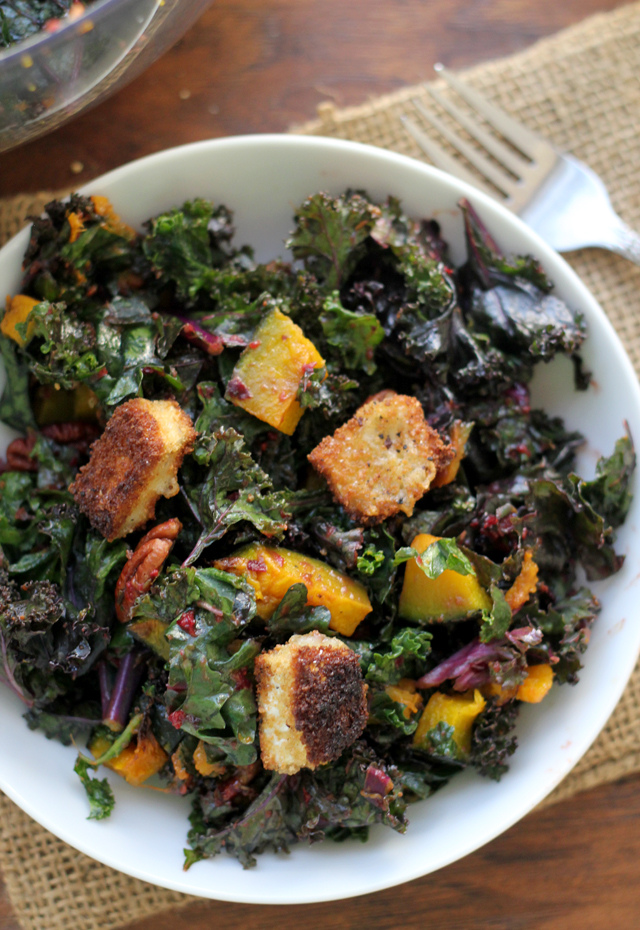 Kale salads are kind of my Thanksgiving jam.
They might not be as ooey gooey as the mallow-covered sweet tater casserole, as sweet and tangy as whole berry cranberry sauce, as creamy cheesy as a string bean gratin, or as flashy as a triple chocolate pumpkin apple salted caramel pie.
But they can hit the holiday spot just the same.
I've done a few variations on the kale salad in my day so I like to think that with all my "experimentation" I've developed a kind of method to the massaged greens madness.
And with kale, which can seem a little bit bitter and, uh, vegetal, to the untrained palate, you have to do as much as you can to offset it with a little bit of sweet and tangy if you want it to have mass appeal.
My favorite way to do that is with roasted winter squash, some sweet-smoky spiced nuts and a berry vinaigrette.
Oh, and cheese. There is no better way to win taste buds over than with a little bit of fried cheese.
It may seem like a lot of components  for just one salad, but they come together quickly and are completely worth it when you get all of them together in one bite.
No one wants to have to go running around to multiple stores when shopping for the "big day", but luckily, Whole Foods is your one-stop shop for all of things Thanksgiving. They have all the fresh, high quality ingredients you could ever wish for, a great e-store for all of your catering and online ordering needs, and a super useful Holiday Guide to help steer you in the right direction.
In my opinion, that is straight towards the kale, winter squash, and/or the cheese counter (Bonhomme French brie = the new love of my life)….
…but, then again, I've tasted this salad. And am thus quite, quite biased.
In case you're still feeling a bit overwhelmed by this whole holiday cooking thing, AND would like to have a chance at winning one of TEN $50 Whole Foods Gift Cards, join us for a Twitter party next Tuesday, November 12th, at 7PM EST. Mark it down in your calendars and click here for more details!
Disclosure: Though I was compensated for this post, my thoughts and opinions, as always, are 100% my own!
One year ago…Hasselback Sweet Potato Crumbles, Coconut Semolina Cake
Two years ago…Pasta with Sage-Walnut Pesto, Winter Squash and Brussels Sprouts, Curried Root Vegetable Stew with Dumplings
Three years ago…Braised Short Ribs with Pickled Green Tomatoes and Polenta with Blue Cheese and Garlicky Chard, Carrot, Dill and White Bean Salad
Four years ago…Stuffed Kabocha Squash with Raisins, Apples and Cheese
Kale Salad with Brie Croutons, Roasted Winter Squash, Cumin-Spiced Pecans and a Cranberry Vinaigrette
This kale salad makes for the perfect Thanksgiving side dish with it's mix-ins of roasted squash, cumin-spiced pecans, brie croutons, and cranberry vinaigrette.
Ingredients
For the roasted squash
1 kabocha squash, seeded and cut into 1-inch dice
2 tbsp olive oil
salt and black pepper, to taste
For the kale
1 lb kale leaves, chopped
3 tbsp lemon juice
pinch of salt
For the cumin-spiced pecans
1 cup whole pecans
2 tbsp confectioner's sugar
2 tsp cumin seeds
2 tbsp water
pinch of salt
For the brie croutons
6 oz brie, cut into ½-inch cubes and chilled
1 cup whole wheat bread crumbs
1 egg, beaten
olive oil, for frying
For the cranberry vinaigrette
½ cup fresh or frozen cranberries, thawed
1 tsp honey mustard
2 tbsp balsamic vinegar
1 tsp sugar
¼ cup olive oil
salt, to taste
Instructions
Preheat the oven to 400F.
Toss the squash chunks with the olive oil, salt and pepper. Roast on a parchment-lined baking sheet for 30 minutes, or until tender. Let cool to room temperature.
Put the chopped kale in a large bowl. Sprinkle with the lemon juice and salt. Massage for about 3 minutes or until kale has reduced in volume by half. Set aside.
In a small bowl, toss the pecans with the confectioner's sugar, cumin seeds, water, and salt. Spread out on a parchment-lined baking sheet and bake for 5 minutes. Set aside to cool.
To make the brie croutons, spread the bread crumbs out on a shallow plate and put the beaten egg in a small bowl. Coat the brie pieces with the egg and then dredge in the bread crumbs.
Heat a nonstick skillet over medium-high heat. Add enough olive oil to coat the bottom of it and heat until shimmering. Add the brie croutons to the pan and cook for 20-30 second per side, or until bread crumbs are toasted and crispy and cheese is starting to melt. Remove to a paper towel-lined plate and repeat with remaining brie croutons.
For the vinagirette, puree the cranberries, honey mustard, balsamic vinegar, and sugar in a food processor or blender. Add in the olive oil and salt to taste.
Toss the kale, roasted squash, pecans, brie croutons, and vinaigrette in a large bowl. Serve.
Notes
An Eats Well With Others Original
Nutrition Information
Serving size:
1 small bowl