Buttery, flaky biscuits are made lighter with a dose of Greek yogurt and are served with a hearty creamy healthy cornmeal swiss chard soup!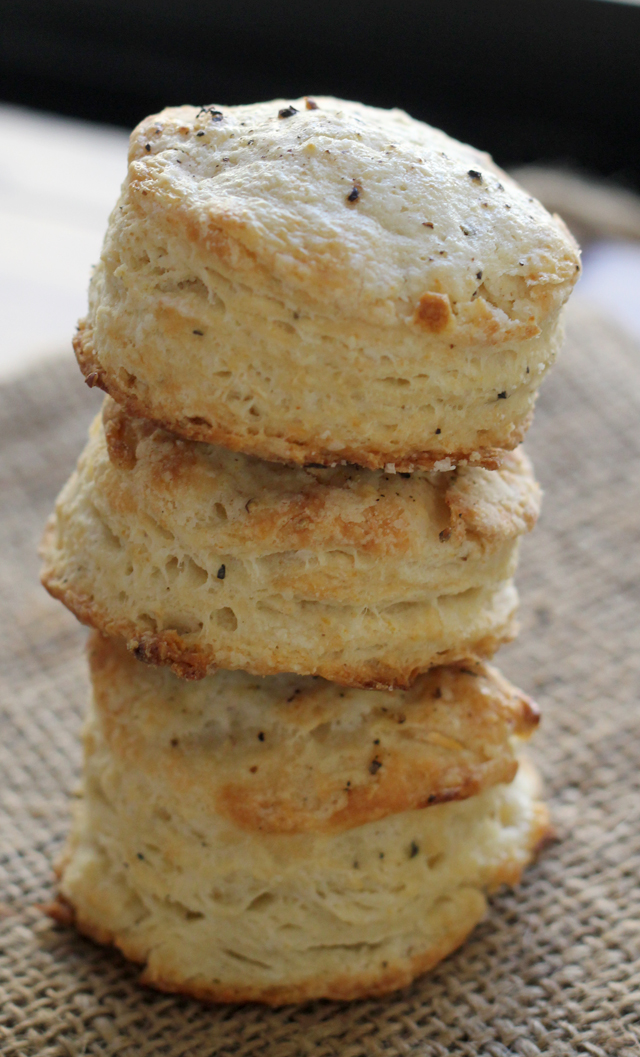 They say the way to a man's heart is through food.
And most certainly the way to reaffirm his decision to propose marriage to you. Is through biscuits.
So let's all settle in with a warm bowl of soup in our laps and a flaky buttery peppery biscuit (or three) in our bellies. And let me tell you the tale of a boy and a girl and a very very sparkly ring.
If you had asked me a few weeks ago whether the.boy would propose on marathon day, I would have told you that the chances were high but absolutely nothing was certain.
Mostly because he wouldn't tell me a single thing or give me a single hint and proceeded to giggle nonstop anytime I asked him anything.
And so I pestered and pestered and pestered him about it nonstop the week before the race in the hopes that he would let even a glimmer of his top secret intel slip, until Friday night when, in an attempt to throw me entirely off track, he told me he wasn't ready to get married. For at least another year. And while I was angry and upset and annoyed, I accepted it and put it out of my head.
Fast forward a day or so to Sunday. 3:45PM(-ish).
The.Boy and I have just exited Central Park and are (slowly) (and shiveringly) making our way to the Family Reunion Area to meet our families. Somehow they ended up being on the wrong side of the street and I just remember being so annoyed that we had to walk an extra few feet on our largely nonfunctional legs. The.Boy's mom was taking five million pictures of us (as she is wont to do) and I was highly preoccupied with being cold and achy so I stopped paying attention to what The.Boy was doing.
And then all of a sudden he was down on one knee.
Crying, he said, "Joanne. We just ran a marathon together. And now I want to run the marathon of life together. Will you marry me?"
And I said yes.
And then we proceeded to make out in front of both of our families, our best friends and many many strangers. It happens.
The.Boy's dad popped open a bottle of champagne and sprayed it all over us while I, with my endless thirst for knowledge, attempted to interrogate our friends and family on how long they had known, when they had found out, and how they had managed to keep it from me.
Apparently the.boy had gone to my mom's house after work last Monday in secret and asked her for her permission to marry me. For the record, I had thought it was highly suspicious that she had only called me twelve times instead of her usual thirty-three last week. But I'm not one to look a gift horse in the mouth.
We took about six trillion more pictures and then headed back over to our apartment on the east side.
Showered. Went out to dinner. Celebrated. And collapsed.
And in the end, it really couldn't have been a more perfect day.
So now you'll get to hear all about the trials and tribulations of WEDDING PLANNING!! Lucky you. We are currently thinking that we want a November wedding. Mostly so that I can force a catering company to construct an entire menu out of winter squash. Muahahahaha.
Speaking of winter squash. These biscuits? Thanksgiving? Meant to be. Do it.
Salt-and-Pepper Biscuits
Greek yogurt is the perfect way to lighten up these biscuits without skimping out on any of that signature buttery delicious flavor!
Ingredients
¾ cup nonfat Greek yogurt
4 tbsp heavy cream, divided
1 tbsp baking powder
1 tsp kosher salt
1 tsp sugar
½ tsp coarsely ground black pepper, plus more for spinkling
2 cups all purpose flour
6 tbsp chilled unsalted butter, cut into small pieces
flaky sea salt
Instructions
Preheat oven to 425. In a small bowl, whisk together the Greek yogurt and 3 tbsp of the heavy cream. Set aside.
In the bowl of a food processor, combine the baking powder, salt, sugar, black pepper, and flour. Pulse together until combined.
Add the chilled butter to the bowl and pulse until the butter is broken down into pea-sized chunks. Transfer the mixture to a large bowl and gently stir in the yogurt/cream mixture. Knead until it turns into a ragged dough. Roll out the dough on a lightly floured work surface until it is about ¾"-inch thick. Using a biscuit cutter, cut out the biscuits, re-rolling the scraps as needed.
Place the biscuits on a parchment-lined baking sheet and brush with the remaining heavy cream. Sprinkle with sea salt and black pepper. Bake until golden brown on the tops and bottoms, about 15-20 minutes. Serve warm
Notes
Adapted from
Bon Appetit
Rustic Cornmeal Swiss Chard Soup
A thick, creamy polenta soup with a serious dose of swiss chard nutrition.
Ingredients
6 cups vegetable broth
¾ cup polenta
3 tbsp flour
3 tbsp butter
2 garlic cloves, minced
salt, to taste
1 large bunch swiss chard, destemmed and torn into strips
Instructions
Bring the vegetable broth to a simmer over medium heat.
Whisk the polenta and flour together on a large, heavy pot. Stir in one cup of hot broth, whisking until smooth. Stir in the butter and garlic, along with a pinch of salt.
Gradually add in the remaining broth by the cupful. Bring to a boil and then lower to a simmer, stirring, until the polenta is tender and thickened. Stir in the swiss chard and simmer until wilted. Season to taste with salt and black pepper.
Notes
Adapted from
Bon Appetit
Nutrition Information
Serving size:
¼ of recipe