The best night of the week is pizza night! This corn, zucchini, and candied jalapeno pizza is both fun and delicious, keeping the good times rolling.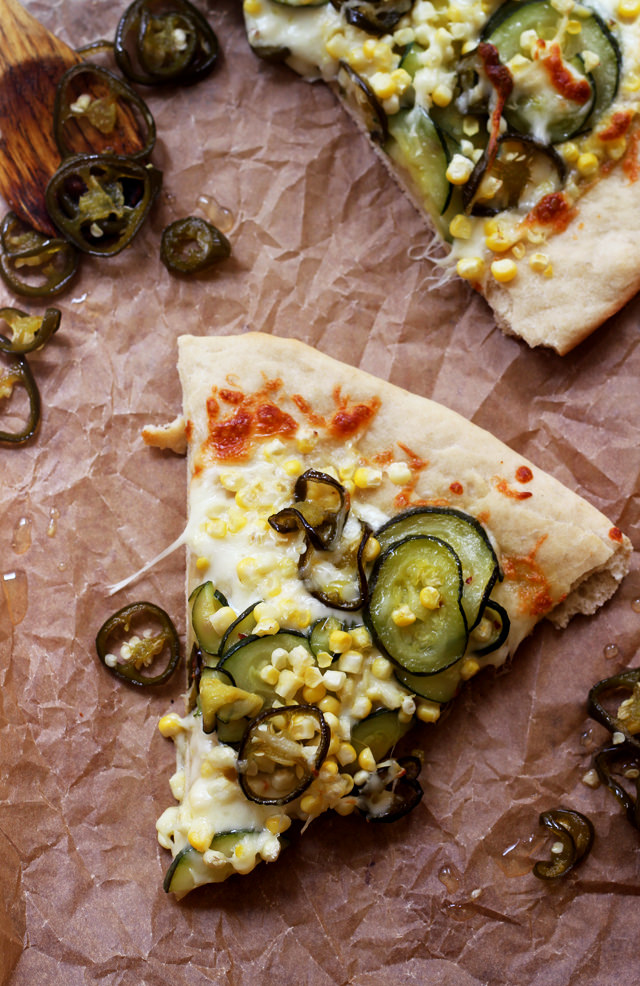 The best reward for good weekend behavior?!?!?
Some Monday Pizza Action. Fact.
For instance, this weekend I:
(a) worked out two days in a row
(b) didn't eat an entire pint of ice cream by myself (Half? Three quarters? There's only one spoonful left in the container? Who's counting?!)
(c) went to lab on Sunday to work on my thesis
(d) only did minimal complaining about having to go to lab on Sunday to work on my thesis
(e) actually worked on my thesis (!!)
And I'm sure there's something I'm forgetting about, given that I was such a fount of model citizenship over the past few days. I almost feel like I earned two of these.
Just don't ask my husband about how I tricked him into cleaning the stovetop and doing the laundry and killing all the fruit flies for me and/or how I accidentally (on purpose) made this pizza too spicy for him so I would have to eat it all myself.
Mmkay?
If you're a spice fiend like I am, then there is everything to love about this pizza! And even if you're not, well, the good thing is that you control how many candied jalapenos you top it with, so you can moderate to taste.
The corn and summer squash are pretty much a celebration of summer, and I am just obsessed with the sweet spice that the candied jalapenos add, especially when paired with layers of melty mozzarella. I'm not saying I'll be topping everything I eat for the rest of the summer with them…but I'm not saying I won't either. Prepare yourself.
I've been making pizza the same way for ages, but one thing I've changed up recently is to spray my pizza pan with Pompeian's Grapeseed Oil Spray instead of olive oil before baking. It's much better for cooking in high heat, and when you're cranking your oven up as hot as it goes, which you should always do when making pizza, you definitely want to use something with a higher smoke point. Grapeseed oil spray in particular is my go-to because it has similar health benefits to oil olive and a delicate, fairly neutral taste. Bonus that the Pompeian Cooking Spray in particular has absolutely no propellants or weirdo artificial additives, so you don't have to worry about your oil being mixed with chemicals. Love that.
You can do all kinds of high heat cooking with it, like frying, sauteing, stir frying, and grilling. Or you can just make pizza with it day in and day out.
No one would blame you.
Corn, Zucchini, and Candied Jalapeno Pizza
The best night of the week is pizza night! This corn, zucchini, and candied jalapeno pizza is both fun and delicious, keeping the good times rolling.
Ingredients
For the pizza crust
1 tbsp active dry yeast
pinch of sugar
1 cup lukewarm water, divided
3 cups bread flour
2 tsp sea salt
2 tbsp olive oil
For the pizza
2 tbsp olive oil
2 zucchini, very thinly sliced
pinch of red pepper flakes
salt and black pepper, to taste
2 ears corn kernels
½ cup sugar
4 tbsp honey
1 cup apple cider vinegar
pinch of salt
6 jalapenos, sliced
grapeseed oil all-natural cooking spray, for greasing the pan
8 oz mozzarella, grated
Instructions
In a small bowl, combine the yeast with a pinch of sugar and ¼ cup lukewarm water, stirring to combine. Let sit for 5 minutes. If it becomes foamy, then the yeast is alive and raring to go! If not, then the yeast is probably dead or too old and your dough won't rise, so go buy more.
In the bowl of a stand mixer fitted with the bread hook attachment, combine the flour, yeast/water mixture, remaining ¾ cup water, olive oil, and salt. Stir on medium speed until dough comes together. Stir on medium-high speed for five minutes. Cover the bowl with plastic wrap and let rise in a warm place until doubled in size, about 2 hours.
Meanwhile, prep the topping. Heat the olive oil in a large skillet over medium-high heat. Saute the zucchini in the olive oil for 4-5 minutes, or until tender and just starting to brown. Season to taste with red pepper flakes, salt, and black pepper.
To make the candied jalapenos, bring the sugar, honey, apple cider vinegar, and salt to a simmer in a medium pot, stirring to dissolve the sugar. Add the jalapeno slices to the pot and let simmer for 1-2 minutes. Remove from the heat and let cool.
Heat oven to 500F.
Spray a 12-inch pizza pan with Grapeseed Oil cooking spray. When the dough has risen, spread it over the prepared pan.
Sprinkle ¾ of the cheese over the pizza dough, leaving a 1-inch edge all around for the crust. Top with the zucchini, corn, and candied jalapenos. Sprinkle with the remaining cheese.
Bake for 8-10 minutes, or until the cheese is melted and the bottom starts to brown. Let cool for 5-10 minutes before cutting and serving.
Notes
An Eats Well With Others Original
Disclosure: This post was sponsored by Pompeian. As always, my thoughts and opinions are my own. Thank you for supporting the brands that keep me inspired in the kitchen.