This roasted jalapeno ranch potato salad has a spicy kick that's cooled down by a Greek yogurt ranch dressing.
This is a sponsored post written by me on behalf of Hidden Valley Ranch. All opinions are 100% mine.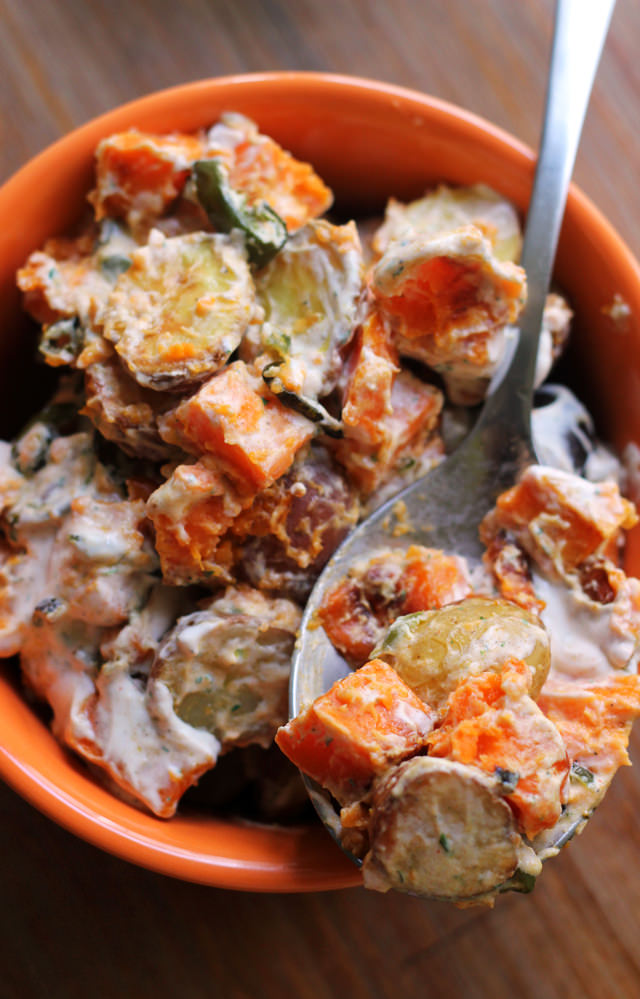 Some like it HOOTTTT.
And some like it cool and refreshing because HUMIDITY. It's no joke.
Personally, I like it both. Which is why I have a bone to pick with 90% of potato salads out there.
Sure, they're served chilled with a creamy dressing that takes the edge off when it feels like you're in a hot yoga studio every time you leave your apartment.
BUT. My taste buds refuse to do jumping jacks for a one-note flavor like that.
If you want something done right, you can't just sit around and wait for someone to bring the perfect potato salad to your summer BBQ.
You have to make it yourself!! Preferably with roasted jalapenos, roasted white, blue, and sweet potatoes, and a Greek yogurt ranch dressing that will knock your socks off.
Especially since it's too hot for socks, anyway. Just saying.
This potato salad is SOOO easy to make and that's 100% thanks to this new Hidden Valley Greek Yogurt Dip Mix. Made with the same great flavor as your favorite Hidden Valley Ranch, it is optimized for mixing into Greek Yogurt. Basically that means you get that same fabulous Ranch taste, but with LESS fat, MORE protein, and FEWER calories.
To which I say, YES, YES, and YEEESSSSS.
You can buy the Hidden Valley Greek Yogurt Dip Mix at Walmart, along with the rest of the ingredients listed below, AND just to entice you to get this potato salad into your life ASAP, here's a special Hidden Valley coupon that you can (and should!) download.
I plan on mixing it into Greek yogurt for all sorts of salad dressings and/or general dipping purposes this summer. There is really no limit to what you can do with it – this potato salad is just getting the party started.
One spicy cool bite at a time.
I have a feeling this would also be fabulous if the potatoes were grilled instead of roasted, so feel free to get creative with it!

Roasted Jalapeno Ranch Potato Salad
This roasted jalapeno ranch potato salad has a spicy kick that's cooled down by a Greek yogurt ranch dressing.
Ingredients
1 lb new potatoes, halved
1 lb sweet potatoes, peeled and cut into 1-inch chunks
2 jalapenos, seeded and thinly sliced
2 tbsp olive oil
salt, to taste
2 cups Greek yogurt
1 packet Hidden Valley Ranch Greek Yogurt Dip
1 tsp cumin
½ tsp smoked paprika
Instructions
Heat oven to 400F.
In a large bowl, toss together the potatoes, jalapenos, olive oil, and salt. Spread on a parchment-lined baking sheet and roast until tender and starting to brown.
Meanwhile, whisk together the Greek yogurt, ranch dip, cumin, and smoked paprika.
Toss the potatoes with about 1 cup of the Greek yogurt mixture, or to taste. Season to taste with salt and black pepper. Let rest for at least 30 minutes in the fridge before serving.
Notes
An Eats Well With Others Original
Nutrition Information
Serving size:
⅙th of recipe