Pumpkin spice and everything chocolate are what this pumpkin chocolate chunk bread is all about!
Disclosure: This post was sponsored by International Delight®. As always, my thoughts and opinions are my own.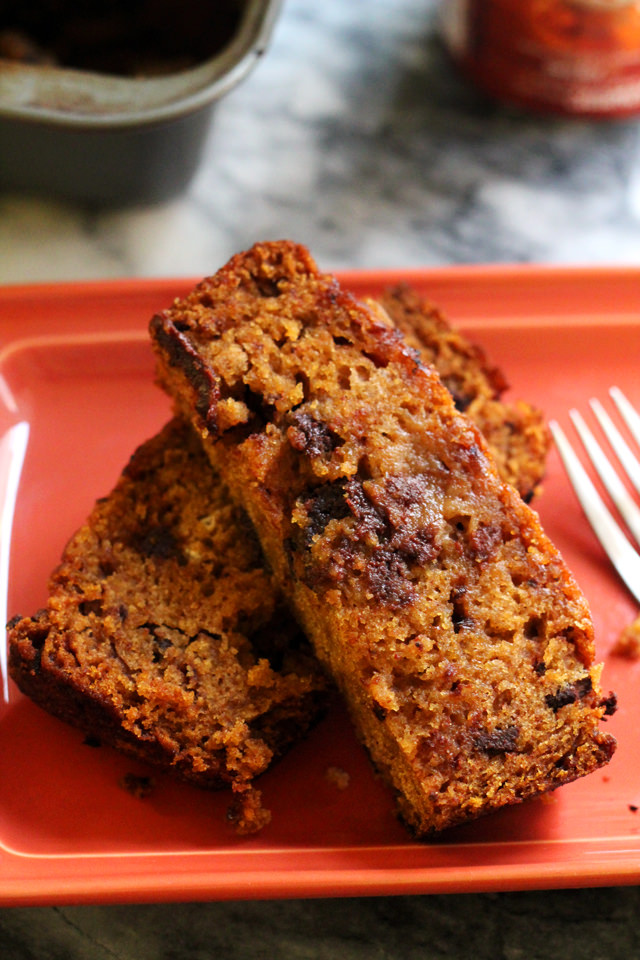 I held back as long as I could, but the floodgates are now WIDE.OPEN.
Let the pumpkin-ing begin.
I've actually heard rumors that there is going to be a pumpkin shortage this year, so what I need you to do is head to your nearest grocery store and stock up!!!!
(Unless you go to my local grocery store…in which case, walk away quickly with your hands behind your back and no one will get hurt.)
Pumpkin bread is a fall classic and yet…I'VE NEVER MADE IT.
Such a travesty is just unfathomable, especially for a pumpkin fanatic like myself.
Lucky for me, I think I've stumbled on the holy grail of pumpkin breads on my first try! This has all the pumpkin spice flavors that we know and love as well as large and in charge chocolate chunks scattered throughout. Plus, it's moist and soft and I'm pretty sure that we should eat it for breakfast every day until spring.
If you need me, that's what I'll be doing.
I mixed a little bit of International Delight Caramel Macchiato Creamer into the batter to give it an extra caramelly punch, which, in my opinion, is always a good life choice. For more International Delight inspiration, follow them on Twitter, Pinterest, Facebook, and Instagram! And make sure to sign up for the International Delight Newsletter to keep up with new products, offers, and recipes!

Pumpkin Chocolate Chunk Bread
Pumpkin spice and everything chocolate are what this pumpkin chocolate chunk bread is all about!
Ingredients
1½ cups + 2 tbsp all purpose flour
1 tsp baking soda
1 tsp salt
1 tsp cinnamon
¼ tsp nutmeg
¼ tsp ginger
¾ cup + 2 tbsp pumpkin puree
½ cup vegetable oil
1¾ cups sugar
2 large eggs
½ tsp vanilla extract
⅓ cup International Delight Caramel Macchiato Creamer
⅓ cup room temperature water
6 oz dark chocolate, coarsely chopped
Instructions
Heat oven to 350F. Grease a 9x5x3-inch loaf pan. Set aside.
In a medium bowl, whisk together the flour, baking soda, salt, cinnamon, nutmeg, and ginger.
In a large bowl, whisk together the pumpkin puree and vegetable oil until well combined. Add in the sugar and then whisk again. Whisk in the eggs, one at a time, followed by the vanilla. Add the creamer and water, and whisk until combined. Stir in the chocolate.
Fold the dry ingredients into the wet ingredients just until combined. Pour into the prepared pan. Bake for 65-85 minutes, rotating in the oven halfway through the baking time, until a toothpick inserted in the corner of the loaf comes out clean, Allow to cool in the pan for 15 minutes and then transfer to a wire rack. Let cool completely before serving.
Notes
Adapted slightly from
Baked Elements: The Importance of Being Baked in 10 Favorite Ingredients
This conversation is sponsored by International Delight. The opinions and text are all mine.