Perfect for a summer potluck or Thanksgiving dinner, this cornbread pudding is rich, sweet, and savory all at once. If you love corn, you will go head over heels for this!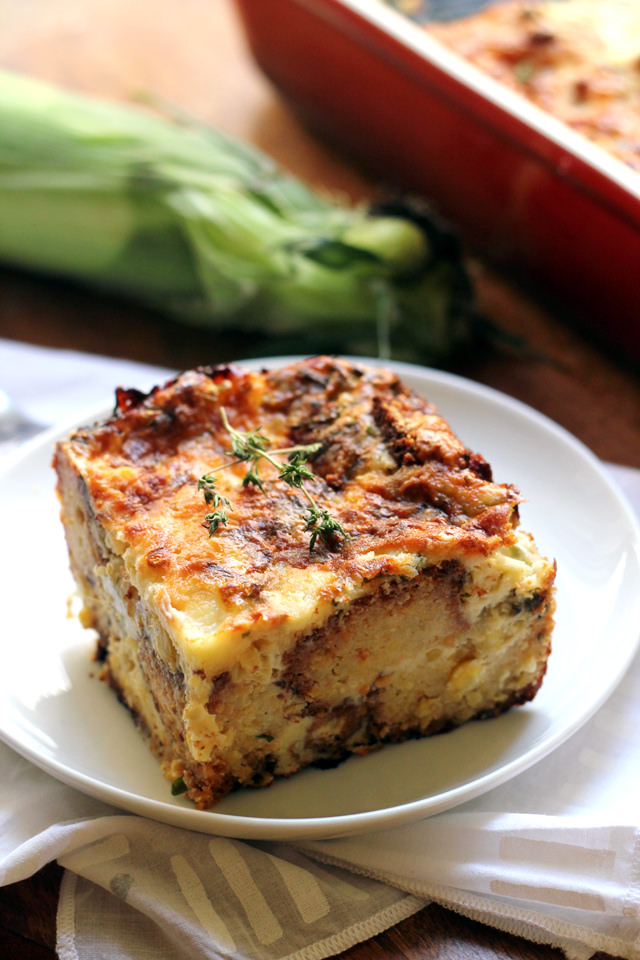 Is there anything I wouldn't do in the name of corn?
I mean, probably illegal stuff. But overall it's a short list.
Such is the nature of true, undying love.
For instance on Sunday, it was approximately eighty hundred degrees! And that was before you account for humidity.
So I did what any normal (slightly masochistic) person would do and turned on my oven.
Not once, which maybe could be brushed off as a moderate to severe honest mistake.
But. TWICE.
Unforgivable.
Until you taste this cornbread pudding.
Then, totally forgivable.
Because this. cornbread. pudding. is. everything.
Imagine the best cornbread you've ever tasted mixed with the creamiest custard, fresh corn kernels, and topped with so much cheese magic. And amplify whatever you think that tastes like TIMES TEN. Then maybe you get a hundredth of the way towards fathoming how good this is.
But even that is probably an understatement.
Honestly, for all the cream and eggs I used in this, it had better have been the best thing I'd ever tasted!
I love it when things work out.
Now, this recipe seems kind of long but don't let it scare you! The cornbread can be made the day before and, in fact, the pudding itself will probably taste better if you do it that way. I made it all in one day, but that's because I have zero patience or cornbread self control, so had I waited there would have been no cornbread left with which to make pudding. It happens.
Then, you pretty much just toast, stir, mix, bake. EAT.
And maybe share? We are talking four cups of heavy cream and 14 eggs here.
Yeah. Definitely share.
Cornbread Pudding
Perfect for a summer potluck or Thanksgiving dinner, this cornbread pudding is rich, sweet, and savory all at once. If you love corn, you will go head over heels for this!
Ingredients
For the cornbread
6 tbsp unsalted butter, softened
6 tbsp sugar
1¾ tsp kosher salt
4 large eggs
1 cup cornmeal
¾ cup + 2 tbsp all purpose flour
¼ cup whole wheat flour
1 tbsp + 1 tsp baking powder
½ cup whole milk
1 cup buttermilk
¾ cup canola oil
2 tbsp honey
For the cornbread pudding
1 batch cornbread
1 onion, chopped
2 tbsp unsalted butter
1 tbsp chopped fresh savory
¾ tsp kosher salt
1 tsp freshly ground black pepper
3 ears of corn kernels
10 large eggs
4 cups heavy cream
6 tbsp chopped fresh chives
¼ cup sugar
2 cups grated cheddar cheese
½ cup grated Parmesan cheese
Instructions
To make the cornbread, heat oven to 350F. Grease an 8x8-inch baking pan. Set aside.
In the bowl of a stand mixer fitted with the paddle attachment, cream together the butter, sugar, and salt on medium-high speed until light and fluffy, about 2-3 minutes. Add in the eggs one at a time, mixing well after each addition. Stop mixing and add in the cornmeal, flour, whole wheat flour, and baking powder. Mix until just combined. With the mixer running on low, slowly add in the whole milk, buttermilk, oil, and honey. Mix until just combined.
Pour the batter into the prepared pan. Bake for 45-50 minutes, or until a toothpick inserted comes out clean. Set aside to cool.
For the cornbread pudding, raise the oven temperature to 375. Cut the cornbread into 1-inch cubes. Spread on a parchment lined baking sheet and toast for 20 minutes, or until browned and crisp. Set aside.
Meanwhile, in a medium saute pan, heat the butter until melted over medium heat. Stir in the onion, savory, ¼ tsp salt, and ¼ tsp black pepper. Saute until softened, about 3-4 minutes. Stir in the corn and cook for 1-2 minutes, until just tender. Remove from the heat and set aside.
In a large bowl, whisk together the eggs, heavy cream, chives, sugar, and remaining salt and black pepper.
Spread the onion-corn mixture and the toasted cornbread evenly into a 9x13-inch casserole pan. Pour the egg custard over the top. Sprinkle with the cheddar and parmesan cheese in an even layer. Bake for 40 minutes, or until custard is set and the cheese is brown. Serve warm or at room temperature.
Notes
Recipe from
Huckleberry: Stories, Secrets, and Recipes From Our Kitchen
Nutrition Information
Serving size:
1/10th of recipe
Corn heaven awaits: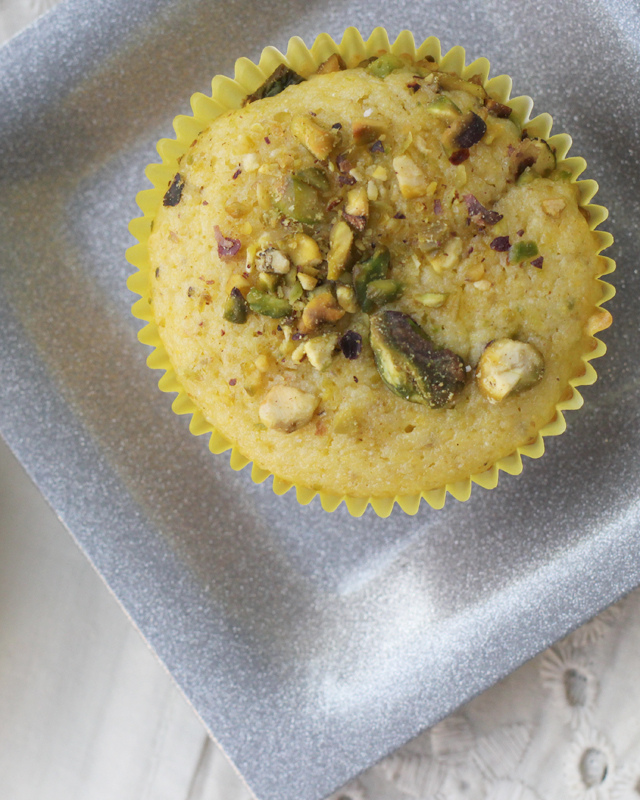 Lemon Pistachio Cornmeal Muffins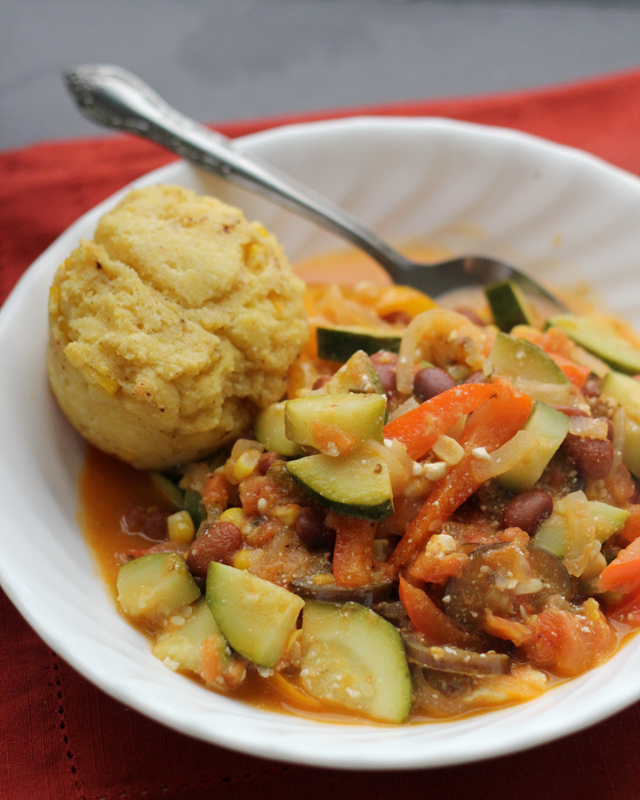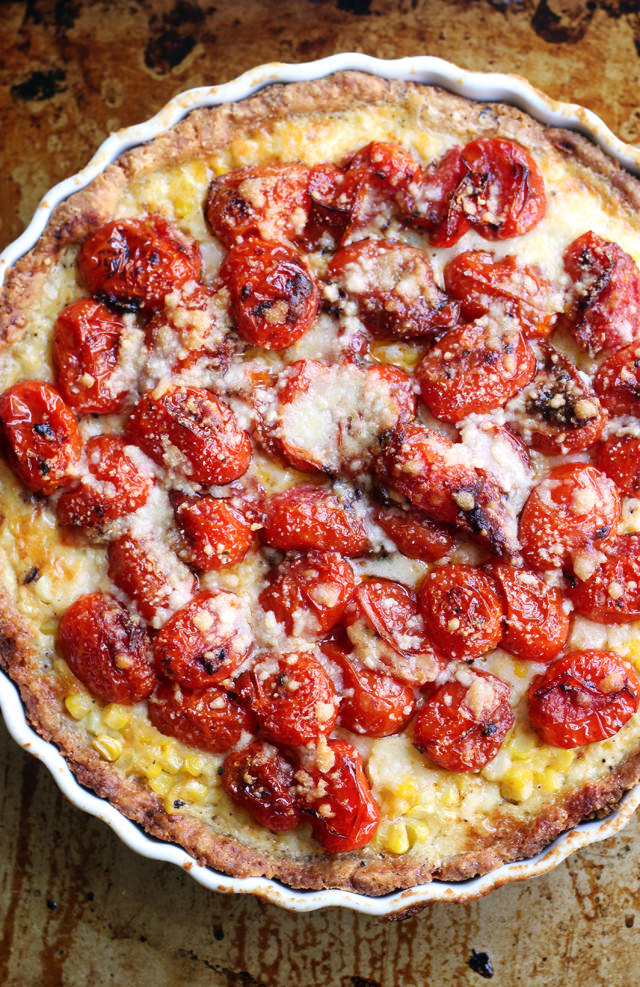 From Around the Web:
Blueberry Corn Cake with Sweet Corn Frosting from Hungry Rabbit NYC
Jalapeno Cornbread from Simply Recipes
Chipotle Corn Cakes with Avocado and Goat Cheese from Naturally Ella
Corn Fritters from Annie's Eats
Fresh Corn Johnnycakes from Framed Cooks