See summer out with a batch of this healthy and hearty stew, featuring all of summer's best produce, served with slightly sweet cornbread that is made all the more delicious with brown butter and maple syrup caramelized fresh corn.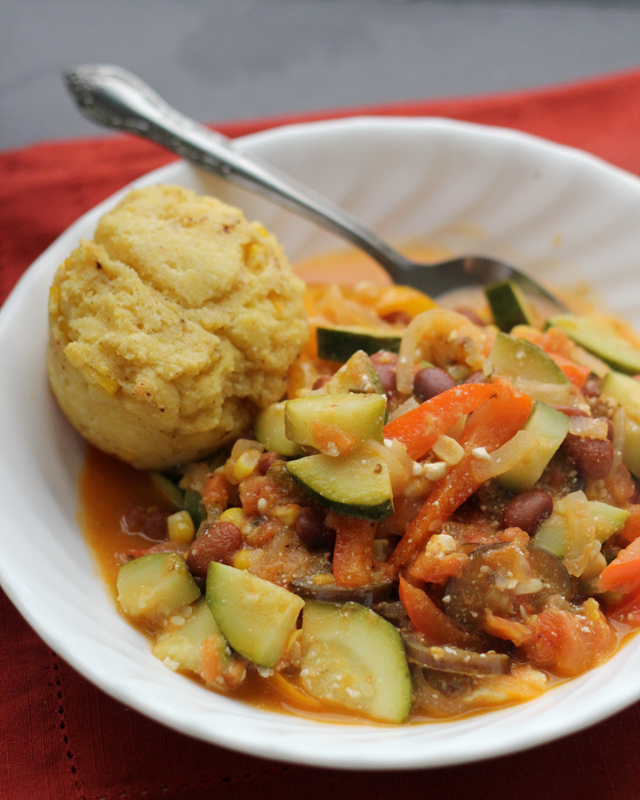 Say it ain't so.
"Late summer". What is this nonsense?!
The universe must be playing a pretty epic trick on me because I have done nary a single thing on my summer to-do list, other than run around the entire east coast in cute dresses attending weddings.
I should add that to my resume – official wedding attender.
If only there were some way to monetize it…
Anyways, my point is.
There has been not a single fruity drink drunk on a single tropical isle.
No afternoon strolls through Central Park, hand in hand. (But plenty of 2+ hour long runs during almost all of which I inform the.boy that I'm not speaking to him for at least three miles.)
And most certainly not enough ice cream/pie/cobbler/crisp/gelato/froyo/etc for my liking. (Although, truly, when is enough really enough.)
But at least now we have stew.
With ALL THE VEGGIES.
Really. Pretty much everything taking up precious real estate in my crisper went in here.
It was a party on my stovetop. And then a party in my mouth, especially when inhaled with a bite of the most delicious corn muffin I've ever had in all my life.
You haven't truly lived until you've tried one of these. I speak from experience.
Sort of speaking of which…I spotted a "local" (from Vermont) butternut squash display in Whole Foods on Friday and ran in the opposite direction.
And then almost cried.
And then almost got really excited.
And then almost cried again.
Talk about an emotional rollercoaster tailspin.
Autumn.
I'm so not ready for this.
One year ago…Lime Tarragon Cookies with White Chocolate Topping
Two years ago…Peppers Stuffed with Quinoa, Corn and Feta Cheese, Grilled Eggplant Subs with Fontina and Tomato Jam
Three years ago…Coconut Curried Tofu, Eggplant, and Kohlrabi with Green Jasmine Rice
Four years ago…Creamy Dreamy Raisin Scones, Linguine with Roasted Eggplant and Cherry Tomatoes 
Late Summer Vegetable Stew
See summer out with a batch of this healthy and hearty stew, featuring all of summer's best produce!
Ingredients
2 tbsp olive oil
3 bell peppers, thinly sliced
1 large onion, thinly sliced
2 bay leaves
2 sprigs of thyme
sea salt and freshly ground black pepper
1 tsp tomato paste
½ cup dry white wine
3 medium-large heirloom tomatoes
3 small eggplants, sliced crosswise
2 medium-large zucchini, quartered lengthwise and then sliced crosswise
1 cup cooked beans
2 ears corn
2 oz feta cheese, crumbled
Instructions
Heat 2 tbsp olive oil in a large pot over medium heat. Add the peppers, onion, bay leaves and 2 thyme sprigs. Season with ½ tsp salt and freshly ground pepper. Cook until the veggies are tender and starting to brown, about 15 minutes. Stir in the tomato paste and cook for 1 minutes. Deglaze with the the wine, allowing to simmer until it thickens a bit.
While the peppers and onions are cooking, bring a small pot of water to a boil. Boil the tomatoes for 15 seconds and then drop in a bowl of cool water for a few minutes. Remove the skins from the tomatoes and discard. Chop the tomatoes and add them to the pot, along with the eggplant and zucchini. Cook for 15-20 minutes, until the eggplant and zucchini are tender and the tomatoes have cooked down a bit. Stir in the beans and kernels from the corn and cook until just heated through. Stir in the feta cheese. Season to taste with salt and pepper.
Notes
Adapted from
Vegetarian Suppers from Deborah Madison's Kitchen
Nutrition Information
Serving size:
¼ of recipe
Brown Butter Cornbread Muffins with Fresh Corn
Slightly sweet cornbread is made all the more delicious with brown butter and maple syrup caramelized fresh corn.
Ingredients
8 tbsp unsalted butter, divided
1 ear corn, kernels removed
1 tbsp maple syrup
1 cup flour
1 cup cornmeal
1 tbsp baking powder
¾ tsp kosher salt
1¼ cups greek yogurt
1 large egg
2 tbsp sugar
¼ tsp baking soda
Instructions
Heat the oven to 375. Line a muffin pan with muffin liners or grease it. Set aside.
Melt 4 tbsp of the butter in a medium nonstick skillet over medium-high heat. Add the corn and maple syrup and saute until corn is tender and starting to caramelized, about 10 minutes. Set aside.
In a large bowl, whisk together the flour, cornmeal, baking powder, and salt. In a medium bowl, whisk together the greek yogurt, egg, sugar, and baking soda. Fold the wet ingredients into the dry ingredients. Stir in the corn/maple syrup/butter mixture.
In the same skillet, melt the remaining 4 tbsp butter. Allow to cook until the butter starts to turn brown and nutty. Pour it into the cornbread batter and fold in to combine.
Divide the batter among the muffin cups in the tin. Bake until a toothpick inserted in the center comes out clean, about 25 minutes.