Like carrot cake gone green, this zucchini-walnut cake is the perfect summer treat with it's warm spices and sweet earthiness.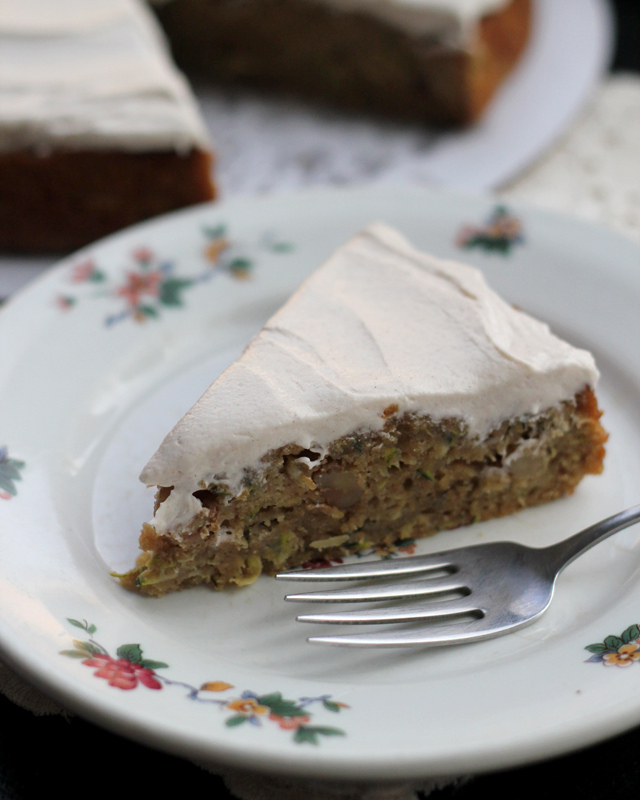 Posting this cake is kind of weird for me. And momentous. But in a weird way.
I think it may be the first time ever in my life, but certainly in blog history, when I had an opportunity to make cream cheese frosting…and didn't.
We should probably all take a moment of silence. For what, I'm not particularly sure…but it just seems appropriate.
…
…
What all this comes down to, really, is that in my old(er) age, laziness trumps cream cheese frosting love. And I just didn't feel like going to the store for cream cheese, at least not when I had some perfectly good butter in the fridge.
Now if it had been a question of frosting v. no frosting, then I would have been lacing up my sneakers and running to the supermarket (a block and a half away) in a jiffy, because frosting as an entity is non-negotiable. You can rest assured that that much hasn't changed.
And I may be a bit biased, but this cinnamon-honey buttercream is kind of perfectly paired with the cinnamon/ginger/nutmeg/ALLTHEGOODSPICES mixed into this perfectly moist vegetable-full cake. So laziness notwithstanding, each bite is a total win.
A total HEALTH-FULL win. Just…don't quote me on that.
Aside from it's deliciousness, one of the best things about this cake is how easy it is. You simply mix, stir, bake, and then smear frosting all over the top in as messy and haphazard a way as your soul desires.
Less time in the kitchen = more time outside = a happier Labor Day weekend. Just saying. Make this.
One year ago…Tomato, Squash and Red Pepper Gratin
Two years ago…Carrot Cake Pancakes, Tofu Tacos with Spicy Cabbage Slaw and Avocado
Three years ago…Puerto Rican Sweet Plantain Lasagna
Four years ago…Eggplant Caponata over Creamy Polenta
Zucchini-Walnut Cake with Cinnamon Honey Buttercream
Like carrot cake gone green, this zucchini-walnut cake is the perfect summer treat with it's warm spices and sweet earthiness.
Ingredients
For the cake
1½ cups all purpose flour
1½ tsp baking powder
1 tsp coarse kosher salt
1 tsp ground cinnamon
½ tsp ground ginger
¼ tsp ground nutmeg
¾ cup olive oil
1 cup brown sugar
3 large eggs
1 tsp vanilla extract
1½ cups coarsely grated zucchini (8 oz)
¾ cup chopped walnuts
For the buttercream
4 oz butter, room temperature (1 stick)
1¼ cups confectioner's sugar
1 tbsp honey
⅛ tsp ground cinnamon
pinch of salt
Instructions
Heat oven to 350. Line a 9" cake pan with parchment paper and spray with nonstick spray. Set aside.
In a medium bowl, whisk together the flour, baking powder, salt, cinnamon, ginger, and nutmeg.
In a large bowl, whisk together the oil, brown sugar, and vanilla. Mix in the eggs until well combined. Fold the dry ingredients into the wet ingredients, until just incorporated.
Mix the zucchini and walnuts into the cake batter until just incorporated. Pour into the prepared pan and bake for 40-45 minutes or until a toothpick inserted in the center comes out clean. Let cool completely before frosting.
For the frosting, in the bowl of a stand mixer fitted with a paddle attachment, cream together the butter, sugar, honey, cinnamon and salt until smooth and fluffy. Spread over the top of cake once it it is cool.
Notes
Adapted from
Bon Appetit
and
Martha Stewart
Nutrition Information
Serving size:
1/10th of recipe