Burrito shells are stuffed with chipotle-spiced zucchini and pinto beans then smothered with salsa verde and cheddar cheese.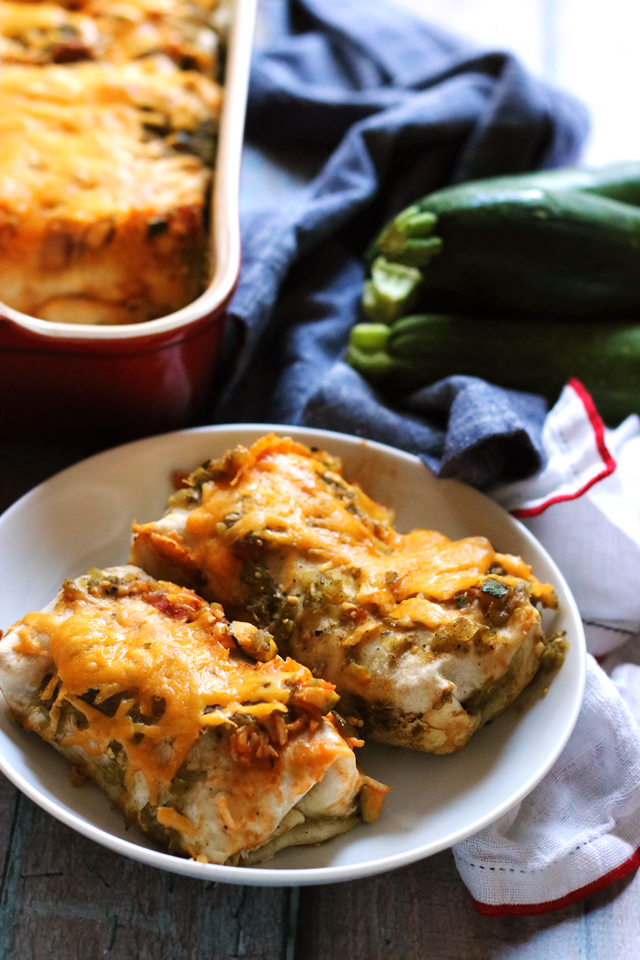 AKA the latest edition in my series:
When Bad Instacart Decisions Happen To Good People.
Seriously, I could make this a weekly thing.
I have enough material in my few months of using instacart for yeeaaarrzzzzzz.
Okay, I concede it's totally a first world problem to be complaining about a service that shops for and delivers your groceries to your doorstep, sometimes within hours of placing your order.
BUT!!
Is it too much to ask the shoppers to use some common sense?!?!
Like, DO NOT put tomatoes underneath a 5 lb bag of flour. There is no way that can end well.
Also, substituting burrito-sized tortillas for taco-sized tortillas is just not okay!! Give me corn or gluten free taco-sized tortillas instead, because when a girl has her heart set on enchiladas for dinner, burrito-sized tortillas just won't suffice.
Except….when they do?
HEAR ME OUT! And allow me to present to you….burrito enchiladas!!!
AKA smothered baked burritos. They're a thing. Pinky swear.
So much so that maybe I won't ever make regular enchiladas again?!?!?
Okay, I wouldn't go that far, but for those moments when life (<– and by life, I mean Instacart) hands you inappropriately sized tortilla shells, THESE ARE KEY.
They're everything you love about enchiladas – casserole, cheesy, sauce-smothered – but in neatly formed burrito packages
I was in a summery salsa verde mood, so I stuffed them with chipotle sauced sauteed zucchini and pinto beans, then loaded them up with a jar of salsa verde and all the cheese. Feel free to go the homemade salsa verde route if you have that kind of free time or go with regular ol' red salsa.
There are no wrong answers here.
Smothered Salsa Verde Burritos with Chipotle Zucchini and Pinto Beans
Burrito shells are stuffed with chipotle-spiced zucchini and pinto beans then smothered with salsa verde and cheddar cheese.
Ingredients
¾ cup brown rice
1 ¼ cups vegetable broth
6 cloves garlic, minced, divided
½ tsp salt, plus more to taste
2 tbsp olive oil
1 red onion, diced
2 medium zucchini, diced
3 tbsp tomato paste
½ tsp chipotle chili powder
2 cups pinto beans
2 cups salsa verde
10 8-inch flour tortillas
8 oz cheddar cheese, shredded
Instructions
Combine the brown rice, vegetable broth, half of the garlic, and salt in a small saucepan over high heat. Bring to a boil. Then cover, turn heat down to low, and simmer for 40-45 minutes, or until rice is tender and liquid has evaporated. Remove from the heat and let sit for 5 minutes.
Meanwhile, heat the olive oil in a large pan over medium heat. Add the remaining garlic and onion to the pan along with a pinch of salt. Saute until tender, about 4-5 minutes. Stir in the zucchini and saute until softened, about 5 minutes.
Add the tomato paste and chili powder to the veggies. Saute until tomato paste turns a dark, brick red and starts to separate from the oil, about 2-3 minutes. Stir in the beans and cooked rice. Season to taste with salt and black pepper. Remove from the heat.
Spread half of the salsa verde over the bottom of a 9x13-inch baking pan in an even layer.
Wrap the tortillas in a damp paper towel and microwave until warm, about 1 minute. Top each with about ⅔ cup of the rice and bean mixture, along with a small handful of the cheddar cheese. Wrap burrito-style by folding up the bottom of the tortilla over the filling. Then, fold in the two sides and roll up as tightly as possible. Place seam-side down in the prepared pan. Repeat with remaining tortillas. Drizzle any remaining rice and bean mixture over the burritos.
Pour the remaining salsa verde over the burritos and top with the remaining cheese.
Heat oven to 400F. Bake for 15 minutes, or until the cheese is melted and the burritos have warmed through. Serve warm.
Notes
An Eats Well With Others Original