This is a sponsored post written by me on behalf of Truly Grass Fed. All opinions are 100% mine.
This spinach and artichoke quiche is perfect for any spring get-together, whether that be an outdoor picnic or a Mother's Day brunch! It is made with a super flaky all-butter crust and a creamy veggie-filled custard filling.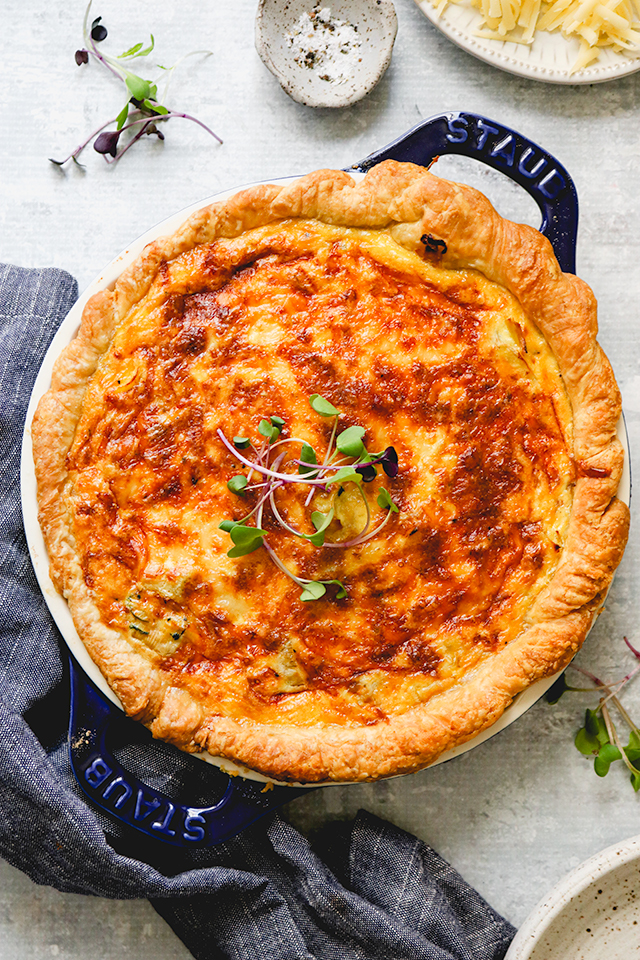 It is finally finally finally warm enough for picnic season and I am HERE FOR IT!!
Lazing the afternoon away on a blanket in the park, wind in your hair, glass of something fruity and sparkly in one hand, a plate full of food in the other, children playing in the background – that's the life. 
Last year, outdoor picnics were one of the only ways we felt safe to gather with our friends or family for an afternoon. We picnicked more than ever before and it made us wonder why we hadn't always been doing this because it was SO MUCH FUN. We are all so much happier being outside (Remy especially) and it is definitely a spring and summer activity that we plan to carry forward this year and forever.
An especial highlight for me was that it was an excuse to bake and cook for my loved ones – something that I wasn't able to do for months. I was definitely in withdrawal and maaayyy have gone a little bit overboard on occasion. Oops.
The fun thing about picnic fare is that it really can be as simple (think cheese and crackers) or as complicated (four course meal with wine pairings ahem, not that I would know anything about that) as you want it to be. The only "rule" is that all the food should be able to served at room temperature so that people can nibble or nosh as they please and you don't have to worry about keeping something warm or cool.
Which brings us to quiche!!
One of my favorite foods that feels fancy (I mean, it's French), can be eaten at any temperature for any meal, and is pretty universally loved. Bonus that if you make it with a pretty sturdy crust (ALWAYS), you can eat it without even requiring utensils or a plate.
I call that a picnic win. 
I make my quiche (and all of my pies) with a super flaky, homemade, foolproof, all-butter pie crust. Because it has so few ingredients (flour, salt, butter, water), I am really picky about the quality of what I put into it, which is why I was SO GRATEFUL when I discovered Truly Grass Fed butter.
It is now the only butter I use in my kitchen because it is so full of flavor and is produced using practices that I can feel good about. The cows whose milk is used to make the butter are 95% grass fed, spending the majority of their time grazing outdoors, only moving inside during the winter months when they eat ensiled grass. The butter is produced on small family farms that are steeped in heritage and tradition, with a strong commitment to ensuring their product is as exceptional and delicious as possible. 
In addition to butter, the Truly Grass Fed brand also makes Aged and Sharp Cheddar and ghee, all of which are non-GMO Project verified, rBST-free, and Animal Welfare Approved by AGW. Use the Truly Grass Fed product locator to find out where you can purchase a Truly Grass Fed product near you!
It's a little hard to tell from the photos above, but you can easily see the difference in quality between Truly Grass Fed butter and other common butter brands when you sit them next to each other. 
Truly Grass Fed butter is a beautiful golden hue whereas other butters are more of a pale almost white shade. 
After making a lot of pie crusts with a lot of different butters over the years, I can also say with confidence that Truly Grass Fed butter feels a lot different than other butters when you're using it. I like to make my pie crusts by hand because it allows you to really get a feel for the dough, and learn implicitly how much water or butter to add so that it feels right. Pie dough is going to behave differently based on the weather, humidity, ambient temperature so you constantly have to adapt your ingredients to what your dough is feeling like that day.  
Unlike other butters, Truly Grass Fed butter is wonderfully pliable (indicating a higher fat:water ratio) so you know you're going to get beautiful flakes and a rich flavor when you're using it.
I could probably go on about the virtues of good butter indefinitely, but back to the quiche!
I chose the ever classic spinach and artichoke flavor combination for this quiche because it is so universally loved, and with good reason – it's delicious! I love that it forces me to eat my veggies and that it just tastes really good in the process. Plus there's something about eating all of that green that just feels like SPRING.
That being said, quiche is so wonderful in part because it is quite adaptable so if you have a vegetable combo you love more, feel free to substitute it here.
The custard base for this quiche is also very rich and delicious, using a combination of whole eggs, egg yolks, half and half, heavy cream, and a few tablespoons of flour to help thicken it. The texture ends up being really lush and velvety but also deeply savory.
If you're looking for something a bit lighter, you can substitute a bit of the half and half or heavy cream for whole milk – just make sure the total volume is the same. 
This quiche can be easily prepped ahead at multiple steps along the way.
The pie crust disks can be stored in the refrigerator for up to three days and the rolled out crust can be frozen for up to a month! Just make sure it is really well wrapped so no freezer burn sneaks in.
Additionally, the quiche can be baked and then frozen for up to 2 months. To reheat it, just cover it with foil and bake it at 325F until it's completely heated through. 
In fact, while you're at it, you might as well just double the recipe and make two pies from the get go. Your future picnicking self will thank you.
Spinach and Artichoke Quiche
This spinach and artichoke quiche is perfect for any spring get-together, whether that be an outdoor picnic or a Mother's Day brunch! It is made with a super flaky all-butter crust and a creamy veggie-filled custard filling.
Ingredients
For the crust
1 cup + 14 tbsp (225 g) all purpose flour
¼ + ⅛ tsp fine sea salt
12 tbsp (170 g) cold Truly Grass Fed unsalted butter, cut into ½-inch cubes
6 tbsp (90 g) ice water, plus more as needed
For the filling
2 tbsp Truly Grass Fed unsalted butter
1 shallot, diced
1 tsp salt, divided
½ tsp red pepper flakes
1 (14 oz) can artichoke hearts, drained and chopped
10 oz frozen chopped spinach, thawed and squeezed dry
2 large eggs + 3 large egg yolks
3 tbsp flour
1 cup half and half
1 cup heavy cream
¼ tsp freshly ground black pepper
4 oz gruyere cheese, grated
Instructions
For the crust
Whisk together the all purpose flour and fine sea salt in a large bowl. Add the cold butter cubes to the bowl and toss so that they are completely coated in flour. Use your fingers to squish each butter cub into a flat sheet of butter. Toss again to coat in the flour, then use your fingers to cut the butter into the dough until the largest butter pieces are about the size of almonds.
Slowly pour the ice water into the dough mixture a tablespoon at a time, tossing to combine after each addition, only adding enough ice water until the dough starts to come together.
Pour the dough onto a piece of plastic wrap and knead gently into a disk. Wrap it tightly in the plastic wrap and refrigerate for at least 30 minutes before using.
Once chilled, roll the dough out into a 13-inch round on a lightly floured work surface. Fold the dough circle in half and place the folded dough inside a 9-inch pie plate so that it covers half of the pan. Unfold the other half and gently press the dough into the pie plate, making sure it is centered. Trim the edges of the dough so that there is a 1-inch overhang going around the whole of the pie. Roll the dough overhang into the center of the pie and crimp as desired.
Place in the freezer for at least 20 minutes or overnight.
When you are ready to par-bake the dough, heat your oven to 450F with a rack on the lowest level. Remove the pie crust from the freezer and line it with aluminum foil, fitting it into the crust. Fill the crust with dried beans or pie weights. Place on a baking sheet sheet and bake for 25-27 minutes or until the edges are light golden. Remove the baking sheet from the oven and cool on a wire rack for at least 6 minutes or until ready to fill.
Carefully remove the foil and the beans before filling.
For the filling
Heat oven to 350F.
In a medium skillet, melt the butter over medium heat. Add the shallot and ½ tsp kosher salt. Saute for 3-4 minutes or until golden. Add in the red pepper flakes, artichokes, and frozen spinach. Saute for another 4-5 minutes, or until warmed through. Set aside to cool slightly.
In a large bowl, whisk together the eggs, egg yolks, flour, half and half, heavy cream, black pepper, remaining ½ tsp salt, and half of the gruyere cheese.
Place the parbaked pie crust on top of a parchment or foil-lined baking sheet. Pour the spinach and artichoke mixture onto the bottom of the crust. Pour the egg mixture on top of the veggies and sprinkle the remaining gruyere cheese on top of that.
Place in the oven and bake for 1 hour or until the filling is golden and completely set. Allow to cool for at least 10 minutes before cutting and serving.
Notes
An Eats Well With Others Original