Crispy Thai fried fish is paired with a sour green mango salad that is a flavor explosion of tangy, salty, and sweet in every bite.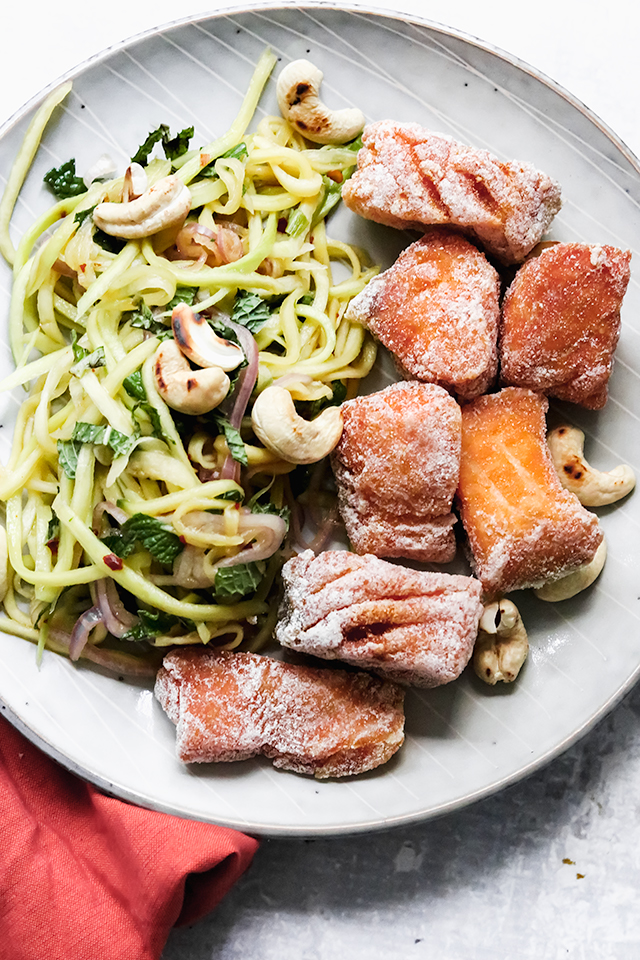 Look, I love a sticky sweet juice-dripping-down-your-chin mango as much as the next gal, but you truly haven't lived until you've had a sour mango eating experience.
Now this is not at all the same as eating an almost-but-not-quite-ripe mango, which I have done many a time either when I've misjudged a mango's ripeness or had my hand forced by a toddler who insisted on mango NOW despite my warnings that they weren't quite ready yet. It is disappointing at best and unpalatable at worst.
This is different. It is a celebration of the sour mango in its own right! Embracing its mouth-puckeringly tart qualities and letting them shine by layering them with flavors that will truly make them sing. 
While less familiar to the Western palate, sour mangoes are used throughout Asia in a variety of savory preparations – salads, curries, soups, chutneys, pickles, and even cocktails. They can stand up to cooking in ways that sweet mangoes really can't and in some ways are even more versatile because their flavor is so much more complex and nuanced. 
Thai green mango salad can be found on many Thai restaurant menus here in the US, but it is easy enough to make at home with a few simple ingredients. This recipe is from the Simple Thai Food cookbook, which is my go-to for authentic Thai recipes.
Green unripe mango is grated into long thin strips (I used a serrated peeler to do this) and then tossed with lime juice, sugar, fish sauce, spicy red chiles, and fresh herbs. Eating it is a taste bud-awakening experience, as it is bursting with sour, sweet, savory, spicy, and bright flavors. 
It is paired with fried salmon cubes and toasted cashews, the fatty elements of which help to cut some of that mouth-puckering tang. 
If you can't find green unripe mangoes, which can sometimes be difficult to source, you can substitute them with thin green apple matchsticks, though these will not be quite as durable or as tart. You can also try this with sweet mango, but I would recommend increasing the proportion of lime juice in the dressing if doing so to make up for the lost sourness. 
Crispy Thai Fried Fish and Green Mango Salad
Crispy Thai fried fish is paired with a sour green mango salad that is at once tangy, salty, and sweet in every bite.
Ingredients
1 small tart green mango
12 oz skinless salmon fillet, cut into 1-inch cubes
½ tsp salt
½ cup rice flour
vegetable oil, for deep-frying
1 tbsp lime juice
1 tbsp fish sauce
2 tsp packed light brown sugar
2 fresh bird's eye chiles, minced
1 large shallot, thinly sliced
¼ cup packed fresh cilantro
¼ cup packed fresh mint
½ cup toasted cashews
Instructions
Peel the mango and grate it into thin strips that are about 3-inches long. Set aside.
In a bowl, season the fish with the salt. Spread the rice flour in a shallow plate and toss the fish cubes in the flour, shaking off any excess. Arrange the fish cubes on a large plate, spread out so that they are not touching. Allow to rest for 10 minutes.
Pour the oil to a depth of 2 inches in a wok or Dutch oven. Heat until it reaches 325-350F. Add a third of the fish cubes to the hot oil and fry until light golden and crispy, about 8-10 minutes. Using a fine mesh skimmer, transfer the cooked fish to a paper towel-lined plate. Repeat with the remaining fish.
For the salad, stir together the lime juice, fish sauce, and sugar in a medium bowl until the sugar has completely dissolved. Add in the chiles, shallot, and mango. Toss well. Season to taste with salt, sugar, or more lime juice as desired. Add in the cilantro and mint and toss to combine again.
When ready to eat, divide the fried fish, mango salad, and cashews among serving plates. Eat immediately.