This vegetarian butternut squash and edamame bibimbap topped with a fried egg and spicy gochujang sauce is total comfort food! It's a rice-based dish that is filled with Korean flavors  (which are #TrendingInTheKitchen right now, by the way) and it is a great way to introduce them to your family.
[Disclosure: This post was sponsored by Pompeian. As always, my thoughts and opinions are my own. Thank you for supporting the brands that keep me inspired in the kitchen.]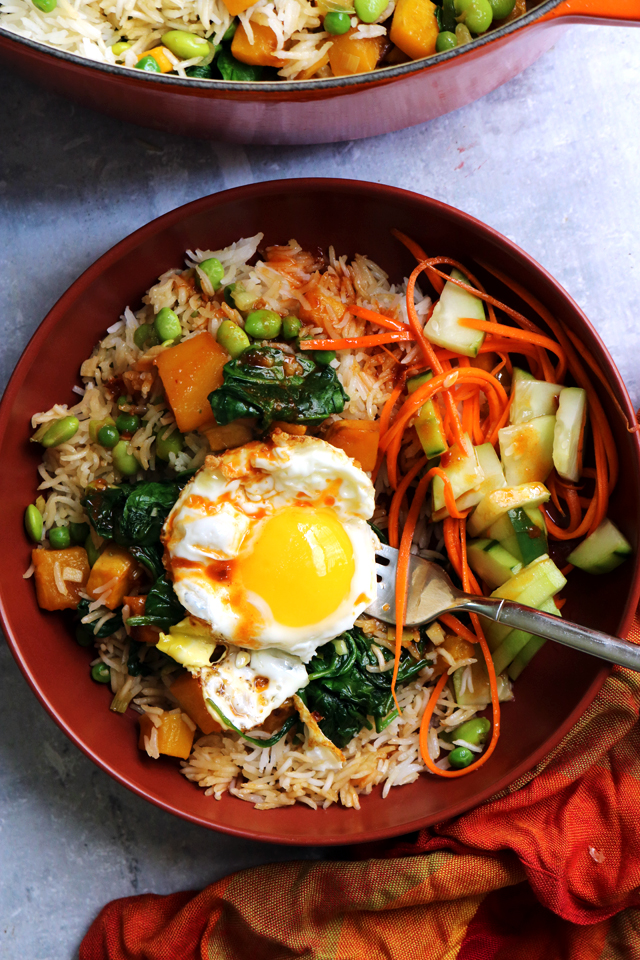 The first time I had Korean food I was a freshman in college and the most "ethnic" food I had ever eaten was mediocre Chinese food from the takeout place around the corner from my house.
My roommate and I stumbled across an all-you-can-eat Korean bbq place not too far from campus and whoa.
Talk about a wake-up call to my taste buds. It was un. real.
Plus it was so fun! The tables had little grills in the center so that you could cook your own food. It was a very hands on eating experience. And even though I ate meat back then, I could tell that the side dishes or banchan were the true heart and soul of the meal. I could eat those all day.
One cannot subsist on banchan alone (try as though one might), and so the handful of times I've gotten Korean food since going meatless I've had to branch out to other parts of the menu. There are spicy (like…REALLY SPICY) noodle dishes, hearty stews, various pancakes and omelettes….and bibimbap. My ultimate favorite.
Historically, bibimbap was essentially a dish of leftovers. It was made on the eve of the New Year as a way to consume (and thereby get rid of) all of the leftover side dishes and vegetables before the new year. Based on that, it sounds like it hasn't really changed much in its composition over the years; at its most basic it is a bowl of rice topped with sauteed and pickled veggies, either an egg or meat, and a splash of gochujang sauce.
Given that my love of rice bowls, spicy sauces, and a good runny yolk no know bounds, when my friends over at Pompeian challenged me to come up with a hearty fall dish with a Korean twist (since Korean flavors are #TrendingInTheKitchen and all), I knew I had to put my spin on this fan favorite.
Here I've taken a few liberties with the basic recipe and given it a bit of a fall twist.
Butternut squash is roasted in my absolute favorite Pompeian Avocado Oil Non-stick Cooking Spray until soft and caramelized. I've used certain other cooking sprays before and this is by far the best. It doesn't have any weird propellants or ingredients in it and is just made from 100% avocado oil. AND since avocado oil has a really high smoke point of 450-500 degrees F, it is great for roasting, stir frying, searing, BBQing, or broiling.
The roasted squash is then sauteed in a scallion-soy sauce mixture, along with edamame, peas, and spinach to make our veggie topping. Rice is cooked and crisped up in the same pot used to make the veggies. It's all mixed up and then served with a fried egg, quick pickled veggies, and a spicy gochujang sauce on top.
It seems like a lot of steps, but if you're focused (and don't have a two year old pulling at your leg insisting on "helping"), it can be made in 30 minutes. Enjoy!
Butternut Squash and Edamame Bibimbap with Spicy Gochujang Sauce
A vegetarian butternut squash and edamame bibimbap topped with a fried egg and a spicy gochujang sauce.
Ingredients
For the quick pickles
1 cup Pompeian Organic Apple Cider Vinegar
2 tbsp sugar
1½ tsp salt
1 cucumber, quartered lengthwise and thinly sliced
1 large carrot, shredded
For the gochujang sauce
¼ cup gochujang
3 tbsp water
2 tbsp toasted sesame oil
1 tsp sugar
salt, to taste
For the rice
2½ cups white rice
2½ cups water
1 tsp salt
For the bibimbap
Pompeian Avocado Oil Non-Stick Cooking Spray
1 medium butternut squash, peeled and cut into ½-inch cubes
salt and black pepper, to taste
½ cup water
3 scallions, minced
3 tbsp soy sauce
3 garlic cloves, minced
1 tbsp sugar
4 tbsp Pompeian Smooth Extra Virgin Olive Oil, divided
1 cup edamame
1 cup peas
10 oz baby spinach
4 large eggs
Instructions
For the quick pickles
In a medium bowl, whisk together the apple cider vinegar, sugar, and salt. Stir in the cucumber and carrot, tossing to combine. Refrigerate for at least 30 minutes.
For the gochujang sauce
Whisk together the gochujang, water, oil, and sugar in a small bowl. Set aside.
For the rice
Combine the rice, water, and salt in a medium pot. Bring to a boil over high heat, then reduce the heat to lower. Cover and simmer for 7 minutes. Remove from the heat and allow to sit, covered, for 15 minutes or until tender.
For the bibimbap
Heat oven to 400F.
Arrange the butternut squash on a parchment-lined baking sheet. Spray with the avocado oil and season with salt and black pepper. Roast for 20-25 minutes or until tender. Remove from the oven and set aside.
While the squash cooks, stir together the water, scallions, soy sauce, garlic, and sugar.
Heat a large Dutch oven over high heat. Add 1 tsp of the olive oil. Add in the edamame and peas. Stir to coat in the oil and then add in a third of the scallion mixture. Cook, stirring frequently, until the edamame and peas are warmed through and the liquid has evaporated. Transfer the edamame and peas to a bowl.
Heat another tsp of the olive oil in the Dutch oven. Add the roasted butternut squash and stir to coat in the oil, then add in another third of the scallion mixture. Cook, stirring frequently, until the liquid has evaporated. Remove the squash to a second small bowl.
Heat another tsp of the olive oil in the Dutch oven and add in the spinach and remaining scallion mixture. Cook until spinach is wilted, about 1-2 minutes. Transfer to a small bowl. Pour out any remaining liquid from the Dutch oven and wipe it out with a paper towel.
In the now-empty pot, heat the remaining two tbsp of olive oil over high heat. Add in the cooked rice, pressing it into an even layer. Cook without stirring until the rice starts to brown and form a crust, about 2 minutes. Top the rice with the edamame, peas, squash, and spinach. Reduce the heat to low.
Heat the remaining tbsp of olive oil in a nonstick skillet over medium heat. Crack the eggs into the skillet and allow to cook to desired done-ness.
Divide the rice mixture among four bowls. Top each with an egg, a spoonful of the pickled vegetables, and a drizzle of the gochujang sauce. Serve warm.
Notes
An Eats Well With Others Original