A charming winter salad that pairs in-season persimmon and pomegranate with arugula and toasted hazelnuts.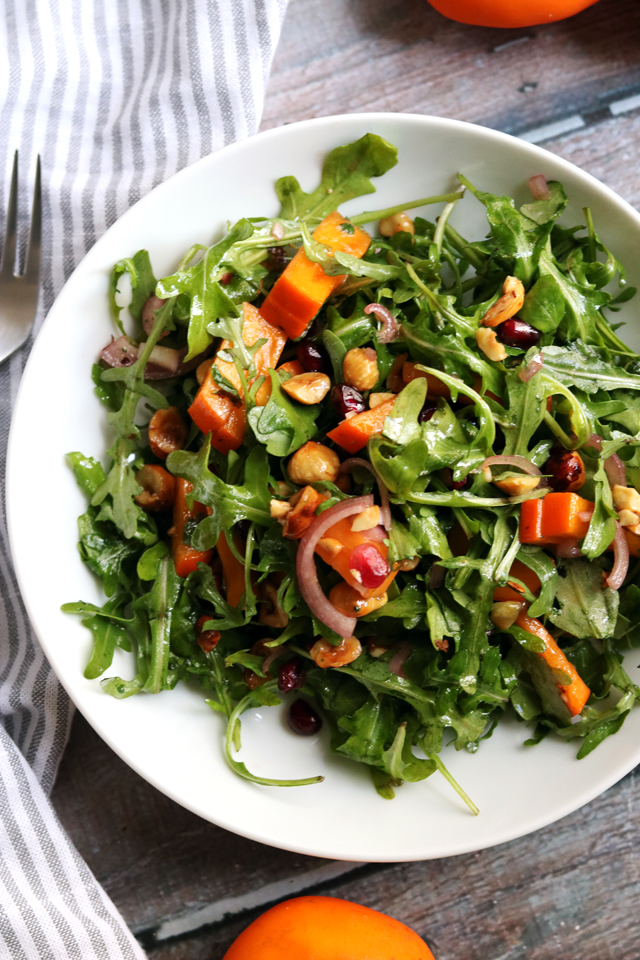 A salad! In January!
I know, you're shocked. I mean, it's not like the entire internet/world/galaxy is on a low carb, whole 30, paleo, intermittent fasting diet thingy right now or anything. (<– sarcasm.)
But here's the real kicker: I actually ate this salad in December. INSTEAD OF COOKIES.
I'm not even sure who I am anymore.
Okay but in my defense it's reaaaaaaaaaaalllllllyyyyyyy good. In case I didn't make that totally clear with the statement that I ATE IT INSTEAD OF COOKIES.
I feel like that should speak for itself, but basically…..it's like a breath of fresh air. In winter. When everything feels grey and brown and beige and all sorts of neutral monochromatic unappetizing colors, this is green and orange with pops of red, UGH.
So pretty to look at. So yummy to eat.
It is pretty much a celebration of some of the vibrant things that this season has to offer, including persimmons, which I don't eat often enough in my opinion, and pomegranate seeds, which are like the jewels of the fruit world. With toasted hazelnuts mixed in for buttery richness.
The dressing is a light pomegranate-shallot vinaigrette made with a mix of olive and hazelnut oil, so it's simultaneously bitter and sweet playing off the arugula-fruit pairing. And while it is perfectly perfect on its own, I have to say that a crumble of goat cheese or brie is divine here as well. Speaking from personal experience.
Persimmon and Pomegranate Salad with Arugula and Hazelnuts
A charming winter salad that pairs in-season persimmon and pomegranate with arugula and toasted hazelnuts.
Ingredients
⅔ cup blanched hazelnuts
1 tbsp + 1 tsp hazelnut oil, divided
1 tbsp finely diced shallot + 2 small shallots, thinly sliced
3 tbsp pomegranate juice
⅓ cup pomegranate seeds
1 tbsp sherry vinegar
2 tsp rice vinegar
3 tbsp extra virgin olive oil
4 small fuyu persimmons, cut into ½-inch cubes
½ lb arugula
salt and black pepper, to taste
Instructions
Heat oven to 375F.
Spread the hazelnuts on a baking sheet and then place in the oven. Toast for 8-10 minutes or until lightly browned, stirring once halfway through. Remove from the oven and allow to cool slightly. Once cool enough to touch, coarsely chop the nuts and then toss them with 1 tsp hazelnut oil and a hefty pinch of salt.
Meanwhile, stir together the diced shallot, pomegranate juice, sherry vinegar, rice vinegar, and ½ tsp salt in a medium bowl. Allow to rest for 5 minutes. Whisk in the olive oil and the remaining 1 tbsp of hazelnut oil. Season to taste with salt, black pepper, and extra vinegar.
Combine the persimmons, sliced shallots, and pomegranate seeds in a large salad bowl. Add in the dressing and toss to combine. Season again with salt and black pepper, to taste. Toss with the arugula and taste again for seasoning.
Arrange the salad among 4 bowls and sprinkle the hazelnuts over the top.