The most luscious creamy tomato soup topped with caramelized onions and a heavy cream drizzle.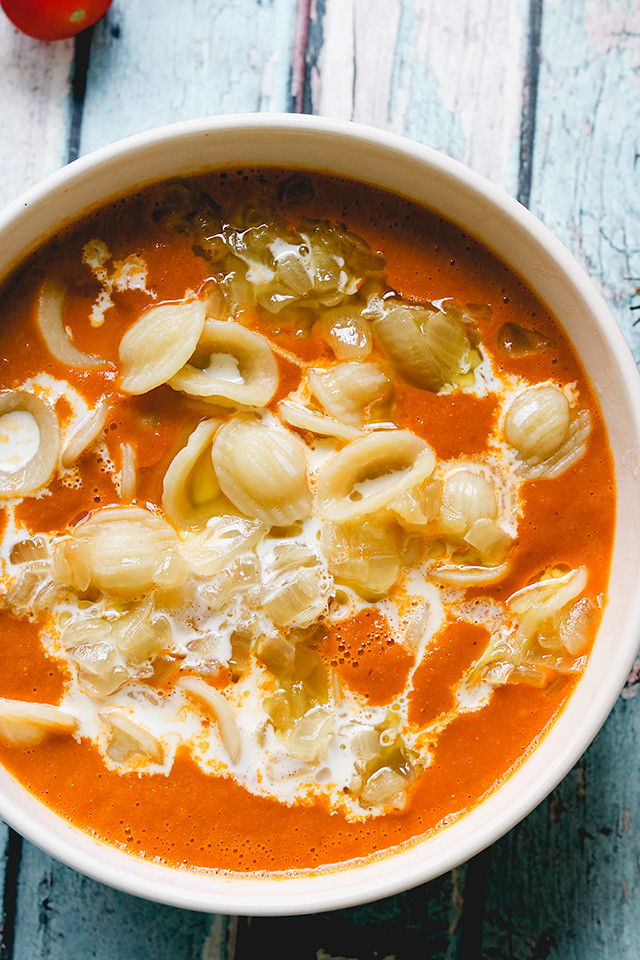 It's fine, I'm just in love.
Yes, WITH A SOUP.
But not just any soup, you guys.
This is pretty much the best tomato soup of all time, and that's saying a lot because I am picky AF about my tomato soups.
They need to be creamy but fresh with a super rich savory-sweet umami flavor. And this soup gets checks on all counts.
It's also completely extra in the best ways: topped with incredibly luxurious caramelized onions and dotted with orecchiette pasta bite and drizzled with a bit of heavy cream.
OMG I'm pretty much drooling on my keyboard just remembering it.
Of course, the recipe is from Ottolenghi as posted in The Guardian and I literally made it the week after he posted it, the delay only because I had to wait for my grocery delivery to come in order to make it. Those were a hard seven days, but I'm making up for lost time the best I can by putting this on my meal plan on a weekly basis.
No regrets.
Creamy Tomato Soup with Caramelized Onions
The most luscious creamy tomato soup topped with caramelized onions and a heavy cream drizzle.
Ingredients
4 tbsp butter
6 tbsp olive oil, divided
1¼ lb onions, peeled and finely chopped
salt and black pepper, to taste
2 large garlic cloves, peeled and minced
1 lb cherry tomatoes
4 tbsp tomato paste
2 tbsp basil leaves, roughly torn
pinch of red pepper flakes
2 cups vegetable broth
½ lb orecchiette
2 tbsp heavy cream
Instructions
Combine the butter, 3 tbsp of olive oil, the onions, and a pinch of salt in a large Dutch oven over medium heat. Cook, stirring frequently, until caramelized and golden about 20-25 minutes.
Transfer two thirds of the onions to a bowl and mix with the remaining 3 tbsp of olive oil. Set aside.
Meanwhile, return the pan with the remaining onions to medium heat. Add in the garlic and fry, stirring, for 2 minutes. Add in the tomatoes, tomato paste, basil, red pepper flakes, and two tsp of salt. Saute, stirring frequently, for 7 minutes. Add in the vegetable broth, 1¼ cups water, and a grind of black pepper. Stir to combine. Bring to a boil, then lower the heat to medium and simmer for 12 minutes.
Allow the soup to cool for 5-10 minutes, then transfer to a blender and puree until smooth.
Meanwhile, cook the orecchiette in a pot of boiling water until al dente, according to package instructions. Divide among 4 serving bowls.
Pour the soup over the orecchiette. Drizzle the heavy cream on top, scatter over the reserved caramelized onions, and serve immediately.