Toasty slices of bread topped with a a vibrant roasted red pepper and sun-dried tomato bruschetta, rich pine nut butter, and a goat cheese gremolata.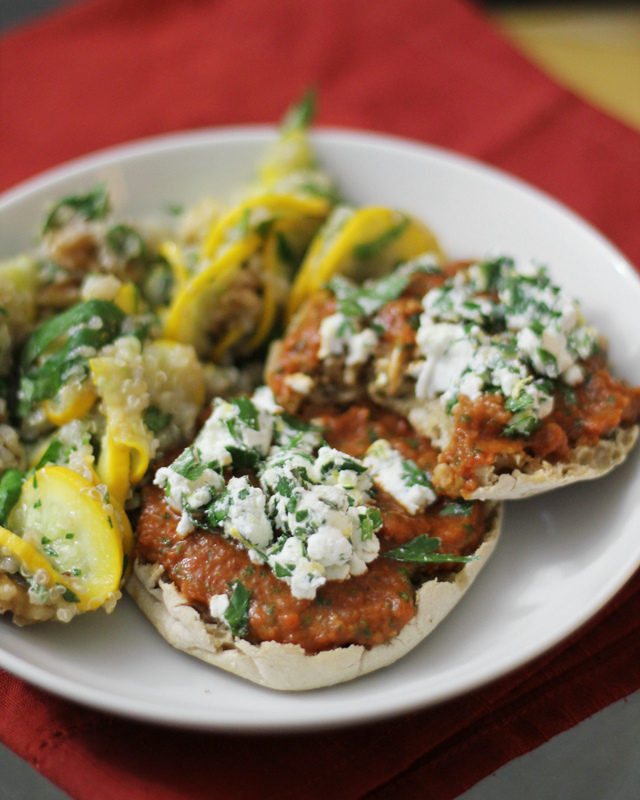 FYI, in "real life" seemingly endless tables of grains, beans, grilled veggies, dried fruits, nuts, and other such dreams come true don't just appear in front of you at lunchtime.
Nor do ready-made strawberry rhubarb shrubs make the acquaintance of your pre-dinner self, cheese plates find themselves at your dinner table, nor do the best ice cream bars known to man present themselves to you as a midday snack.
Ain't those some unfortunate truths?
I discovered this sad state of existence after living in such a nirvana, otherwise known as the Big Summer Potluck, for two and a half days. Picture a food blogger's retreat(/conference) where the food is actually abundant and delicious and totally vegetarian-friendly and mostly good for you and you're surrounded by people who totally get you and your compulsion to take photos of every item that crosses your lips.
Sigh.
You can imagine the extent of my dismay, then, when I came home and realized that I was, in fact, responsible for making dinner.
Such a buzzkill.
Or so I thought, until I picked up a copy of She Cooks, She Scores, a new cookbook that I had received to review, and was hit with mildly traumatic (yet utterly entertaining) dating stories alongside recipes that totally made my mouth water.
Buzz. Back to life.
The book is written by Jennifer Stoker, a personal chef who may have even more deranged dating stories than I do. And that's really quite a feat.
When you open the book, you are instantly hit with her tell-it-like-it-is, semi-sarcastic personality, and if you pretend really hard you can almost imagine that the two of you are old friends gabbing over coffee instead of total strangers who are worlds apart.
Stoker pairs each anecdote with recipes that symbolize that specific time in her life, and they run the gamut from fairly traditional Italian comfort food (bolognese sauce) to more eclectic fare (barbecue-potato-chip-encrusted scallops). I chose to make something somewhere in the middle and ended up with these little toasts that were topped with layers of roasted red pepper and sun-dried tomato bruschetta, toasted pine nut butter, and a goat cheese gremolata. While this may not be the bruschetta you're used to seeing on your summer table, it's well worth giving a shot, as each layer plays off each other to make for the perfect bite.
And yes. I did serve it on English muffins. Apparently a baguette wasn't going to magically appear from the grocery store all on it's own (no matter how much I clicked my heels three times), so I improvised. And it worked.
All in all, She Cooks, She Scores was a lot of fun to go through, both for it's entertainment value and for it's intriguing recipe content. My one wish for it, though, is that the photos were better. A lot of them are blurry, dull, or were obviously taken with the flash, and as someone who thinks about how to make food look pretty on an almost daily basis, it broke my heart a little to see Jennifer's delicious recipes minimized by the accompanying photos. Hopefully others will be able to look beyond this and see this gem for what it is – an entertaining cookbook/memoir that just happens to also have some super tasty treats between it's covers.
roasted red pepper and sun-dried tomato bruschetta with toasted pine-nut puree and goat cheese gremolata
Toasty slices of bread topped with a a vibrant roasted red pepper and sun-dried tomato bruschetta, rich pine nut butter, and a goat cheese gremolata.
Ingredients
1 baguette
olive oil
salt
1 cup roasted red peppers, drained
½ cup sun-dried tomatoes, packed in olive oil
1 garlic clove, smashed
2 tsp balsamic vinegar
3 tbsp olive oil, divided
⅓ cup fresh basil leaves
salt and pepper, to taste
1 cup pine nuts
4 oz goat cheese, crumbled
½ cup fresh parsley, chopped
zest of 1 lemon
Instructions
Heat oven to 375.
Slice the baguette into ¼-inch thick slices. Place slices on a parchment-lined baking sheet and brush with olive oil. Season with salt and pepper. Bake until light golden brown, 20-25 minutes. Set aside to cool.
Meanwhile, in a food processor or blender, puree the roasted red peppers, sun-dried tomatoes, garlic, vinegar, basil, 1 tbsp olive oil, and salt and pepper to taste. Set in fridge until ready to use.
In a medium pan on medium-high heat, heat the pine nuts, and salt and pepper to taste. Shake the pan to agitate the pine nuts and toast until lightly brown. Remove from heat and cool on a plate. Place in food processor with 2 tbsp olive oil and blend until smooth, adding more olive oil as necessary to get a smooth texture. Season with salt to taste.
In a small, separate bowl, crumble together the goat cheese, parsley, and lemon zest. Set aside.
Place 2 tsp pine nut spread on each toasted baguette slice. Top with bruschetta mixture and cheese mixture. Serve immediately.
Nutrition Information
Serving size:
1-2 crostini