A perfect summer side dish comprised of golden sauteed zucchini and toasty homemade croutons.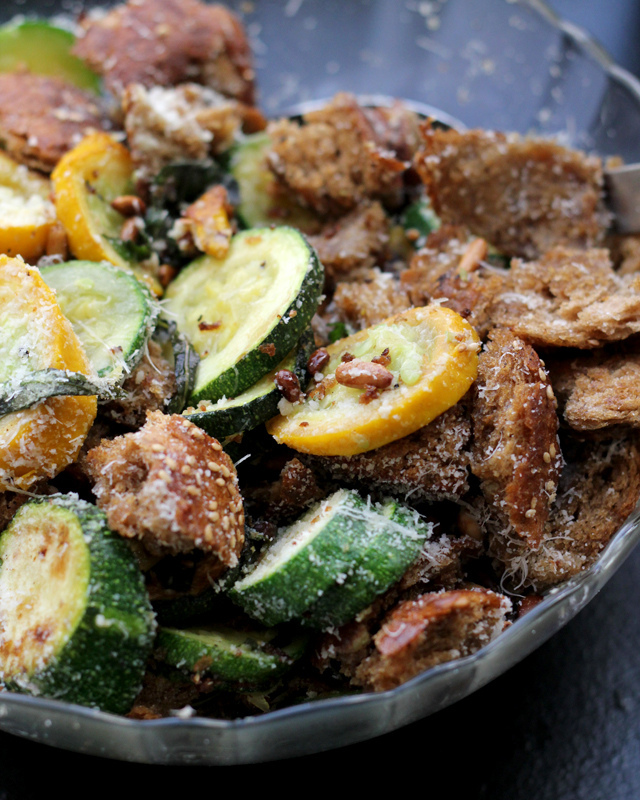 If my life right now were a Friends episode, it would be called "The One with the Bugs".
And we're not even talking flesh-eating fruit flies right now, people, or anything that can be easily fixed by setting out a bowl of vinegar and soap and subsequently watching and waiting.
Unless, of course, you know something I don't and such a trick can actually be used to fix broken Instagram accounts, yeast-infested tissue culture plates, and accordingly demoralized and browbeaten hearts.
I mean, really. Is nothing sacred?!
So I've been spending my days scouring the internet for new and inventive ways to contact instagram since their bug report page essentially says "maybe we'll get back to you, maybe we won't (suckers)" and the instagram help twitter account hasn't been updated since 2012.
(Useful. Not.)
(Maybe it's just me, but I'm kind-of of the opinion that if you run a social media network…you should be on social media. Just saying.)
And, in my spare time, trying to devise new ways to kill the amphotericin-resistant yeast that seem to have made it their life's purpose to ruin all of my experiments.
Breath of fresh air – definitely needed.
Preferably in zucchini basil pine nut crispy crunchy crouton form.
Because while this summer panzanella won't necessarily change anything…it's just damn good. And sometimes, that's good enough.
One year ago…Roasted Potatoes, Zucchini and Corn Tostadas with Romesco Sauce
Three years ago…Moroccan Nectarine and Plum Chicken Tagine
Four years ago…Melon Madness Pasta with Bacon and Feta
Zucchini with Basil, Pine Nuts and Croutons
A perfect summer side dish comprised of golden sauteed zucchini and toasty homemade croutons.
Ingredients
2 lb zucchini and summer squash mix, cut on a bias into 1-inch slices
4 tbsp olive oil, separated
½ tsp sea salt, plus more to taste
¼ tsp freshly ground black pepper
juice of half a lemon
¼ cup basil chiffonade
¼ cup pine nuts
1 small loaf of bread, torn into croutons (I used a spelt bread from Whole Foods)
½ cup grated parmesan cheese
Instructions
Heat oven to 350. Spread pine nuts on a parchment-lined baking sheet in a single layer and toast until evenly golden, about 7 minutes. Set aside.
Put 2 tbsp olive oil in a large heavy pan and heat over medium. When the oil starts to shimmer, add the zucchini in a single layer, cooking it in two batches if necessary. Season with salt and pepper and then let cook without touching for 3-5 minutes. Flip and cook for 3-5 minutes more, until browned on both sides. Repeat with remaining zucchini, if necessary.
Toss cooked zucchini slices with the basil and lemon juice in a large bowl. Add any of the oil remaining in the pan.
Add the remaining oil to the same pan over medium heat and, when it shimmers, add the croutons. Season with salt and pepper and leave undisturbed for 3 minutes. Flip and cook for another 3 minutes. When croutons are golden and toasty, add into the salad. Toss with cheese. Season to taste with salt and pepper.
Nutrition Information
Serving size:
⅙th of recipe