Beautiful roasted spring vegetables are combined with caprese flavors and hint of Thai influence in these roasted spring vegetable farro bowls dressed with Thai green curry pesto.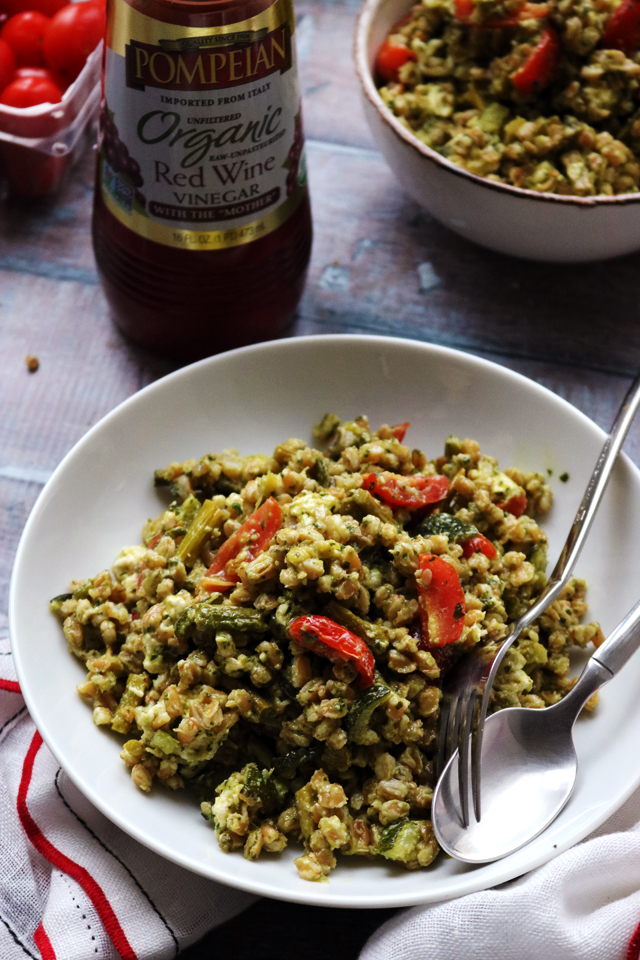 I'm 90% sure that bowls are really just salads in disguise.
Like, someone a year or two ago did some kind of focus group about this and the word bowl just tested better with the general population.
And now we're all in a BOWL FRENZY!!!!
But we've really been tricked into eating salads.
I'm not complaining.
I'd like to say that I'm immune to this particular marketing ploy, but no.
There are two salad chain restaurants (<– yes, this is a thing) near my apartment and they both serve bowls. And I will always order a bowl over a salad. Every. Dang. Time.
They've got me wrapped around their little finger and they know it.
Hey, if you can't beat 'em, join 'em.
So that's what we're doing!
While two years ago this would have been a grain salad, in this day and age it's a bowl.
To-may-to, to-mah-to – let's just eat.
We have the first signs of spring springing over here and I'm already fiending for caprese salads and pesto at all the meals.
So I let my cravings get the best of me and turned all those flavors into a farro bowl!
BUT WITH A TWIST.
At the same time that I was having pesto-infused dreams, I was also slurping on a Thai green curry soup that you'll be seeing later this week. When it hit me.
THAI GREEN CURRY PESTO.
So I made it a thing. And it's glorious.
The pesto is actually more of a vinaigrette. I felt that it fell too flat on it's own and needed a touch of Pompeian's Organic Red Wine Vinegar to really pump it up and get some acidity in there. This vinegar is actually a blend of domestic red wine vinegar and imported aged Spanish wine vinegar, so it is really rich in flavor. You can definitely tell in salads, err BOWLS, like this.
Other than that, the bowl is filled with roasted veggies like asparagus and zucchini, tiny mozzarella pearls, and cherry tomato bites. It has bits of spring in every bite!
This recipe is the second in a series of FIVE that I'm bringing to you in collaboration with Pompeian as part of their #TrendingInTheKitchen campaign! Basically we'll be working together to provide you with recipe ideas for how you can incorporate Pompeian's awesome oils, vinegars, and cooking sprays into some of the year's best and most exciting food trends – like these bowls! Keep an eye out because there is still more deliciousness to come!

Roasted Spring Vegetable Farro Bowls with Thai Green Curry Pesto
Beautiful roasted spring vegetables are combined with caprese flavors and hint of Thai influence in these roasted spring vegetable farro bowls dressed with Thai green curry pesto.
Ingredients
1½ cups farro
3 cups water
salt, to taste
1 tbsp Pompeian Smooth Extra Virgin Olive Oil
1 bunch asparagus, trimmed and cut into 1-inch pieces
2 zucchini, trimmed, quartered lengthwise and cut into ½-inch pieces
1 pint cherry tomatoes, quartered
8 oz fresh mozzarella pearls
For the dressing
3 cups loosely packed basil
2 cloves garlic
2 tbsp pine nuts
2 tbsp thai green curry paste
2 tbsp Pompeian Organic Red Wine Vinegar
⅓ cup Pompeian Smooth Extra Virgin Olive Oil
salt and black pepper, to taste
Instructions
Heat oven to 400F.
In a medium pot, combine the farro, water, and a pinch of salt. Bring to a boil over high heat. Reduce heat to low and simmer until farro is cooked through and water has evaporated, about 20 minutes. Remove from the heat and set aside.
Meanwhile, toss together the olive oil, asparagus, and zucchini in a large bowl. Season to taste with salt and black pepper. Spread on a parchment-lined baking sheet and roast for 15-20 minutes, or until tender and starting to brown. Remove from the oven.
In a large salad bowl, toss together the cooked farro, roasted vegetables, cherry tomatoes, and mozzarella.
To make the dressing, combine the basil, garlic, pine nuts, and green curry paste in the bowl of a food processor. Pulse until broken down into tiny pieces. With the mixture running, stream in the red wine vinegar and the olive oil. Add salt and black pepper, to taste.
Toss the salad with the dressing and serve warm or at room temperature.
Notes
An Eats Well With Others Original
Disclosure: This post was sponsored by Pompeian. As always, my thoughts and opinions are my own. Thank you for supporting the brands that keep me inspired in the kitchen.