Poblano-infused corn cakes are topped with a fresh-flavored arugula, black bean, avocado and queso salad.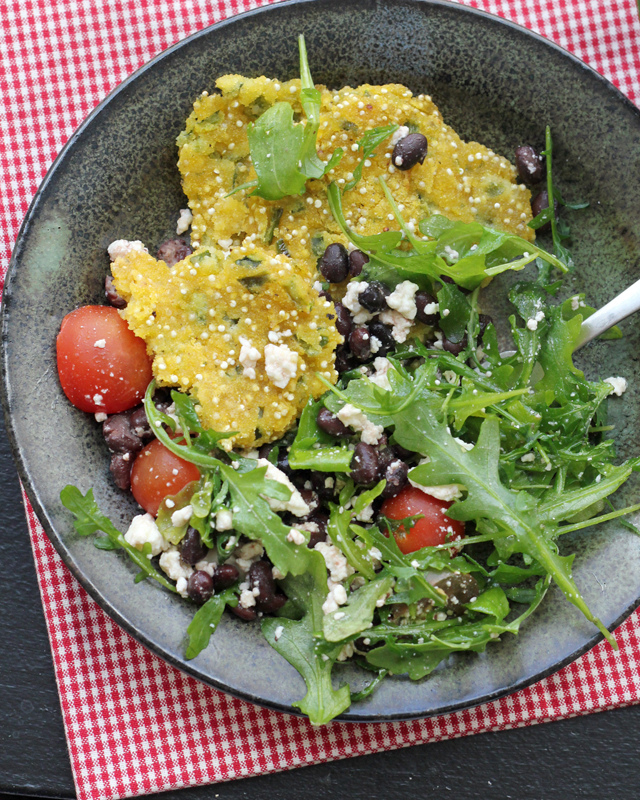 These sopes are what happen when you follow a recipe to a T, refusing to follow your gut instinct which is pretty much telling you to run for the hills!
Away from the totally soupy mixture of masa, quinoa, water and roasted poblanos that is supposed to form a pliable dough that is a little more like modeling clay and a little less like really wet sand.
And it's really only after your sixth attempt to form this concoction of yours into four equal rounds without them dissolving between your fingertips (and your eighteenth time uncovering a chunk of it in your hair) that you throw your hands up in defeat and break out your cookie scoop.
Because if it is going to insist on being a batter instead of a dough, then you are going to have to treat it as such. And that's that.
And really, so long as they behave once they hit the hot oil on your pan, then who cares what it took to get them there?
(Aside from your scalp and the walls of your kitchen, of course. From which you'll likely be removing bits of batter for days. Sigh.)
Not to mention that these little cakes are topped with a fabulous salad of arugula, black beans, avocado, cherry tomatoes and so much queso fresco that your heart can't help but skip a beat. And you really just can't stay mad at something as delicious as all that.
(FYI – The winner of my Baking with Yogurt GIVEAWAY was commenter #72 – Kathy of Kathy Can Cook!)
One year ago…Blueberry Peach Cobbler
Two years ago…Thai Basil Ice Cream, Vegetable Sushi Rice Salad
Three years ago…Linguine with Raw Tomato Sauce
Four years ago…Banana Streusel Muffins
Poblano Sopes with Avocado Salad
Poblano-infused corn cakes are topped with a fresh-flavored arugula, black bean, avocado and queso salad.
Ingredients
1 poblano chile
¼ cup quinoa
5 oz masa harina
1 cup warm water
½ tsp salt, divided
½ tsp freshly ground black pepper, divided
2 tbsp + 1½ tsp olive oil, divided
1½ tsp lime juice
¼ tsp sugar
5 oz arugula
1 pint halved cherry tomatoes
2 tbsp cilantro
4 oz queso fresco, crumbled
1 avocado, peeled and coarsely chopped
1 (15 oz) can black beans, rinsed and dried
Instructions
Preheat broiler.
Cut the poblano in half lengthwise and discard the seeds and membranes. Place the chile halves, skin sides up, on a foil-lined baking sheet. Broil until blackened, about 6 minutes. Place in a container and cover. Let stand five minutes. Peel and chop the chile.
Combine the chile, quinoa, masa harina, 1 cup water, ¼ tsp salt, and ¼ tsp pepper in a medium bowl. Stir until a soft dough forms.
Heat 1 tbsp olive oil in a large nonstick skillet over medium-high heat. Using a 1½ tbsp cookie scoop, add dough to the pan and cook for 3-4 minutes on each side, or until browned. Repeat with remaining dough.
Combine the remaining ¼ tsp salt, remaining ¼ tsp pepper, 1½ tsp olive oil, lime juice and sugar in a medium bowl, stirring with a whisk. Toss together the arugula, tomatoes, cilantro, queso fresco, avocado, and black beans. Toss with the dressing and serve over sopes.
Nutrition Information
Serving size:
¼ of recipe