A hearty (and lucky!) Indian stew made with black-eyed peas, greens, and red lentils. It is full of healthy plant protein and fiber, yet tastes like comfort food.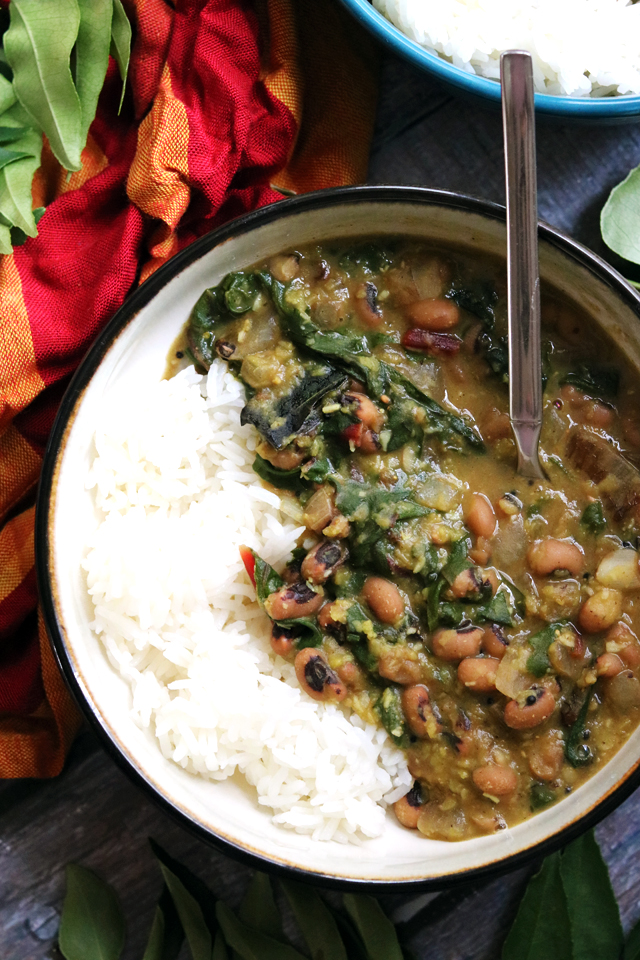 Full disclaimer: I have no idea if this is lucky at all.
If we're being totally honest, my kid peed all over her floor mere hours after eating it (her first accident in THREE GLORIOUS DAYS!!!), which was approximately twenty minutes after my husband had finished doing the laundry.
I'm hoping it's kind of like rain on your wedding day where it's unlucky in that moment, but portends a helluva lot of luck for the future. Yes, let's go with that.
My anecdotal misadventures notwithstanding, what it does have going for it is that it contains lentils, black-eyed peas, AND greens, all of which are supposed to reign in good luck and prosperity in the new year.
Why have just one when you can have all three in one auspicious flavor bomb of a bite?!?!
Go big or go home, especially when it comes to dinner. That's what I always say.
Plus it's the kind of healthy that actually tastes good, and I feel like we could all use a little bit of that coming into this new year.
It is filled with good-for-you plant-based protein and gets a mega nutrient kick from the swiss chard that gets tucked into every bite. The flavor profile stems from a traditional South Indian dish called huli, which is kind of like daal meets curry meets stew. Not spicy, per se (I omitted the chili powder in the hopes that Remy might actually taste it – hah), but well seasoned and warming to its core. It is best served hot over a bowl of steaming white rice and would be well served with a dollop of cool plain yogurt over the top.
Lucky Black-Eyed Peas, Greens, and Red Lentil Curry
A hearty (and lucky!) Indian stew made with black-eyed peas, greens, and red lentils. It is full of healthy plant protein and fiber, yet tastes like comfort food.
Ingredients
1 cup red lentils
6 cups water, divided
¼ tsp turmeric
2 tbsp unsweetened grated coconut
2 tbsp sambar powder
1 tsp tamarind paste
1½ tsp salt, divided
2 cups cooked black-eyed peas
1 bunch swiss chard, leaves thinly sliced
2 tbsp butter
½ tsp black mustard seeds
pinch of asafetida
5 fresh curry leaves
1 medium yellow onion, diced
Instructions
Bring the red lentils and 4 cups of the water to a boil in a large pot over high heat. Once boiling, stir in the turmeric. Cover and reduce heat to low. Allow to simmer for 20-25 minutes, or until the lentils are cooked through.
Meanwhile, put the dried coconut in a small bowl and cover with hot water to rehydrate for a few minutes. Strain out the water and set aside.
Once the lentils are cooked, stir the remaining two cups of water into them along with the sambar powder and mix well. Stir in the tamarind paste and 1 tsp of the salt. Bring to a boil over high heat. Allow to boil for 2-3 minutes and then reduce the heat to medium-low. Simmer for 8-10 minutes. At the halfway point, stir in the chard, black-eyed peas, and remaining ½ tsp salt. Stir in the coconut and allow to simmer for another minute or so, then turn off the heat.
Melt the butter in a small heavy-bottomed saute pan over medium heat. Add in the mustard seeds and asafetida. Cover with a lid immediately and allow the mustard seeds to pop. Once the popping becomes less frequent, remove the cover and add in the curry leaves. Cover again until the sizzling subsides, then add in the onion and stir to coat with the spice mixture. Fry for 4-5 minutes, or until softened. Pour the hot onion-spice mixture over the lentil curry. Stir together and season to taste with salt.
Serve hot over rice.