A blueberry slab pie for a crowd!! This slab pie is made in a half sheet pan and is perfect for any outdoor spring or summer get-togethers. It is perfectly spiced and bursting with berry flavor.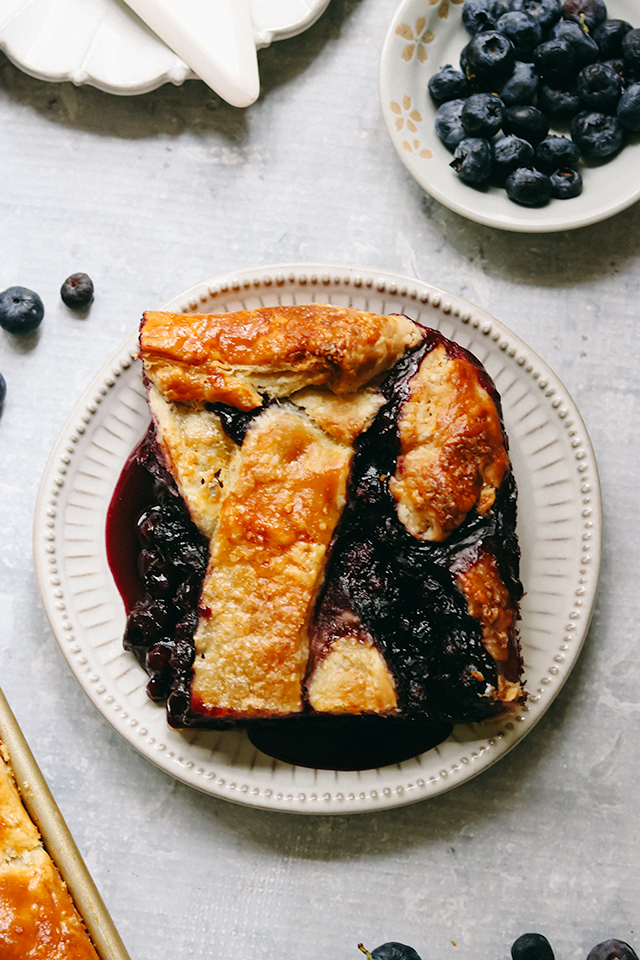 Blueberry slab pie for a crowd!!
Like, a large crowd.
Maybe even a small army? 
Or you could just horde it to yourself and eat it for every meal for a week!! No one would blame you.
Pretty much everyone in my family is vaccinated now except for Remy so we were able to have an outside get-together for Easter that felt closer to normal than any other day this past year. It was so refreshing and such a mood booster – a real mental reprieve from the completely monotonous past 600 million days. 
I know we all have some degree of pandemic fatigue (some more than others) but a day like that was enough to make me feel like I can forge ahead for a bit longer. 
So to celebrate I made pie!! (No one is surprised.)
And not just any pie – THIS PIE, which is a beast of a thing.
It uses three and a half pounds of berries, I don't even know how many pounds of pie dough, a lot of sticks of butter, and fills an entire half sheet pan. I don't think I quite realized how large it would be until I was already elbow deep in making it (most slab pies are made in a quarter sheet pan, for reference) but go big or go home, as they say.
The original recipe for this pie comes from Claire Saffitz's Dessert Person cookbook, which is a true gem of a baking tome. I've made a handful of recipes from the book so far, each one more delicious than the last.
The book has a lot of new-to-me techniques and fun flavor pairings, so I've considered making it a goal to bake my way through it. The only reason I'm still on the fence is because there are SO many baking books that I love and want to bake from and I think it would be hard to commit to baking from just one for a while. BUT if you're looking to up your baking game, I can say for sure this is a worthy addition to your cookbook collection!  
Even though this is definitely the largest pie I've ever baked, thanks to Claire's excellent instructions and foolproof recipes, it was also strangely enough one of the easiest.
The pie dough comes together in a food processor and rolls out like a dream. You do have to make it in two batches just because the sheer volume of it is too much to fit in a standard home food processor but that's not even a big deal because there's no need to wash it in-between.
It is an all-butter dough that achieves the perfect balance of sweet and salty, makes a beautiful flaky pastry, and is really just delicious. Because you'll need to roll it out to such a large slab, make sure you prepare a big enough work space and have a ruler handy to measure out your dough pieces. You don't want to realize you've come up short after you've already popped it into your baking pan.
The filling is super simple as well – a mix of blueberries, lemon zest and juice, as well as a whole slew of warm spices. I used frozen blueberries and honestly think they are the way to go here, for a few reasons. First, for cost effectiveness: you need 3.5 pounds of berries for this pie which will add up quickly if you're using fresh berries. Going the frozen route just makes more sense economically.
Second, using frozen berries helps to keep the bottom crust chilled while you prepare the lattice topping and protects against the dreaded soggy bottom.
And finally (perhaps most importantly) – FLAVOR. Blueberries are not in season yet where I live, so frozen berries are actually more tasty since they are frozen during peak ripeness. 
Win/win/win, if you ask me.
My final word of caution/advice is to plan ahead so that you can really let the pie cool completely before cutting into it so that it can set up properly. Oh and make sure you have some vanilla ice cream on hand to serve with it – a pie MUST!
Blueberry Slab Pie For A Crowd
A blueberry slab pie for a crowd!! This slab pie is made in a half sheet pan and is perfect for any spring or summer get-togethers. It is perfectly spiced and bursting with berry flavor.
Ingredients
For the dough
7.5 cups (975 g) all purpose flour
4 tbsp (50 g) sugar
3 tsp kosher salt
6 sticks (680 g) unsalted butter, cut into ½-inch pieces and chilled
For the filling and assembly
3.5 lb (1.6 kg) fresh or frozen blueberries (NOT thawed if frozen)
1 cup (200 g) sugar
7 tbsp (61 g) cornstarch
2 tbsp finely grated lemon zest
⅓ cup (76 g) fresh lemon juice
2 tsp vanilla extract
2.5 tsp ground ginger
1.5 tsp ground cinnamon
½ tsp ground cardamom
½ tsp kosher salt
1 large egg, beaten
demerara sugar, for sprinkling on the crust
Instructions
For the dough
Make 1 cup of ice water and place in the refrigerator.
In a food processor, combine 3.75 cups (488 g) of the flour, 2 tbsp (25 g) of the sugar, and 1.5 tsp of the salt. Pulse to combine. Add half of the butter pieces (340 g) and pulse again in longer pulses until the butter is broken down and the pieces are no larger than a hazelnut. Transfer the flour mixture to a large bowl.
Measure out ¾ cup of the ice water and drizzle it over the flour mixture a few tbsp at a time, tossing constantly to combine, adding enough so that the dough just starts to come together and holds together when squeezed.
Transfer the dough to a sheet of plastic wrap and press into a ¾-inch thick square. Wrap the dough tightly in the plastic wrap. Transfer to the refrigerator.
Repeat the dough-making process with the remaining dough ingredients and more ice water. Chill both blocks of dough for at least 2 hours or overnight.
When ready to bake the pie, let one block of the dough sit at room temperature for 5-10 minutes. Unwrap and place on a lightly floured work surface. Beat the surface of the dough with a rolling pin to soften it and make it more pliable. Roll out the dough to a rectangular slab that is about 18 x 15 inches. Using a pizza cutter, cut the dough into crosswise strips that are about 1.5 inches wide and 15 inches long. Place the strips on a parchment-lined baking sheet and refrigerate while you prepare the filling.
For the filling
Arrange an oven rack in the lowest position in the oven and line the rack with sheets of aluminum foil. These will catch any butter or juice spills and make clean up a whole lot easier, so don't skip this step!
If you have two 18x13-inch half sheet pans, place one in the oven on the rack on top of the foil. You will bake the slab pie nestled in this preheated pan, which will help to keep the crust crispy.
Heat oven to 425F.
In a large bowl, combine the blueberries with the sugar, cornstarch, lemon zest, lemon juice, vanilla, ginger, cinnamon, cardamom, and salt. Mix until combined and then set aside.
Roll out the second piece of dough on a lightly floured work surface into a 21x16-inch rectangle. Fold the dough in half and slide it onto an 18 x 13-inch half sheet pan (NOT the one that is preheating in the oven!). Press the dough into the bottom and sides of the pan. There should be a ½-inch overhang all around the dough. Brush the inside border of the overhang with some of the beaten egg. Pour the blueberry filling into the crust and spread into an even layer.
Remove the prepared dough strips from the refrigerator and arrange them over the filling as desired. Press the strips into the egg-washed border of the crust to seal. Fold the overhang inward over the filling on all four sides of the pie.
Brush the remaining egg wash around the edges and top of the lattice. Sprinkle with demerara sugar. If using fresh blueberries, place in the freezer and chill for 10-15 minutes (if using frozen berries, you can skip this step).
Nestle the pie pan inside the preheated sheet pan and bake for 20 minutes. Lower the oven temperature to 350F and bake for another 75-90 minutes, or until the top is golden and the filling in the center is bubbling. Allow to cool completely on a wire rack before serving.