A thin-crusted pizza bianca (aka white pizza) topped with roasted potato slices and a rich layer of herby mascarpone cream.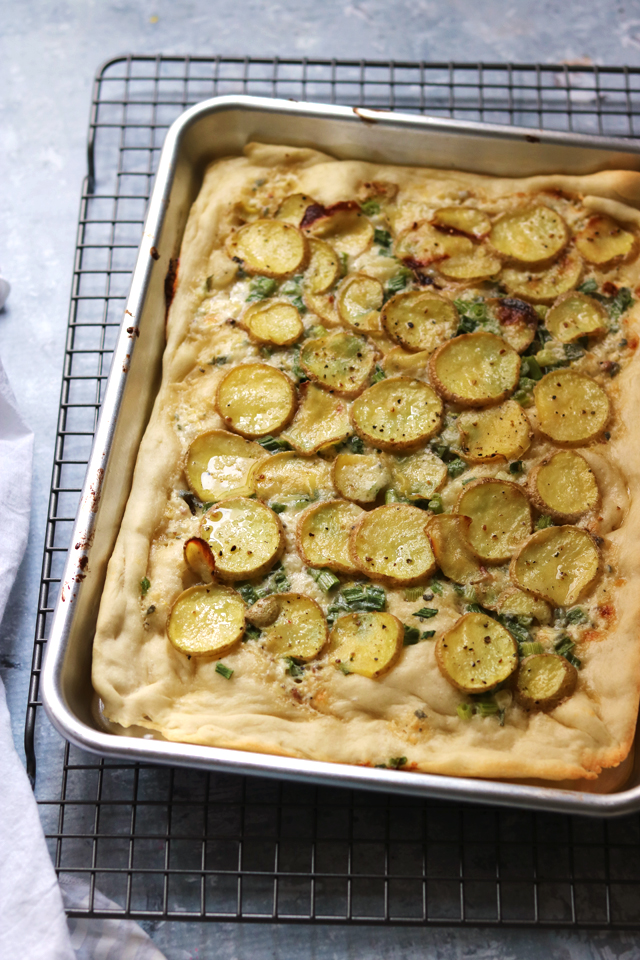 The carb on carb action in this pizza is crazy and real and SO NECESSARY.
Like, should we top it with an egg and eat it for breakfast??????
Hi. Yes.
I acknowledge it's a little bit rude for me to be asking you to turn on your oven (and really, CRANK IT UP) at this time of year but…better now than mid-August?
Also, I wouldn't do it if it weren't totally worth it. But this pizza was too good to wait even another minute to share it with you!!!
Let me list the layers for you:
pizza dough
mascarpone/pecorino/anchovy mash-up
scallions (or chives!)
roasted thinly sliced potatoes
ALL OF THE OLIVE OIL.
It's magic. You should make it.
Pizza Bianca with Potatoes, Mascarpone, and Sage
A thin-crusted pizza bianca (aka white pizza) topped with roasted potato slices and a rich layer of herby mascarpone cream.
Ingredients
For the dough
½ cup lukewarm water
2 tsp dried active yeast
pinch of sugar
1 cup + 6 tbsp bread flour
1 tbsp olive oil
salt
For the topping
6.3 oz new potatoes, thinly sliced on a mandoline or with slicing blade of a food processor
3 tbsp olive oil
salt and black pepper, to taste
¾ cup + 1.5 tbsp mascarpone cheese
1.5 oz pecorino romano, finely grated
4 anchovy fillets, minced
8 sage leaves, minced
2 lemons, zested to get 2 tsp
5 scallions, thinly sliced
Instructions
For the pizza dough
Combine the warm water, yeast, and sugar in a small bowl, whisking to combine. Let sit for a few minutes so that the yeast can activate. The mixture should become foamy. If it does not, then your yeast has likely gone bad and will not rise - get new yeast!
Combine the flour, olive oil, and salt in the bowl of a stand mixer fitted with the hook attachment. Add in the yeast-water mixture and mix until the dough starts coming together. Increase speed to medium-high and let the dough hook knead the dough for 5 minutes. Cover the bowl with plastic wrap and allow it to rise in a warm place for 60-90 minutes or until doubled in size.
For the pizza
Heat oven to 475F or as high as it goes.
To make the topping, toss the potatoes with 1 tbsp of the olive oil, ⅛ tsp salt, and black pepper. Spread on a parchment-lined baking sheet in a single layer. Roast for 7 minutes, or until golden. Set aside.
Meanwhile, in a small bowl whisk together the mascarpone, pecorino, anchovies, sage, and lemon zest. Season to taste with black pepper. Set aside.
Grease two 12x8-inch baking sheets with oil. Split the dough in half and roll each piece out so that it just fits the pan. Place each in one of the baking sheets. Spread the mascarpone mixture evenly over both doughs, leaving a ¾-inch border. Top with the scallions, then layer the potatoes on top.
Bake for 9 minutes, or until the edges of the pizzas are crisp and golden. Top with another twist of freshly ground black pepper and serve warm.