A true 30 minute meal, these lentil bowls are perfect for healthy weeknight eating but will still have you #TrendingInTheKitchen! Green lentils are tossed with a garlicky zucchini ragout and then topped with a vibrant basil vinaigrette and a dollop of creamy ricotta.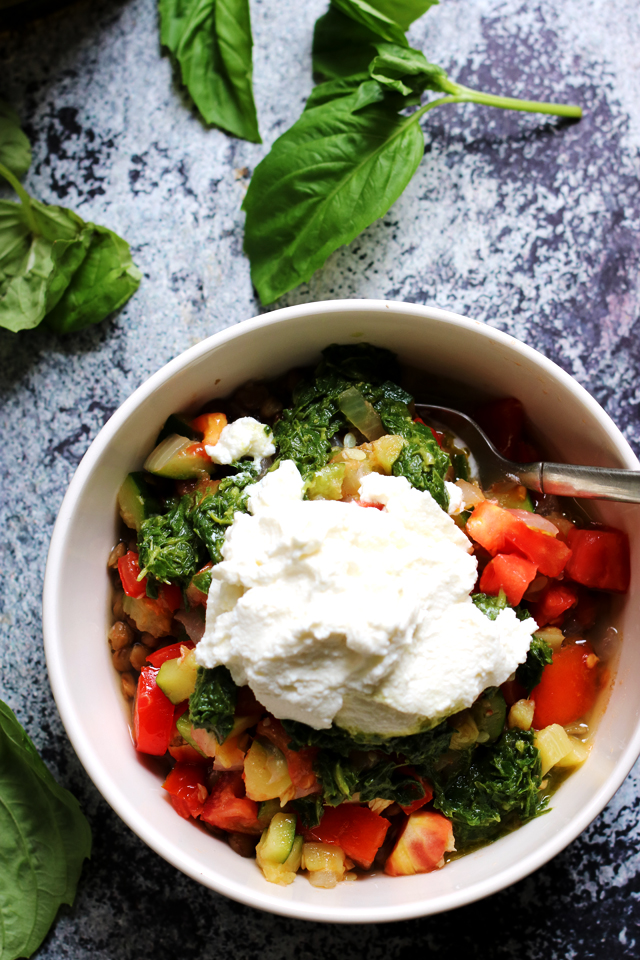 Anyone else SO pumped for back to school?!
(Said, of course, by a parent with no school-age children.)
The smell of a new box of crayons, you guy. So good.
I actually didn't realize how awesome back-to-school time was until I took Remy to the park on Monday and didn't have to worry about older kids trampling her with their reckless summer enthusiasm.
I'm sure those of you with school aged kids have children that are polite and well behaved and all-around angels, so close your ears while I say this, but some of the big kids around here are just downright annoying. They are always standing on top of the sprinklers to block the water from coming out so that no one else can play in it and then jumping off when my kid is perfectly in sprinkler territory so that she gets a surprise cold stream of park water in her face.
And they hog all the baby gym equipment and drive their scooters/big wheelers around the park at a breakneck speed running over anything or anyone who comes into their path.
To put it bluntly, I'm not super thrilled with them.
So….yay for school??
The other good thing about back-to-school season is that with it comes an influx of easy weeknight 30-minute one-pan/pot meals into my feed reader. The fervor with which people start meal prepping and menu planning at this time of year almost matches that of the days surrounding new year's. It's as if all the parents (myself included) try to turn over a new leaf of being prepared, having our ish together, and making sure our kiddos are eating meals that are oozing nutrition.
I've always been big on menu planning for the week, but my meal prepping enthusiasm has come on strong since starting residency. My favorite are meals where I can do most of the prep work ahead of time and then just effortlessly throw everything together in five minutes or less the day of.
Bowl food is so good for this.
Somehow just calling something a "bowl" makes eating it that much more exciting. Does anyone else feel this way?
I know there most be some deeply-rooted psychopathology to this because, taking this recipe as an example, calling it a "lentil bowl" versus a "bowl of lentils" makes all the difference even though they're objectively the same thing. In NYC, there are bowl restaurants popping up all over the place and I'm pretty sure they're serving the same food as everyone else, but I can't help but want it that much more.
The other awesome thing about bowl food is that you can pretty much make all of the components ahead of time and then toss them all together right before you eat so that they don't have that leftover feel even when they're been sitting in the fridge for days.
These lentil bowls are no exception. Both the lentils themselves and the zucchini ragout can be made ahead of time so that all you have to do before eating is pop the ingredients for the basil vinaigrette into your food processor for a few minutes. Honestly though, lentils only take about 30 minutes to cook anyway so you could also probably start this the day you want to eat it and still make pretty good time.
I kept the lentils and the garlicky late summer ragout separate for photo purposes but it is really delicious once everything gets mixed together. There are relatively few ingredients in this meaning that the quality of every ingredient matters more because they all really shine. As a result, I used Pompeian Organic Extra Virgin Olive Oil both in the basil vinaigrette and to saute the ragout. It has a really robust flavor that allows the basil flavor to pop and the lentils to practically melt in your mouth. The bowls are topped with a dollop of ricotta, though other soft cheeses like mascarpone, goat cheese, and burrata would work here as well.
Back to school mom-life, you guys.
Not too shabby.

Weeknight Lentil Bowls with Zucchini Ragout and Basil Vinaigrette
A true 30 minute meal, these lentil bowls are perfect for healthy weeknight eating. Green lentils are tossed with a garlicky zucchini ragout and then topped with a vibrant basil vinaigrette and a dollop of creamy ricotta.
Ingredients
For the lentils
1½ cups green lentils
2 tbsp Pompeian Organic Extra Virgin Olive Oil, plus more for drizzling
2 medium zucchini, diced
1 yellow onion, diced
5 garlic cloves, minced
2 cups diced cherry tomatoes
salt and black pepper, to taste
8 oz fresh ricotta
For the basil vinaigrette
2 cups fresh basil leaves
2 tsp dijon mustard
2 tbsp Pompeian Organic Red Wine Vinegar
½ cup Pompeian Organic Extra Virgin Olive Oil
salt, black pepper, and red pepper flakes, to taste
Instructions
First, cook the lentils. Place them in a medium pot and cover with water. Add a large pinch of salt to the pot and bring to a boil. Once boiling, reduce heat to medium-low and simmer until lentils are tender, about 25-30 minutes.
Meanwhile, prepare the ragout. Heat the olive oil in a large saucepan over medium-high heat. Add the zucchini, onion, salt and black pepper. Saute until the zucchini and onion are tender and starting to brown, about 10 minutes. Add the garlic and cook until fragrant, about 1 minute more. Remove from the heat and stir in the tomatoes. Season to taste with salt and black pepper.
To make the basil vinagirette, combine the basil, mustard and vinegar in the bowl of a food processor. Pulse until basil is shredded into small pieces. Add the olive oil in a slow stream with the food processor still running. Season to taste with salt, black pepper, and red pepper flakes.
In a large bowl, toss the lentls with the zucchini ragout. Drizzle with the basil vinaigrette and top with a dollop of the ricotta. Serve warm.
Notes
An Eats Well With Others Original
Disclosure: This post was sponsored by Pompeian. As always, my thoughts and opinions are my own. Thank you for supporting the brands that keep me inspired in the kitchen.