A walnut baklava slab pie that pairs the gooey deliciousness of pecan pie with the warmth and spice of baklava.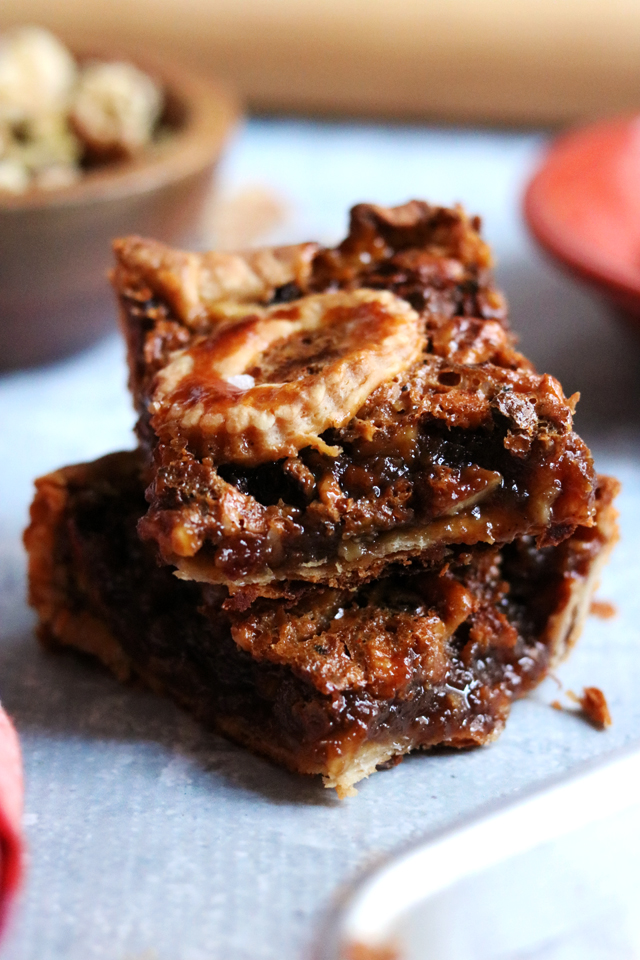 I was going to feel about bad throwing you a pie curveball at the last possible Thanksgiving second, but you really can't feel sorry about sharing a baklava slab pie with the world.
I mean, have you checked out that gooey dream of a filling??? It would have been so much more of a sin (and kind of a lot for my skinny jeans) to keep it all to myself!
Also, after a lot of rumination and "should I/shouldn't I's", I realized that this is basically just a hop, skip, and a jump from PECAN pie. So you basically have all the ingredients ready to go.
And if you don't have time to go out and buy new nuts, then NO BIGGIE. You can totally use pecans here in place of the walnut/pistachio mixture. I won't tell.
So, how do we do this?
First, THE CRUST.
Maybe just the thought of making pie crust strikes fear into your heart? I used to have the same reaction, and sometimes still do when I'm trying a new recipe. Mostly I use the all butter crusts from the Four & Twenty Blackbirds or Sister Pie bake books because I know they're totally reliable and delicious and easy to work with.
But every so often I stumble across recipes like this that just beg me to break out of my crust comfort zone. This recipe calls for a cream cheese crust and, before you run for the hills, it is SO EASY. It is made in the food processor, so it comes together in just a few pulses. After a brief stint in the fridge (or, like five days if you're me and have the best intentions but no time for baking) it rolls out like a dream!
Then, THE FILLING!
I haven't made pecan pie filling in a while because it's really not my favorite (too sweet, in my opinion) but I imagine this process is similar. Basically, you simmer together brown sugar, honey, corn syrup, and butter together in a saucepan until it's thick, gooey, and reaches soft-ball stage. Let it cool just enough that you won't scramble the eggs when you add them, then mix in all the rest of the ingredients including walnuts, pistachios, and CARDAMOM, which is basically the all-star ingredient of this pie and what turns it from pecan pie into baklava.
Then you pour the filling into your prepared crust and bake it, preferably on a baking steel or stone because there are NO SOGGY BOTTOMS coming out of my oven this holiday season, so help me.
Walnut Baklava Slab Pie
A walnut baklava slab pie that pairs the gooey deliciousness of pecan pie with the warmth and spice of baklava.
Ingredients
For the cream cheese crust
2½ cups + 2 tbsp all purpose flour
8 tbsp unsalted butter, cubed and frozen for 20 minutes
8 tbsp cream cheese, cubed and refrigerated for 20 minutes
¼ tsp kosher salt
½ cup ice water
For the filling
6 tbsp unsalted butter
1¼ cups packed brown sugar
½ cup light corn syrup
¼ cup honey
3 large eggs, lightly beaten
1 tbsp fresh lemon juice
2 tsp vanilla
½ tsp ground cardamom
¼ tsp kosher salt
1½ cups walnuts, toasted and chopped
¼ cup roasted salted pistachios
1 egg yolk
1 tbsp cold water
Instructions
For the crust
Combine the flour, butter, cream cheese, and salt in the bowl of a food processor. Pulse until the butter and cream cheese are broken down to pea-sized pieces. Add in the ice water and pulse again until the dough comes together into a ball. Remove the dough from the food processor and pat into a 6x4-inch rectangle. Cover with plastic wrap and and refrigerate for at least 4 hours.
Remove the dough from the fridge and cut it into two pieces, one slightly larger than the other. Roll the larger piece into a 11x15-inch rectangle. place in a quarter sheet pan, allowing any excess dough to drape over the sides. place back in the fridge.
Roll out he second piece of dough to a 10x14-inch rectangle. place on a parchment-lined baking sheet and refrigerate.
Heat oven to 350F with a baking steel, if you have one, on the center rack.
For the filling
Melt the butter in a 3-quart saucepan over medium heat. Add in the sugar, corn syrup, and honey. Whisk until smooth and bring to a boil. Continue to cook, stirring constantly, until the mixture reaches 240F. Remove from the heat and let cool for 7-10 minutes, or until it reaches 145F. Whisk in the eggs one at a time. Whisk in the lemon juice, vanilla, cardamom, and salt. Stir well to combine. Fold in the walnuts and pistachios. Pour into the bottom pie crust (the one in the pan).
Fold any overhanging dough into the center of the pan to form a wall of crust around the filling. Using a cookie cutter, cut out whatever shapes you so desire from the second sheet of rolled out pie dough and place them on top of the filling.
Whisk together the remaining egg yolk and water. Brush the cutouts with the yolk mixture so that they will bake up shiny and golden.
Place the pie on top of the baking sheet in the oven and bake for 40-50 minutes. Check on the pie every 5-10 minutes for the first half of baking and poke any large bubbles that form with a knife.
Cool for at least 15 minutes. Cut into squares and serve warm or at room temperature.