A hearty and healthy Tuscan white bean, kale, and farro stew.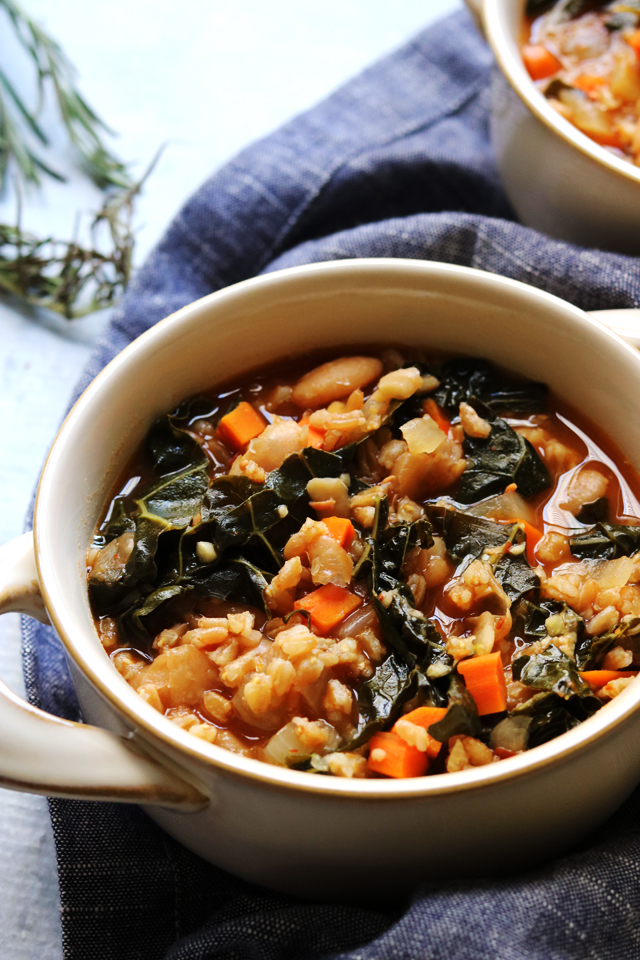 Hi, over here! Buried under a pile of flour and butter and pumpkin pie filling.
I've done some prep work to get ready but tonight is when the real baking marathon starts and, wouldn't you know, MY CHILD STILL EXPECTS TO EAT DINNER. Especially ironic given that she never actually eats the food I put in front of her.
Hmmph.
I've resigned myself to the fact that this is probably not going to be a week of balanced or even remotely healthy eating, but I'm doing what I can when I can to make sure we don't just subsist on pie scraps for the next few days.
Basically, that involves making a huge pot of healthy soup and eating our way through it all week long. This Tuscan white bean, kale, and farro stew is our current favorite!!
This is a recipe from fellow blogger Kathryne's Love Real Food cookbook, which I am OBSESSED with lately. It is filled with healthy, feel good meal inspiration that is absolutely perfect this time of year. I've been slowly but surely cooking my way through it and haven't come across a bad or even mediocre recipe yet.
What I love about this stew is that it is filled with simple, straightforward, good-for-you ingredients but will make your eyes roll back in your head on first bite – IT'S THAT GOOD. It is filled with lots of vegetables, has a hearty chew from farro and white beans, and salty savory flavor from autumn herbs and parmesan cheese. The only changes I made to the original recipe were to omit the celery (<– blech) and add in a parmesan rind during the soup's thirty minute simmer for extra cheesiness and umami.
If you want to make this after the holidays, feel free to stir in any leftover roasted vegetables you may have on hand. I think roasted squash, sweet potatoes, green beans, or brussel sprouts would be great here. Or you could even mix in some leftover turkey if you're feeling omnivorous.
Tuscan White Bean, Kale, and Farro Stew
A hearty and healthy Tuscan white bean, kale, and farro stew.
Ingredients
3 tbsp olive oil, divided
1 onion, chopped
3 carrots, chopped
salt and black pepper, to taste
6 garlic cloves, minced
½ tsp aleppo pepper flakes
2 bay leaves
1 parmesan rind
1 cup farro
3 cups cooked white beans
1 (14.5 oz) can fire-roasted diced tomatoes
4 cups vegetable broth
2 cups water
1 bunch lacinato kale, leaves thinly slcied
1 sprig fresh rosemary
1 tbsp lemon juice
Instructions
Heat 2 tbsp of the olive oil in a large pot or Dutch oven over medium heat. Add the onion, carrots, and a pinch of salt to the pot. Saute until tender, about 10 minutes, stirring occasionally.
Add the garlic and pepper flakes to the pot. Cook until fragrant, about 1 minute. Add in the bay leaves, parmesan rind, farro, beans, tomatoes, vegetable broth, and water. Stir to combine.
Increase the heat to medium-high and bring the soup to a boil. Lower to a simmer and cook for 30 minutes. Stir in the kale and rosemary sprig. Cook for another 10 minutes.
Remove the pot from the heat and discard the bay leaves, parmesan rind, and rosemary. Add in the lemon juice and remaining tbsp of olive oil. Season to taste with salt and black pepper.
Serve immediately.