Toasted gnocchi and peas are tossed with a creamy tomato sauce in this easy weeknight meal.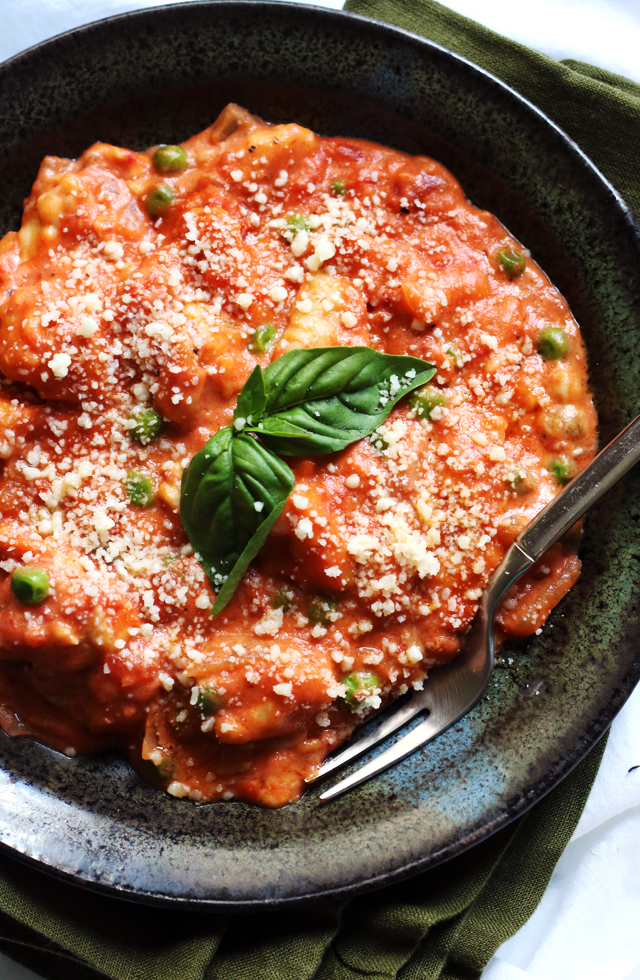 Can you guys even believe that my husband forced me to make plans this weekend?!?
Honestly, it's like he doesn't even know me.
I mean, yeah, part of it is that I'm 100% an introvert but the other part is the unfortunate plight of all residents everywhere:
THE ONE DAY WEEKEND.
Yes, you guys. #TheStruggleIsReal.
Don't get me wrong, things have improved since the dark ages of medicine when there was the NO day weekend and you just did a twenty four hour call every third day for all of your residency (and by 24 hour, I mean more like 48-72 hour). But at least then it wasn't like anyone was pretending that you had time to relax.
The one day weekend is such a tease! It's like, you feel like maybe you should have time to do something but when it comes down to it, you actually don't have time to do anything.
And so now you understand my reaction of abject horror whenever my husband tries to insist that we go places/do things/see people/wear clothes that are not our pajamas on my day off. It's just not compatible with me getting any of the other 6 trillion things that actually have to done done. 
Now, some of those things are semi-frivolous/luxuries, like snuggling my baby and sleeping past 5:20AM. But some are truly NON-NEGOTIABLE like getting dinner on the table and stockpiled in the fridge so that when I'm on nights all next week (<– UGH) Remy will actually eat something other than peanut butter crackers.
I mean, I hope.
Enter: GNOOOOOCHHHHIIIII in tomato cream sauce. Hellz. Yes.
These gnocchi are such a perfect weeknight meal whether you're crunched for time or otherwise. They're fast, they can totally be made in one skillet (if that skillet is 12-inch and cast iron, otherwise you'll have to dirty a nonstick pan and a baking dish – sorry), they contain a vegetable (!!!), and they're one of those meals that no one in the family will complain about so maybe everyone will actually eat instead of swiping half their meal on the floor (Remy, I'm looking at you).
I still maintain I'm never making another plan again….but when/if I'm coerced to, at least I'll have these gnocchi to come back to.
It's the small things.

Gnocchi and Peas in Tomato Cream Sauce
Toasted gnocchi are tossed with a creamy tomato sauce and peas in this easy weeknight meal.
Ingredients
¼ cup olive oil
1 lb gnocchi
1 onion, finely chopped
4 garlic cloves, minced
28 oz canned crushed tomatoes
½ cup water
2 cups frozen peas
salt and black pepper, to taste
½ cup heavy cream
2 oz parmesan cheese, grated
½ cup chopped fresh basil
Instructions
Heat oven to 475F.
Meanwhile, heat 2 tbsp of the olive oil in a large nonstick skillet over medium-high heat, until shimmering. Add the gnocchi and saute until lightly browned, about 4 minutes, then remove to a plate leaving behind as much oil as possible.
Add the remaining olive oil to the skillet. Add in the onion and saute until softened, about 3-4 minutes. Stir in the garlic and saute until fragrant, about 1 minute. Stir in the tomatoes, water, ½ tsp salt, ½ tsp black pepper, and peas. Cook until slightly thickened, about 8 minutes.
Add the cream and gnocchi to the pan. Bring to a boil, then reduce heat to low. Simmer until gnocchi are tender, about 5-7 minutes. Transfer to a casserole dish. Sprinkle with the parmesan cheese and then bake until the cheese is browned, about 8 minutes. Garnish with fresh basil and serve.
The best gnocchi recipes: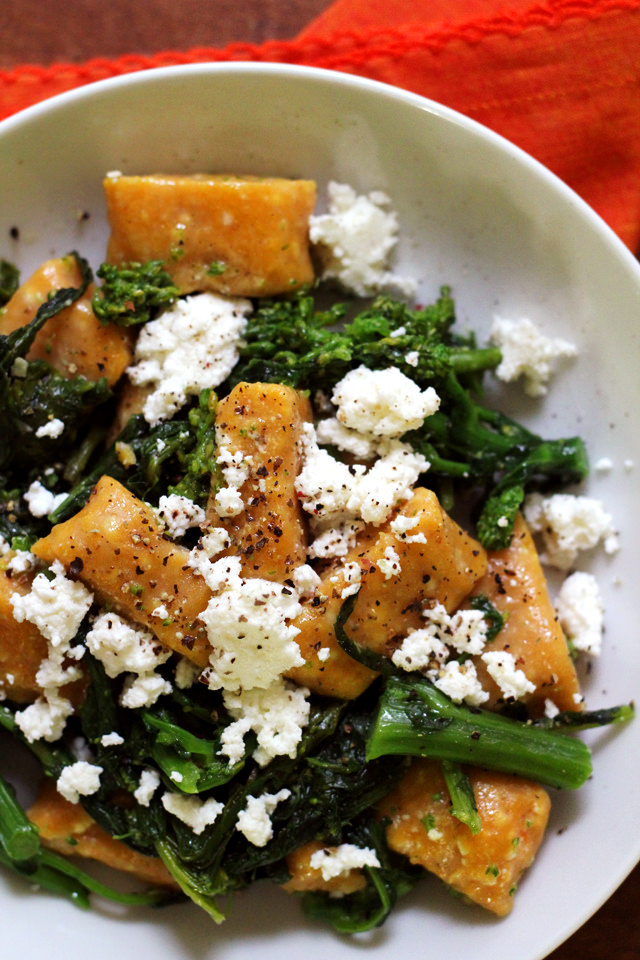 Pumpkin Gnocchi with Broccoli Rabe and Smoked Ricotta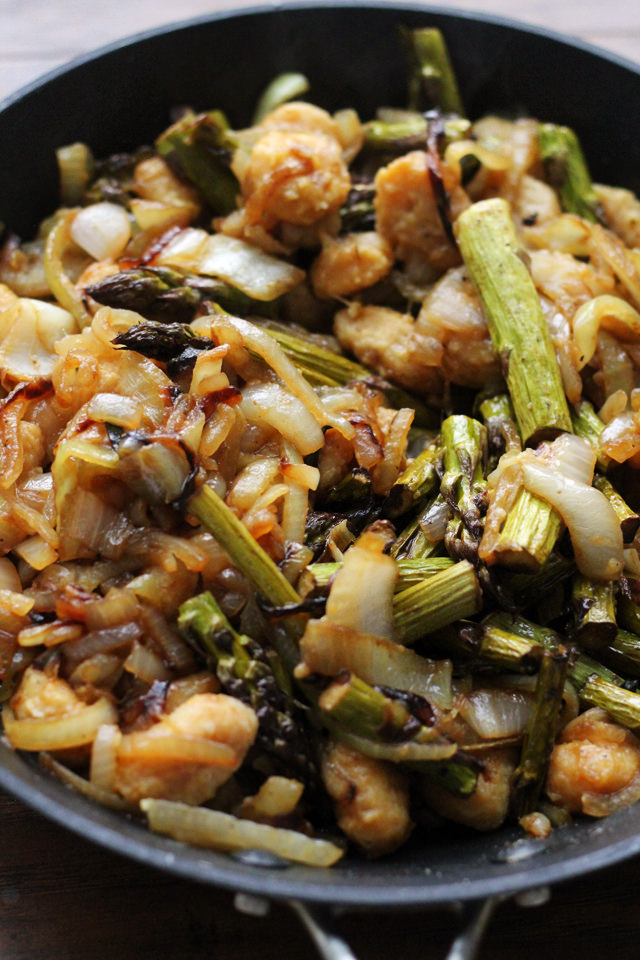 Sweet Potato Gnocchi with Balsamic-Roasted Asparagus and Caramelized Onions