This tomato-basil gnocchi gratin is a feel-good comfort food meal that can go from stove to table in about 20 minutes!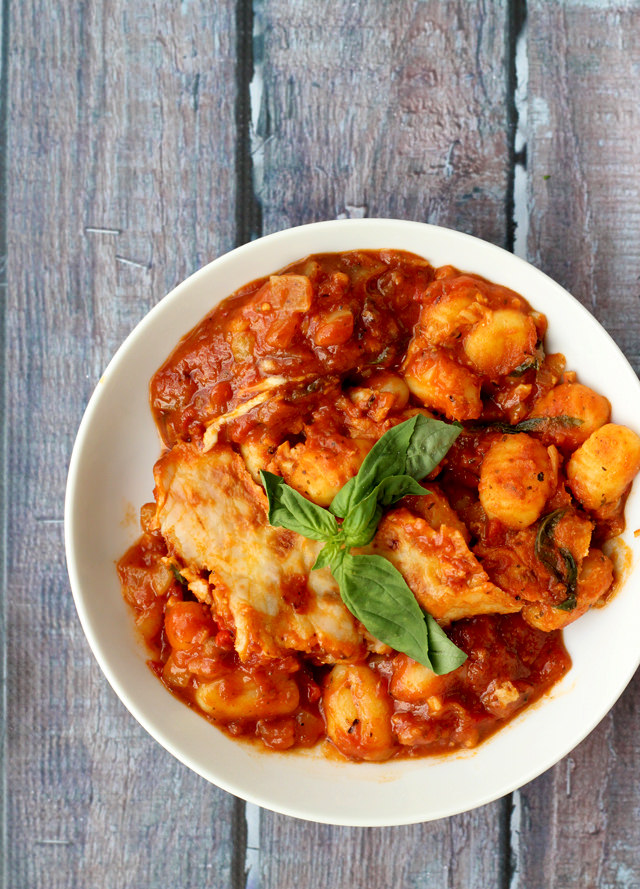 Because who has the strength to stand in front of the stove for an hour on a Monday?
Or on a Sunday after twelve too many glasses of wine the night before.
Public service announcement: making the wise decision to not participate in five rounds of sake bombing will almost certainly be canceled out when you choose to reward yourself for your good life choices with red wine. (But the polyphenols!)
Don't learn this the hard way.
The good news is that no matter the cause of your cooking ennui – whether it be a raging headache and slight nausea for which the only cure is a layer of broiled melty cheese and a large steaming mug of coffee, back-to-work exhaustion, or a table of picky eaters – this gratin is for you.
Although, I must say "gratin" is slightly misleading, being that this dish is tomato sauce-based and a total feel good food that gets its hit of indulgence from a sprinkling of cheese on top.
And that's how I like most of my dinners. Healthy with a hint of moderation.
Based on how well this went over with The.Boy, who went to town on the leftovers and ate them straight out of the baking dish. I think you will too.
Tomato-Basil Gnocchi Gratin
This tomato-basil gnocchi gratin is a feel-good comfort food meal that can go from stove to table in about 20 minutes!
Ingredients
1 lb vacuum-packed gnocchi
salt and black pepper, to taste
3 tbsp olive oil
1 onion, diced
3 garlic cloves, minced
2 cups tomato sauce (I used the roasted vegetable tomato sauce from Whole Foods)
¼ cup fresh basil, thinly sliced
2 oz mozzarella cheese, shredded
½ cup grated parmesan cheese
Instructions
Set a pot of salted water to boil.
Meanwhile, heat the olive oil in a large skillet over medium heat. Add in the onion with a pinch of salt and saute until starting to brown, about 10 minutes. Stir in the garlic and cook for 1 minute, until fragrant. Add in the tomato sauce and bring to a simmer.
Add the gnocchi to the boiling water and cook until they start to float. Scoop them out with a skimmer or slotted spoon, and add them to the pan with the sauce. Cook until heated through, about 1 minute. Stir in the basil. Season to taste with salt and black pepper.
Turn on the broiler. Pour the tomato-gnocchi mix into a 3-quart baking dish. Sprinkle the top with the mozzarella and parmesan cheese and broil until browned, about 3-5 minutes. Let cool for five minutes before serving.
Notes
Recipe from
The Pasta Revolution
For more gnocchi in your life, check out these:
Whole Wheat Carrot Gnocchi with Peas, Butternut Squash, and Ricotta
Gnocchi with Roasted Brussels Sprouts, Lemon and Pine Nuts from Oh My Veggies!
Baked Gnocchi with Ricotta from Taste and Tell
Crispy Gnocchi with Basil Pesto from Two Peas and Their Pod
Garlic Bread Crusted Gnocchi Mac 'n' Cheese from Cinnamon Spice and Everything Nice