Brussels sprouts pasta with parmesan cream sauce will become your new favorite way to enjoy sprouts! The brussels sprouts are shredded and almost melt in your mouth.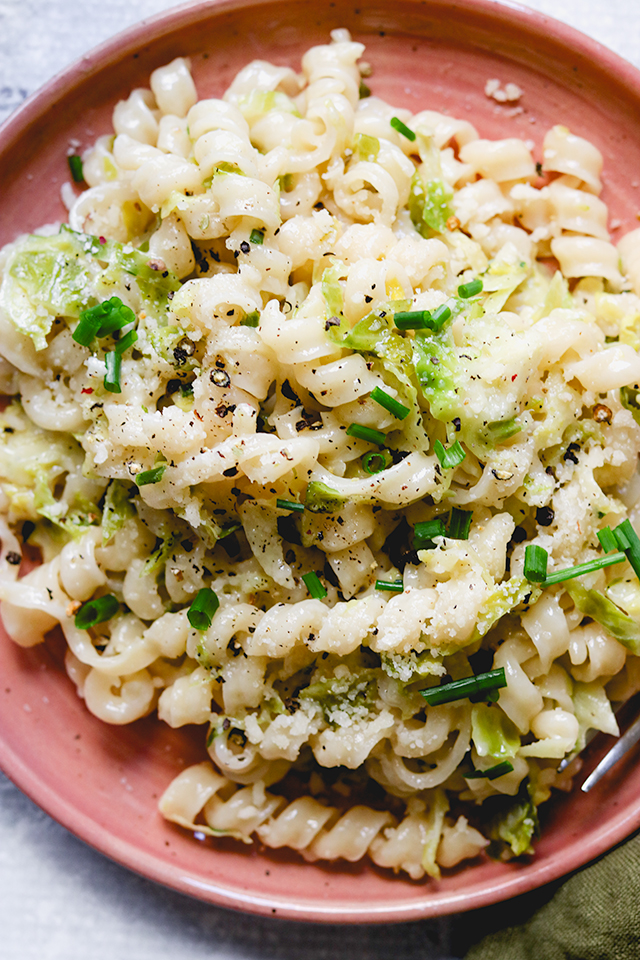 Brussels sprouts are back in season, so if you need me I'll be knee deep in my annual task of finding ways that my family will actually eat them.
It's a tough job, but someone's gotta do it, especially when you love brussels sprouts as much as I do. I absolutely refuse to give them up just because my husband and child have alien taste buds.
One little trick I've discovered since birthing the pickiest eater on the planet is that when all else fails, there is always pasta. Being half Italian, it's in her DNA and nine times out of ten I can entice her to take a bite of something if it is hidden inside a noodle or masked by a favorite sauce.
It also helps if the offending ingredient (usually a vegetable) is cut into small enough pieces that they are completely unavoidable but also not super noticeable.
Is this a form of black magic? I'm not sure, but whatever it is if it gets her to eat one vegetable a day I'll take it.
Back to this brussels sprouts pasta, which is filled with everyone's favorite cruciferous vegetable!
Okay, in all honesty I only learned to love brussels sprouts as an adult. I can't remember my mother ever making them as a child. Maybe we had them at Thanksgiving but if we did they were definitely boiled to death and flavorless. Boiled brussels are still the only way I refuse to eat them. All of that limp sogginess is just too much for me.
Here we're shredding them into super thin slices and sauteeing them in a bath of garlic and olive oil. I use my food processor's shredder attachment to cut them and it takes mere minutes. If you hate your fingertips, you can try to slice them on a mandoline but after a traumatizing incident that resulted in the loss of a chunk of my pinkie tip a few years ago, mandolines are no longer allowed in my kitchen. Many stores will also sell them pre-shredded, so you can seek these out if you're really looking to save time.
After a brief saute, the brussels become impossibly soft and tender with a hint of caramelization that brings out their sweetness. 
To make the sauce, a container of creme fraiche is mixed with some starchy pasta cooking water, a splash of heavy cream, and a few handfuls of grated parmesan cheese. The creme fraiche is thick and creamy with a bit of tang so while the sauce is rich, it is not overly so. It cooks in the pan with the brussels sprouts, so it gets a little garlic infusion that adds even more flavor to it.
I really love a squiggly pasta to pair with this sauce. The brussels sprouts get stuck in all of the nooks and crannies so you get inevitably get a little bit in every bite. Thick noodle-y pastas like fettuccine, pappardelle, or bucatini would also work well here because the sauce and the sprouts will cling to them nicely.
If you are really still not sold on trying this with brussels sprouts, finely diced broccoli or zucchini cubes will pair well with this sauce, though they may need a few more minutes of cooking time to reach the desired degree of tenderness.
A little bit of spice will also be welcome here, so feel free to sprinkle your finished dish with a dash of red pepper flakes. They will enhance the cream sauce and make it that much more enjoyable.
Brussels Sprouts Pasta with Parmesan Cream Sauce
Brussels sprouts pasta with parmesan cream sauce will become your new favorite way to enjoy sprouts! The brussels sprouts and shredded and almost melt in your mouth.
Ingredients
1 lb pasta
¼ cup olive oil
6 garlic cloves, minced
1 lb brussels sprouts, shredded
salt and black pepper. to taste
8 oz creme fraiche
¼ cup pasta cooking water
¼ cup heavy cream
½ cup grated parmesan cheese
2 tbsp minced chives
Instructions
Bring a large pot of salted water to a boil. Cook pasta according to package directions. Drain, reserving ¼ cup of pasta cooking water.
In the meantime, heat the olive oil in a large saute pan over medium heat. Once hot, add the garlic and saute for 1-2 minutes, or until fragrant. Add in the brussels sprouts and saute for 4-5 minutes, or until tender. Season to taste with salt and black pepper.
Stir in the creme fraiche, pasta cooking water, heavy cream, and parmesan cheese. Cook until the cheese has melted and the sauce has thickened slightly, about 2-3 minutes. Stir in the chives.
Pour the sauce over the cooked pasta and toss to combine. Season again with salt and black pepper. Serve immediately.
Notes
An Eats Well With Others Original