A Thai pumpkin and egg stir fry that makes for an easy weeknight meal, combining sweet, savory, and umami-rich flavors.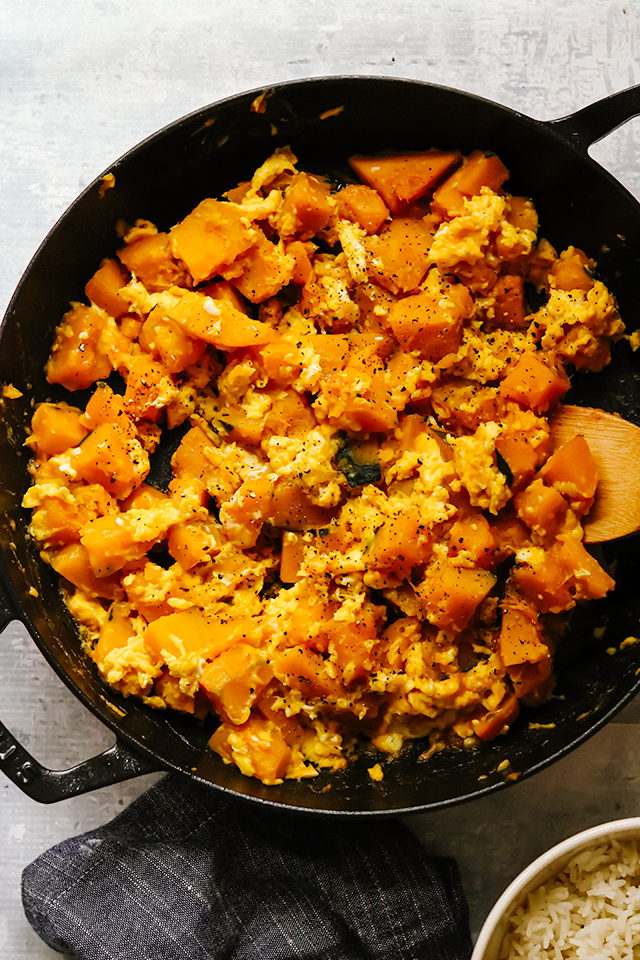 Everyone's all like THANKSGIVING THANKSGIVING THANKSGIVING and I'm over here like BUT WHAT ARE WE MAKING FOR DINNER THIS WEEK?!
Ridiculously simple Thai pumpkin stir fry is what and we are not mad about it.
Call me Scrooge, but I just could not get into Thanksgiving recipe development this year. If we're being honest, the food blog world just felt really oversaturated with holiday content to me. In the last 48 hours alone, I think I stumbled across ten different variations on mashed potatoes! TEN.
The funny thing about it is that I'm 99% sure that most people just make the same dishes that they've been making since the beginning of time. I know in my family there would be a mutiny if certain dishes weren't on the table – anything new or even remotely "different" has to be in addition to the holiday staples.
I've also felt a bit of a Thanksgiving ennui because we are keeping it very small (just Remy, Mike, and me) this year and I still have no idea what I'm making. Remy has requested "chocolate pie" for both dinner and dessert (nice try, kid), while my husband is voting for going completely non-traditional with homemade pizza. I'm thinking I might concede on both fronts (well, the pie for DESSERT and not dinner) to keep everyone happy.  
All of these mental gymnastics trying to figure out what I'll be in the mood for a week from now has also left me feeling pretty apathetic on the dinner front. When that happens I turn to some of my more ethnic cookbooks for dinner inspiration.
While I've done a fairly deep dive into authentic Indian cooking, the rest of Asian cuisine is a bit of a mystery to me. We have our staple dishes that we order whenever we get Thai or Chinese take out but I know that these are nowhere close to the kinds of meals that are made in actual Asian households. Which is why I'm so so grateful for cookbooks! 
My go-to for Thai cuisine is Simple Thai Food by Leela Punyaratabandhu of the She Simmers blog. Her recipes are true to Thai home cooking while also being delicious and approachable for Thai cooking newcomers, like myself.
This Thai pumpkin and egg stir fry, for instance, is a meal that you will never see on a Thai restaurant menu but is a staple in home kitchens throughout Thailand. Made with just seven ingredients, including oil and pepper, it is ridiculously easy to prepare and comes together in well under 30 minutes.
This recipe uses kabocha squash, which is one of my absolute favorite winter squashes and is commonly used in Thai and Japanese cooking. Kabocha has a low moisture content that yields a velvety, sweet, and dense flesh after cooking. The skin is edible and softens after being cooked, though you can certainly peel it if you're so inclined.
To make this stir fry, the kabocha is steamed in a mixture of water, fish (or soy) sauce, and oysters sauce. These savory, umami-rich flavors seep into the kabocha making for that perfect sweet and salty contrast. After the kabocha has cooked, eggs are lightly fried in the same pan to turn this veggie dish into a complete meal. The stir fry is topped with a dusting of ground pepper just before serving to add a hint of spice. 
We ate this over a bed of rice as our main meal but it could also be served as a side dish to accompany a larger dinner.
Thai Pumpkin and Egg Stir Fry
A Thai pumpkin and egg stir fry that makes for an easy weeknight meal, combining sweet, savory, and umami-rich flavors.
Ingredients
1 kabocha squash, about 2.5 lb
3 tbsp vegetable oil
3 large garlic cloves, minced
1 tbsp fish sauce or 2 tbsp soy sauce
1 tbsp oyster sauce
4 eggs, lightly beaten
¼ tsp ground pepper, white or black
Instructions
Cut the squash into quarters and remove any seeds or fibers. Peel the squash quarters if desired. Cut the squash into 1-inch cubes.
Heat the oil in a wok or 14-inch skillet over medium high heat. Once hot, add the garlic and saute until fragrant, about 3- seconds. Add in the squash, fish sauce, and oyster sauce along with just enough water to cover the squash. Bring to a boil. Cook, stirring occasionally, until the squash is fork-tender and the water has completely evaporated, about 10-15 minutes.
Push the squash to the sides of the pan, leaving a well in the center. Pour the eggs into the center of the well and scramble them until just set, about 1-2 minutes. Stir everything together. Remove from the heat and sprinkle with the pepper just before serving.