A mix of sweet and tart apples are tossed with a salted caramel sauce and baked into this melt-in-your-mouth salted caramel apple pie.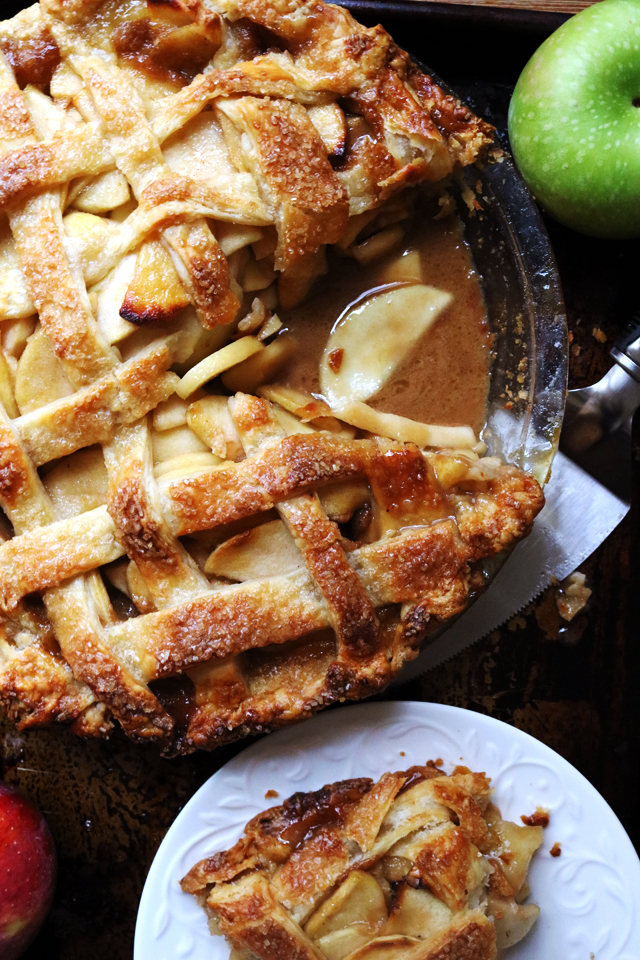 I'm doing something waayyyy outside my comfort zone this weekend.
It involves flying across the country x2 in less than 48 hours.
Sans. Child.
Should I laugh??
Should I cry??
Should I bring benadryl with me on the plane so, most importantly, I can sleep??
I don't even know what to do with myself without a certain 18 month old (going on 30) bossing me around and asking for "milkies" every three seconds. Can you tell?
We've never left Remy alone overnight with anyone other than the.boy, so this is really uncharted territory. My brother and sister are coming to stay with her and part of me knows she'll be fine because she's obsessed with them and will think it's one big slumber party, but the other part of me is a major anxiety ball stress mess.
Normal?
Normal.
(Hold me.)
If you need me I'll be laying in the corner in fetal position kneading/rolling out/crimping pie dough. Because baking my feelings and subsequently eating my feelings are two of my most mature coping mechanisms.
If you ever have a need to take your mind off something, might I suggest taking up pie baking??
It really is a perfect task for that.
Making pie crust from scratch is just involved enough to distract you from whatever is going on in your life and then at the end you get to eat pie!
And not just any pie. Salted caramel apple pie.
It's sweet, it's salty, it's spiced, it's tart, it's everything. But mostly it's xanax in non-psychotropic (but just as endorphin-inducing!!) form.

Salted Caramel Apple Pie
A mix of sweet and tart apples are tossed with a salted caramel sauce and baked into this melt-in-your-mouth salted caramel apple pie.
Ingredients
For the crust
2½ cups all purpose flour
1 tsp kosher salt
1 tbsp sugar
½ lb (2 sticks) cold unsalted butter, cut into ½-inch pieces
1 cup cold water
¼ cup cider vinegar
1 cup ice
For the filling
1 cup + 2 tbsp sugar
¼ cup water
¼ lb unsalted butter
½ cup heavy cream
2 lemons
2½ lb apples
2-3 dashes Angostura bitters
⅓ cup raw sugar
¼ tsp cinnamon
¼ tsp ginger
pinch nutmeg
one grind fresh black pepper
¼ tsp kosher salt
2 tbsp all purpose flour
¼ tsp flaky sea salt, plus more for finishing
egg wash (1 large egg whisked with 1 tsp water and a pinch of salt)
demerara sugar, for finishing
Instructions
For the crust
Whisk together the flour, salt, and sugar in a large bowl. Add the butter to the flour mixture and toss to coat. Using a pastry blender, cut the butter into the flour until only pea-sized pieces of butter (or smaller) remain.
In a separate small bowl, combine the water, cider vinegar, and ice. Sprinkle 2 tbsp of the ice water mixture over the flour-butter mixture. Toss with your hands until fully incorporated. Add more of the ice water, 1-2 tbsp at a time, using your hands to mix. Add just enough of the water mixture so that the dough comes together into a ball. Split the dough in half and shape each half into a flat disc. Wrap in plastic wrap and refrigerate for at least 1 hour.
For the pie
Roll out one of the pie discs into an 11-inch round. Use this to line the pie plate leaving a 1-inch overhang around the edges. Wrap in plastic wrap and freeze overnight.
The next day, roll out the second pie crust disc into an 11-inch round. Using a pizza cutter, cut into long thin strips for the lattice. Place back in the refrigerator to chill.
Next, prepare the filling.
Whisk together 1 cup of the sugar and the water in a medium pan. Cook over medium-low heat until the sugar is dissolved. Stir in the butter and bring to a low boil. Allow to cook until the mixture turns a deep copper color. Remove from the heat immediately and slowly stir in the heavy cream. Whisk together to combine. Set aside to cool while you prepare the filling.
Juice the lemons into a juicer or large bowl, scooping out any seeds. Peel the apples and core them, then cut into thin slices. Toss the apple slices in the lemon juice then transfer them to another bowl. Sprinkle the remaining 2 tbsp sugar over the apple slices and set aside to macerate, about 20-30 minutes.
In a large bowl, toss the raw sugar with the Angostura bitters, cinnamon, ginger, nutmeg, black pepper, salt, and flour. Add the apples to the bowl with the spice mixture, leaving behind as much of the extra liquid as possible. Stir to thoroughly combine.
Pour the apples into the prepared pie shell, mounding them in the center. Pour ½ to ¾ cup of the prepared caramel sauce evenly over the apples. Sprinkle with the sea salt flakes. Assemble the pie crust strips into a lattice on the top of the pie, then crimp the edges as desired.
Chill in the freezer for 20-30 minutes. Meanwhile heat the oven to 400F, placing a baking pan on the bottom rack.
Brush the pastry with the egg wash. Sprinkle with demerara sugar and sea salt flakes. Place pie on the warmed baking sheet in the oven and bake for 20-25 minutes. Reduce the oven heat to 375F, move the pie to the middle rack, and bake for another 30-35 minutes.
Allow to cool completely, about 2-3 hours. Serve slightly warm or at room temperature.
Notes
Recipe from The Four & Twenty Blackbirds Pie Book
More pies to rock your fall.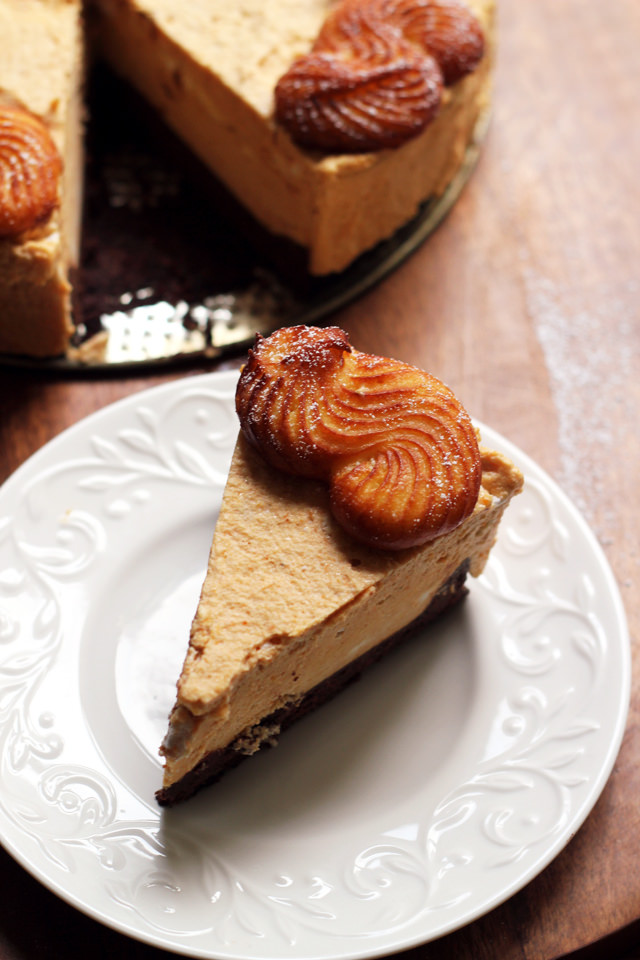 Pumpkin Mousse Cruller Black-Bottomed Tart