This sauce-less white pizza is topped with crispy brussels sprouts, ricotta, and two cheeses, then drizzled with a tart-sweet balsamic glaze.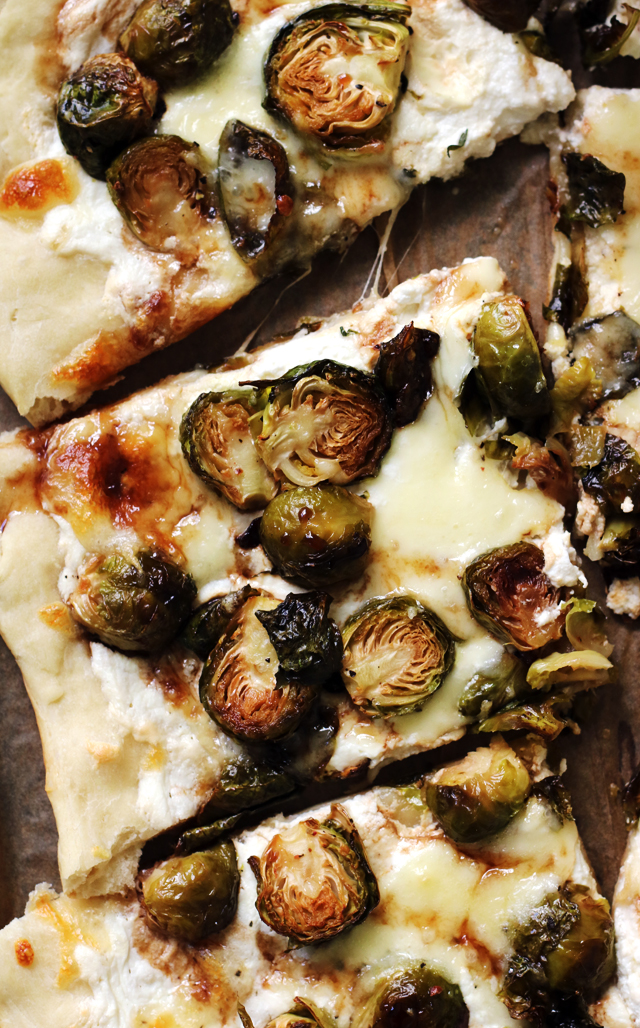 cheesy messy ooey gooey kind of ugly but you can't stop looking at it food.
YAAAASSSS.
I choose you.
Also: a pizza celebration because Remy was back to school yesterday and I think we have finally kicked Influenza A out of our lives for good. #FingersCrossed.
(#FamousLastWords)
Things were getting a little hairy by the end there. On Sunday, Remy looked at us with big puppy dog eyes and said "I want to go outside".
After having to entertain her in the house for over a week, we were like YES!!
So we went out for almond croissants. It was perfect.
If I had had my act together and didn't have a sleep hangover from working nights, I would have totally done a pizza night too! But we'll have to suffice with memories of pizza nights past.
I can't remember exactly when I made this pizza, maybe sometime around November? Thankfully, brussels sprouts are still in season and we're all probably still trying to find ways to get our kids (both the children and the husband varieties) to eat them.
Let me tell ya, roasted to crispy perfection then placed atop a bed of three cheeses before drizzling with a sweet-tangy balsamic glaze? 100000% the way to go, no matter what occasion you're celebrating.

Crispy Brussels Sprouts and Ricotta Pizza with Balsamic Glaze
This sauce-less white pizza is topped with crispy brussels sprouts, ricotta, and two cheeses, then drizzled with a tart-sweet balsamic glaze.
Ingredients
For the pizza dough
1 tbsp active dry yeast
pinch of sugar
1 cup lukewarm water, divided
3 cups bread flour
2 tsp sea salt
2 tbsp olive oil
For the pizza
1 lb brussels sprouts, trimmed and halved
1 tbsp maple syrup
2 tbsp olive oil
1 tsp red pepper flakes
salt and black pepper, to taste
8 oz mozzarella, grated
8 oz gruyere, grated
8 oz ricotta
balsamic glaze, for drizzling
Instructions
For the pizza dough
In a small bowl, combine the yeast with a pinch of sugar and ¼ cup lukewarm water, stirring to combine. Let sit for 5 minutes. If it becomes foamy, then the yeast is alive and raring to go! If not, then the yeast is probably dead or too old and your dough won't rise, so go buy more.
In the bowl of a stand mixer fitted with the bread hook attachment, combine the flour, yeast/water mixture, remaining ¾ cup water, olive oil, and salt. Stir on medium speed until dough comes together. Stir on medium-high speed for five minutes. Cover the bowl with plastic wrap and let rise in a warm place until doubled in size, about 2 hours.
For the pizza
Heat oven to 450F.
In a medium bowl, toss the halved brussels sprouts with the maple syrup, olive oil, and red pepper flakes. Spread on a parchment-lined baking sheet and season with salt and black pepper. Roast for 20-30 minutes or until crispy, stirring halfway through.
Remove from the oven and set aside to cool while the dough rises.
Increase oven temperature to 500F.
Once pizza dough is ready, grease your hands with olive oil and spread the dough out over a parchment-lined pizza pan. Top with the ricotta in an even layer, then sprinkle the grated cheese over it. Spread the roasted brussels sprouts evenly over the cheese.
Place pizza in the oven and bake for 15 minutes, or until crispy and browned on the bottom. Let cool for 10 minutes, then drizzle with the balsamic glaze and serve warm.
Notes
An Eats Well With Others Original
More of my favorite pizzas: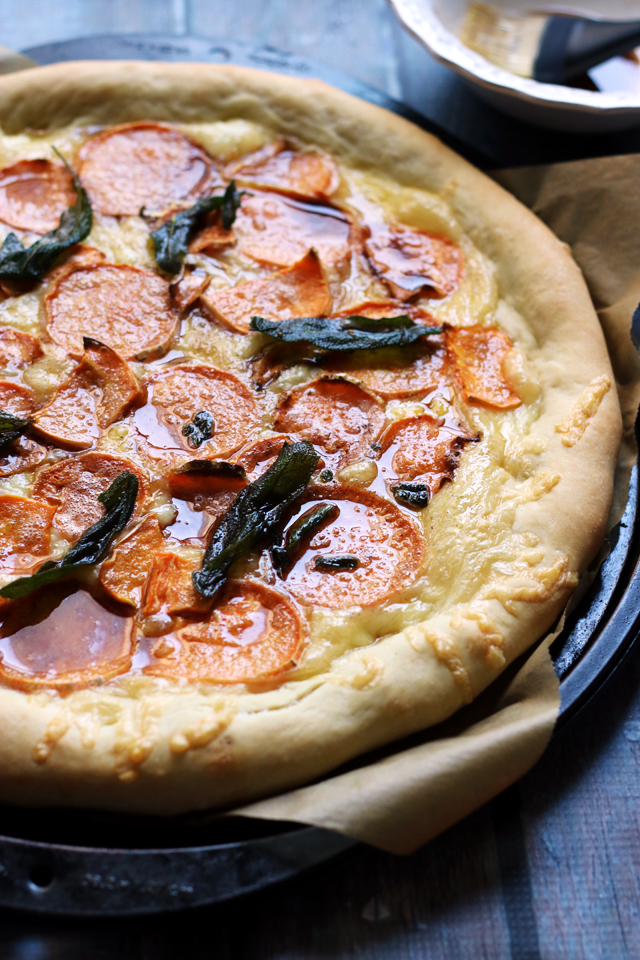 Sweet Potato, Brown Butter, and Fried Sage Pizza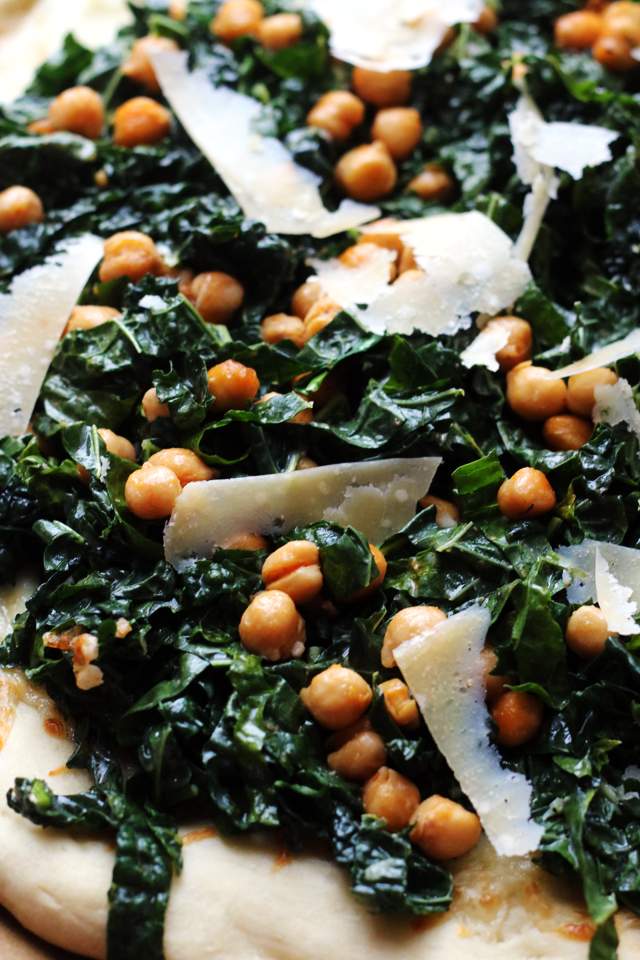 Mozzarella and Kale Caesar Pizza with Crispy Chickpeas