This cheesy pasta with tomato cream sauce is weeknight comfort at its finest.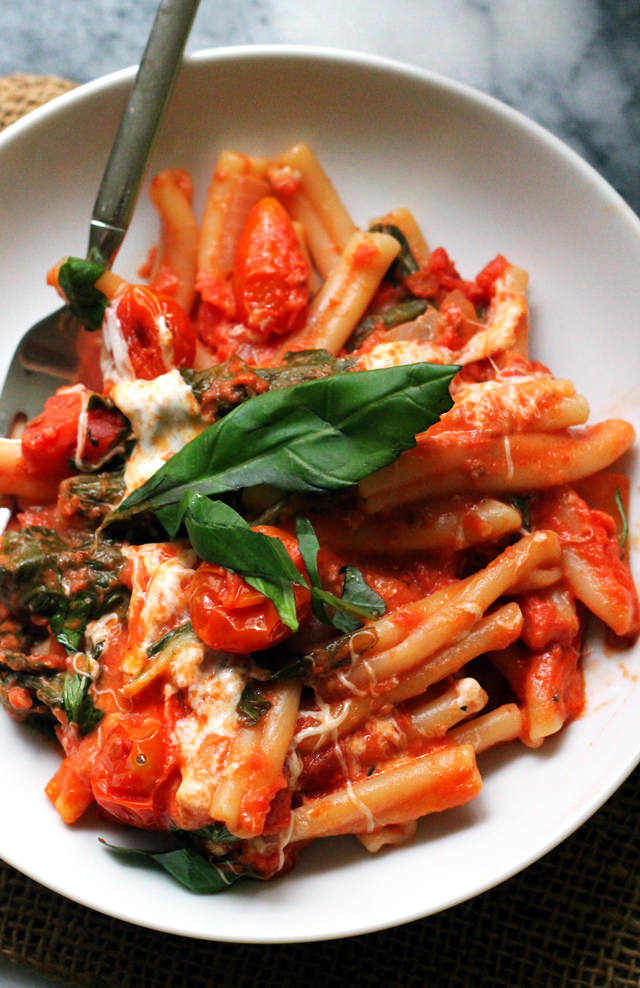 This is going to sound extremely strange coming from a food blogger who screams the virtues of COOKING FROM SCRATCH! AT HOME! from her rooftop (perhaps literally – sorry neighbors), but weeknight cooking makes me cringe.
I mean, those nights when you come home from work later than intended and still want to go to the gym and get your life together and eat dinner before midnight.
IT'S HARD.
And I don't even have kids.
I try to do most of my cooking on the weekend because that just seems like the easiest way to deal, but no matter how many meals I prepare ahead of time, by the time the middle of the week rolls around I find myself back in the kitchen racing against the clock to make something edible before my favorite 7:45PM Zumba class.
#thestruggleisreal.
THEN I stumbled across this new pasta favorite recipe from Annie's Eats and, I don't know. It makes life easier.
Sweet and caramelized roasted tomatoes mixed into a pot of quick baked cheesy pasta comfort. I am down for that any day.
The roasted tomatoes do take some time in the oven but (a) you can make them ahead of time (like during that weekend prep we were talking about) or (b) you can throw them in the oven when you set the water to boil and take them out whenever you're ready to toss them into the pot before its final bake. Mayyyybbbbeeee they won't have roasted for the full 30-40 minutes, but they'll still be fabulous. I can attest to it.
Bring it on weeknights.
We are officially ready for you.

Cheesy Pasta with Tomato Cream Sauce
This cheesy pasta with tomato cream sauce is weeknight comfort at its finest.
Ingredients
For the oven roasted tomatoes
1 pint tomatoes
2 tbsp olive oil
salt, to taste
2 tsp sugar
For the pasta
1 lb gemelli
1 (28 oz.) can peeled whole tomatoes, with juices
1 tbsp. butter
1 medium onion, finely chopped
3 cloves garlic, minced or pressed
½ tsp. red pepper flakes
1 tbsp. tomato paste
½ tsp. kosher salt
Freshly ground pepper, to taste
5 oz baby kale
8 oz mozzarella, cubed
¼ cup heavy cream
Minced fresh basil, to finish
Instructions
Heat oven to 350F.
Toss the tomatoes, olive oil, a pinch of salt, and sugar together in a bowl. Spread on a parchment-lined baking sheet and bake for 30-40 minutes, turning once halfway through.
Meanwhile, bring a large pot of salted water to a boil. Cook the pasta according to package instructions, until al dente. Drain well.
Raise oven temperature to 400F.
Put the canned tomatoes in a food processor or blender and pulse until mostly smooth.
In a Dutch oven, heat the butter until melted. Add the onion to the pan and cook, stirring occasionally, until softened, about 4-5 minutes. Stir in the garlic, red pepper flakes, tomato paste, salt, and black pepper. Cook until garlic is fragrant and tomato paste starts to brown, about 1 minute. Pour in the blended tomatoes and baby kale and stir to combine. Bring to a boil and then simmer for 6-8 minutes, until thickened. Season to taste with salt and black pepper and stir in the cream.
Remove from the heat and stir in the cooked pasta, mozzarella, and oven roasted tomatoes. Bake for 10-12 minutes or until the cheese is bubbling. Remove from the oven and let cool for a few minutes. Serve topped with the basil.
Nutrition Information
Serving size:
⅙th of recipe
Bring on the pasta!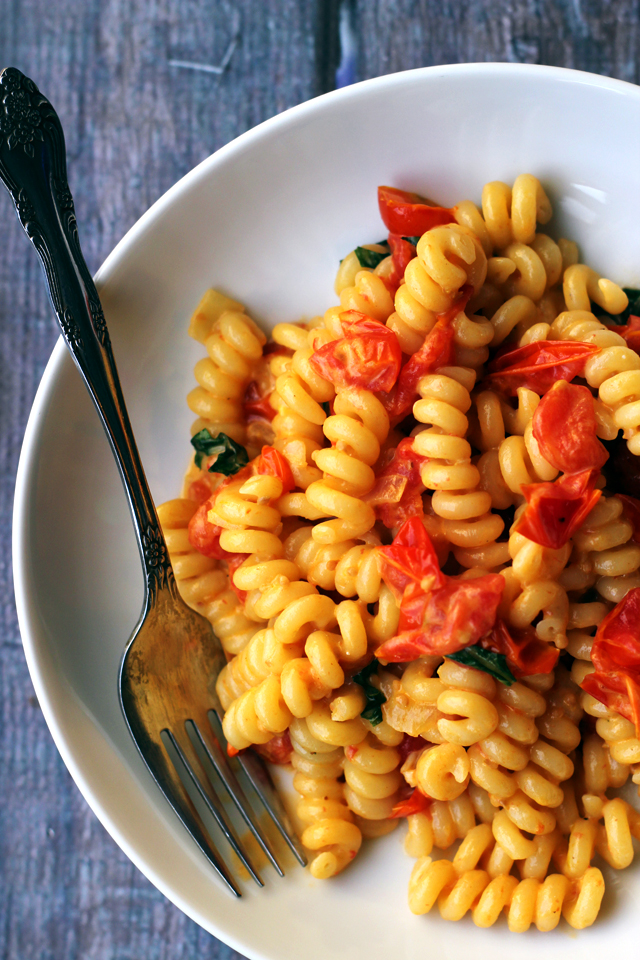 Pasta with Slow-Roasted Cherry Tomatoes and Cream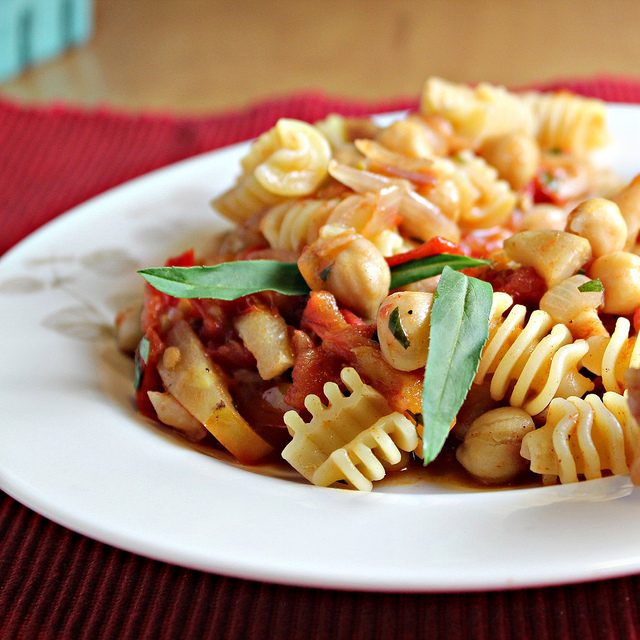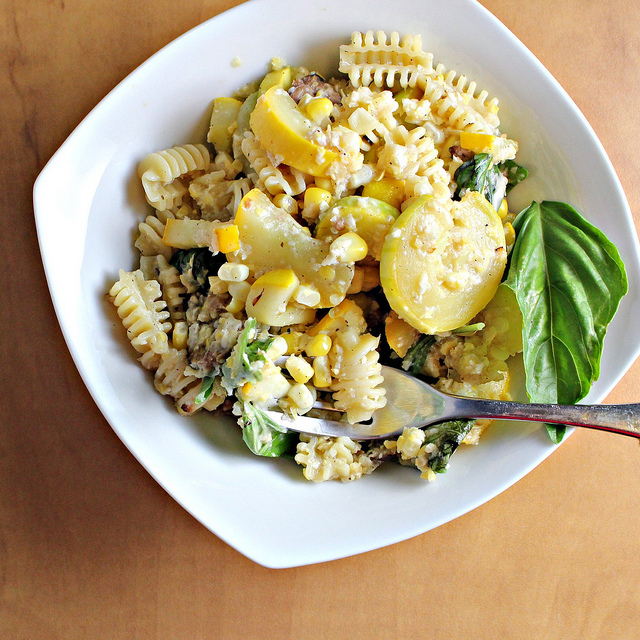 From Around the Web:
Hummus Pasta Salad from The Baker Mama
Cheesy Broccoli and Pepper Baked Orzo from Oh My Veggies
Summer Caprese Pasta Salad from Hip Foodie Mom
Thai Coconut Noodle Salad from Foodiecrush
Pasta Verde with Lemon Basil Vinaigrette from Ciao Chow Bambina