Individual-sized mozzarella, rosemary, and new potato tarts are creamy, cheesy, and the ultimate comfort food.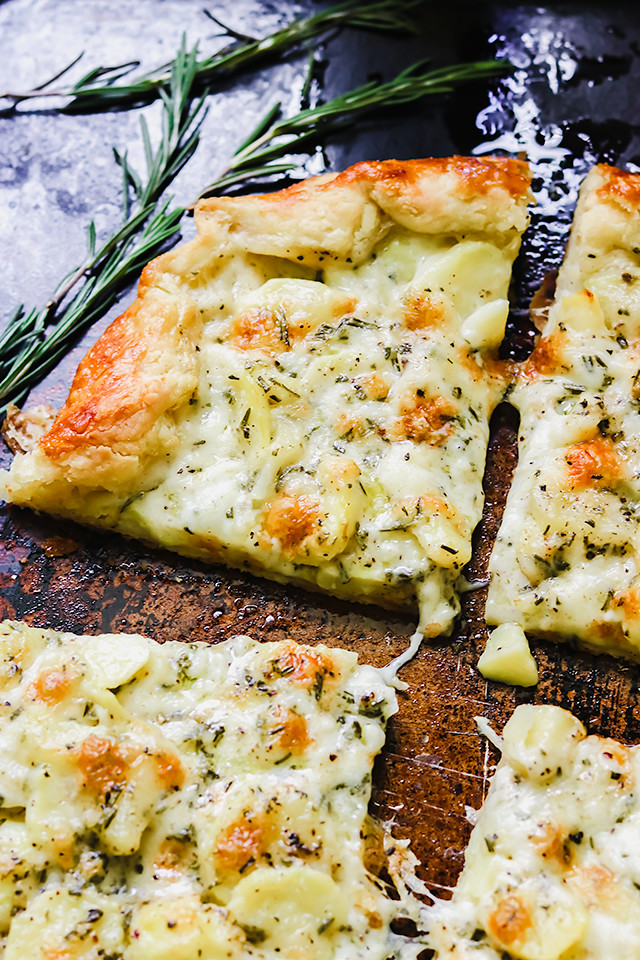 I see you, Monday.
And I'm coming for you with some carb on carb cheesy deliciousness.
I mean, seriously, I just want to dive into that cheese/olive oil/heavy cream/rosemary bath and eat my way out.
Anyone else?
There is nothing more divine in this life. I really believe that.
These tarts are comfort on comfort on comfort on comfort on crack.
There's a flaky buttery pastry base topped with cooked potato slices and the dreamiest creamiest buffalo mozzarella cocktail you could imagine.
Oh, and they're personal-sized so you don't even have to share!! Or you could make one huge tart and…still not share. I won't tell.

Mozzarella, Rosemary, and New Potato Tarts
Individual-sized mozzarella, rosemary, and new potato tarts are creamy, cheesy, and the ultimate comfort food.
Ingredients
For the pastry dough
1 cup (140 g) all purpose flour
pinch of kosher salt
pinch of sugar
6 tbsp (85 g) cold unsalted butter, cut into ½-inch cubes
2-3 tbsp ice water
1 egg, beaten, for egg wash
For the filling
1 large ball buffalo mozzarella and the liquid it comes in
2 tbsp heavy cream
2 tbsp olive oil
1 tbsp chopped rosemary leaves
sea salt, to taste
freshly ground black pepper
7 oz (200 g) new potatoes, peeled, boiled in salted water, and cut into ½-inch slices
olive oil, for drizzling
Instructions
For the pastry
Whisk together the flour, salt, and sugar in a large bowl. Cut the butter cubes into the flour mixture with your fingers or a pastry cutter. Drizzle in the water a tbsp at a time, adding just enough so that the dough comes together. Form the dough into a disk, wrap it in plastic wrap, and allow to chill in the fridge for 30 minutes.
For the filling
Cut the mozzarella ball into 1/20inch pieces. Place them in a bowl with 4 tbsp of the cheese liquid, the heavy cream, olive oil, rosemary, salt, and black pepper. Mix together and season to taste. Set aside.
Heat oven to 400F. Line a baking sheet with parchment paper.
Divide the pastry into 4 balls. On a lightly floured work surface, roll each ball out into a 1/16-inch thick round. Place on the prepared baking sheet and lightly dust with flour. Top with the sliced potatoes, leaving a ¾-inch border. Fold the edges over and on top of the filling slightly. Brush the edges of the pastry with the beaten egg. Spoon the cheese mixture evenly over the tarts.
Place in the oven and bake for 20-25 minutes, or until golden. Drizzle with a little olive oil before serving.