Pan-seared salmon is topped with a buttery pine nut sauce and served with gruyere-roasted cabbage.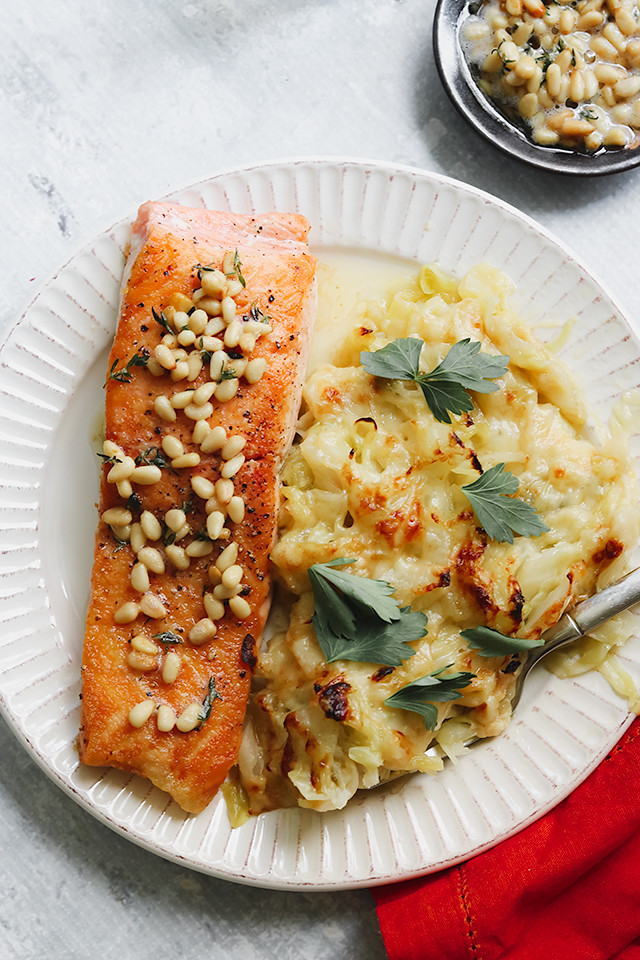 Weeknight dinner, but make it fancy.
Though if we're being honest, salmon is what I make when I *JUST CAN'T* anymore with the toddler pickiness.
She lluuuuurrrvvveeeessss salmon. Literally cheers at the table when it's what's for dinner.
It's a welcome change from having to spend all of dinner trying to bribe her to eat, well, just about anything else that I make.
Before anyone gets up in arms about it, this is completely NOT an authentic version of meuniere, which is usually made with a white fish that is dredged in flour and fried so that it gets all crispy.
Salmon crisps up plenty nicely on its own (and we just like it better than white fish), so I skipped that whole step and pan-seared it. It takes less than ten minutes to do and doesn't make a flour disaster all over you're kitchen. WIN/WIN.
The salmon is topped with a brown butter and thyme sauce with toasted pine nuts, and then finished with a squirt of lemon juice at the table. It is so rich and delicious, you'll feel like you're dining in a restaurant. (Not that I actually remember what that feels like.)
The real all-star on the plate, though, is the CABBAGE. Maybe you live with a bunch of cabbage-haters like I do? Maybe YOU are a cabbage hater? Either way, I'm about to change your life.
This is cabbage for people who think they don't like cabbage. It's simmered in a jalapeno-infused broth until it is fall-apart tender, then topped with handfuls of gruyere and broiled to crispy cheesy perfection.
Pair it with a good glass of white wine and you may never need to go on a date night again. Which is good, since, you know.
Salmon Meuniere with Gruyere-Roasted Cabbage
Pan-seared salmon is topped with a buttery pine nut sauce and served with gruyere-roasted cabbage.
Ingredients
For the salmon meuniere
4 salmon fillets, patted dry
kosher salt
freshly ground black pepper
2 tbsp clarified butter or ghee, divided
chopped fresh parsley, for serving
4 tbsp unsalted butter
1 tbsp fresh thyme leaves
¼ cup pine nuts
1 lemon, for serving
For the cabbage
4 tbsp unsalted butter
1-2 jalapenos, halved, seeded, and thinly sliced
3 garlic cloves, thinly sliced
10 cups sliced cabbage (from 1 small head or ½ large head)
1 tsp fine sea salt
¼ cup vegetable broth
5 oz gruyere, shredded
1 oz (1/4 cup) grated parmesan cheese
Instructions
For the salmon meuniere
Season the salmon fillets all over with salt and black pepper. Set aside.
In a large skillet over medium-high heat, heat 2 tbsp of the ghee until bubbling. Place the fillets in the pan, skin-side down, and cook until crispy and golden, about 4-5 minutes. Filp the fish over and cook until it is crispy and cooked to desired doneness, about 2-3 minutes. Place on a warm plate to rest and top with the parsley.
Wipe out the skillet. Add the butter, thyme leaves, and pine nuts to the pan. Simmer until the butter is bubbling and the pine nuts are toasted. Pour the butter sauce over the salmon and serve immediately with lemon wedges on the side.
For the cabbage
Heat the broiler over high heat.
Melt the butter in a large cast-iron skillet over medium heat. Add in the jalapenos and garlic. Saute until fragrant, about 2 minutes.
Stir in the cabbage, salt, and vegetable broth. Increase the heat to medium-high and saute, stirring often, until the cabbage has softened and most of the liquid has cooked off, about 10 minutes. Season to taste with salt.
Sprinkle the gruyere and parmesan cheese over the cabbage. Place the skillet in the oven and broil until the cheese is golden and bubbling, about 3 minutes. Serve warm.