A hearty pot of richly spiced Indian-ish dhal gets brunch-ified in this recipe for dhal-baked eggs.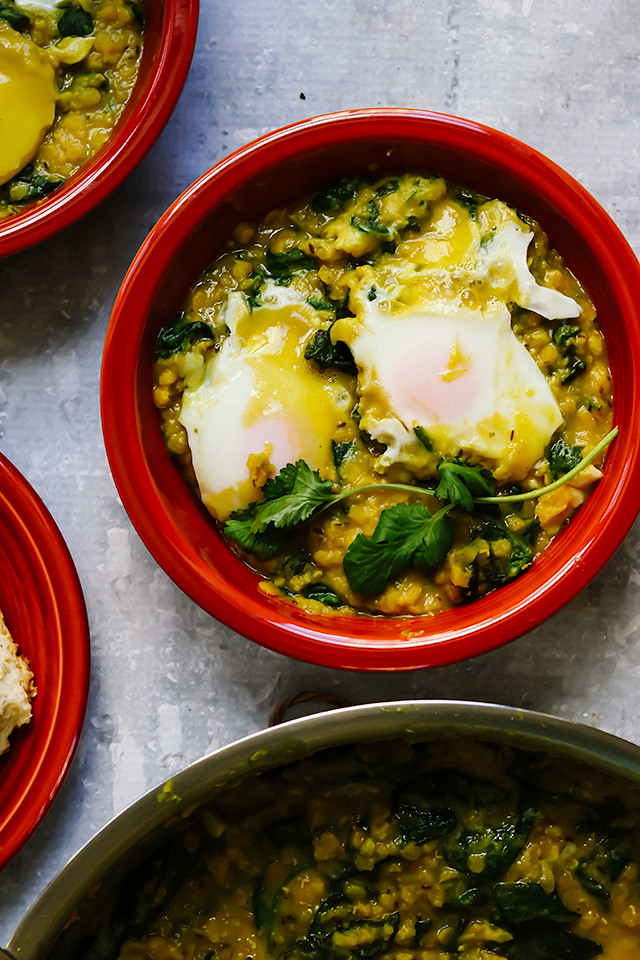 I had a lot of anxiety and back-and-forth arguments with myself in my head over whether or not to post today, what with everything that's going on the world.
On the one hand, I'm white.
I have clearly lived and continue to live a life of white privilege. I can walk down the street with my daughter and a cell phone in my hand without worrying that a police officer might mistake it for a gun and shoot me down while my toddler watches. I can walk into a store without the eyes of every member of the store's personnel immediately shifting towards me because they're afraid I might steal something. I can send my child to school without worrying that someone won't want to play with her because of the color of her skin.
Now that I've really begun to think about it in earnest, it's amazing the the things I have lived my entire life taking for granted; the things that I have considered to be my inexorable rights, that for someone with more melanated skin would be aspirations at best.
On the other hand, food is political. It always has been, and it always will be.
It can tell history. Where we are, where we've been, and where we're going.
Food has memory.
And so I think I would be remiss both if I kept silent this week and also if I forged ahead with my usual banter as if nothing were happening.
So, here we are.
I've been looking at myself through a more critical lens, trying to learn and grow as a mother, as a medical professional, as a human. If you had asked me a week ago, I would have told you that I've been pretty good at being not racist. But at being anti-racist? I, like many others (possibly everyone?), have fallen short. And that's a hard truth to swallow.
But I'm learning that anti-racism, much like medicine, is a practice. It requires continuous learning, adaptation, inquiry, adjustment, reflection. So that's what I plan to do.
When looking through my cookbooks, I was hit with the stark realization that I have only one by a black author. Out of a collection in the 100s. So that is something I need to work on, clearly.
In the meantime, I'll leave you with this, which, to me, is pure comfort. A hearty red lentil dhal that gets a shakshouka-esque spin with the addition of gently poached eggs. The runny yolks are the perfect counter to the dhal's rich spices and are extra delicious when sopped up with large pieces of naan or poured over a bed of rice.

Dhal-Baked Eggs
A hearty pot of richly spiced Indian-ish dhal gets brunch-ified in this recipe for dhal-baked eggs.
Ingredients
1 tbsp olive oil
thumb-sized piece of ginger, peeled and minced
4 garlic cloves, minced
small bunch of cilantro, leaves and stems separated, stems finely chopped
1 tsp cumin seeds
1 tsp ground coriander
1 tsp ground turmeric
1½ cups (300 g) split red lentils
sea salt, to taste
½ lb (250 g) baby kale or baby spinach
juice of 1 lemon
freshly ground black pepper
4 large eggs
1 jalapeno pepper, thinly sliced
naan or rice, for serving
Instructions
Heat the oil in a large skillet over medium heat. Add in the garlic, ginger, and cilantro stems. Saute until the garlic is lightly golden, about 2 minutes.
Add the cumin seeds, coriander, and turmeric to the pan. Toast the spices for 1-2 minutes, or until fragrant. Add in the lentils and stir to coat in the oil and spices. Pour 4½ cups hot water into the pan along with a generous pinch of salt. Stir well. Bring to a boil and then lower the heat and simmer for 20-30 minutes, or until the lentils are tender and the mixture has thickened.
Add the greens to the pan and stir to combine. Simmer with the lid on for 2 minutes, or until they have wilted. Add the lemon juice and season to taste with salt and black pepper.
Make four wells in the lentils and then crack an egg into each one. Put the lid back on the pan and simmer until the egg whites are firm but the yolks are still runny, anywhere from 5-10 minutes.
Serve garnished with cilantro and sliced chile, along with naan or rice on the side.