A simple Indian cauliflower, pea, and coconut curry that is rich with warm spices.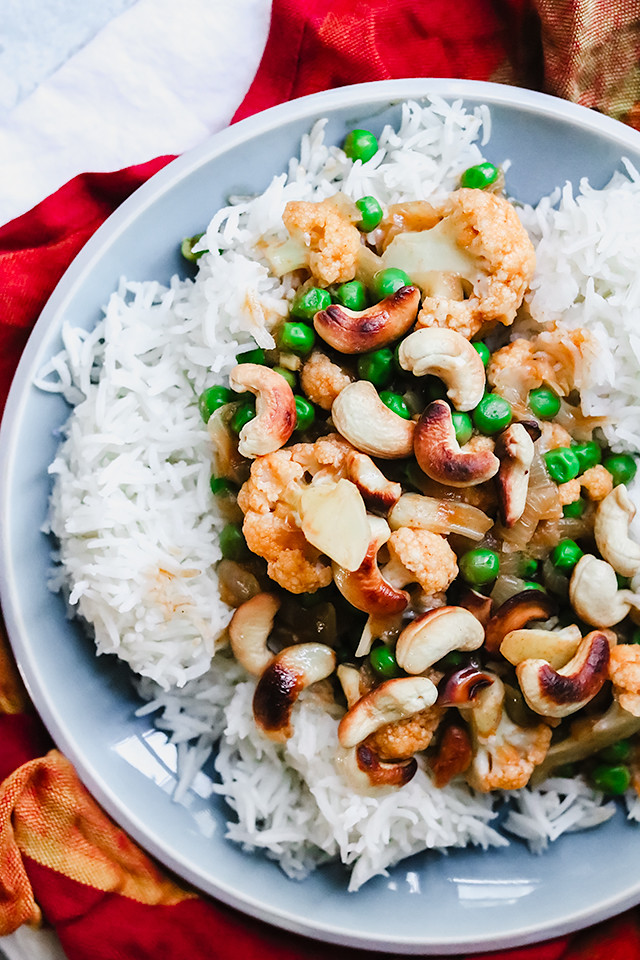 Maybe this is a pantry meal if you happen to have an Indian supermarket embedded in your kitchen?
Actually, I do. Practically.
To be fair, the only truly non-pantry item in this is the cauliflower and I just happened to have a head of it lurking in the back of my refrigerator this weekend. We are really in NO WASTE mode particularly so that we can never leave our apartment again, so obviously I had to find a way to use it up. Governor's orders.
This also helped me use up my mega stash of Indian spices, a few onions, frozen peas, a can of coconut milk, and a bag of cashews. Win win win win win!
The spices in this are actually nothing too out of the ordinary so in all likelihood, if you're someone who cooks somewhat often, then you probably already have them. And if not, feel free to just substitute in some curry powder! These are desperate times and no one would fault you. And the same goes for the veggies! Use what you've got. It will all be fine.
Cauliflower, Pea, and Coconut Curry
A simple Indian cauliflower, pea, and coconut curry that is rich with warm spices.
Ingredients
1¾-inch piece of chopped ginger, roughly chopped
4 garlic cloves, roughly chopped
1 green chili, seeded and roughly chopped
salt, to taste
4 tbsp canola oil
2 large onions, diced
1 tbsp tomato paste
1½ tsp ground coriander
1¼ tsp ground cumin
½ tsp chili powder
1 large head of cauliflower, broken into bite-sized florets
1½ cups coconut milk
4 oz unsalted cashews
½ cup peas
½ tsp garam masala
lemon
basmati rice, cooked according to package directions
Instructions
Combine the ginger, garlic, chili, and a pinch of salt in a mortar and pestle or food processor. Grind to a paste and set aside.
Heat 3 tbsp of the oil in a large frying pan over medium heat. Add the onions and fry for 10-12 minutes, or until golden and just starting to brown. Add the ginger garlic paste and fry for 3-4 minutes. Add in the tomato paste, ground coriander, cumin, chili powder, and 1¼ tsp salt. Stir to mix.
Add the cauliflower florets to the pan and toss so that they are evenly coated with the spices. Pour in the coconut milk and bring to a simmer. Cover the pan and reduce the heat to low. Simmer for 10-12 minutes.
Meanwhile, heat the remaining tbsp of oil in a separate pan over medium heat. Add the cashews and fry until golden, about a minute per side. Remove to a plate to cool.
Once the cauliflower is tender, add the peas and garam masala. Cook for 4-5 minutes. Season to to taste with salt and black pepper.
Serve the cauliflower curry on a bed of rice topped with the cashews and a squeeze of lemon juice.