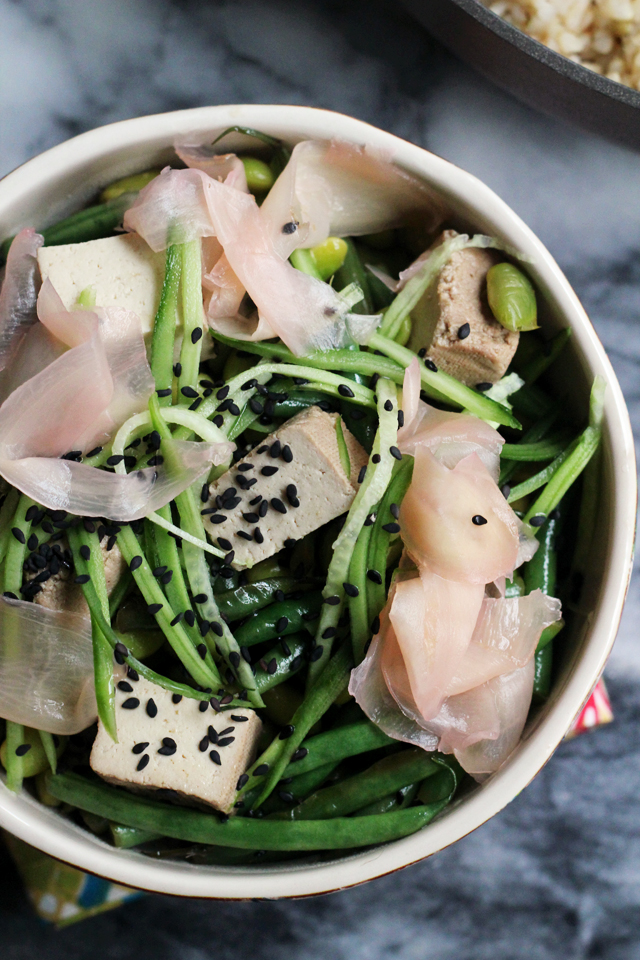 I generally don't like to play favorites with my food, but if I had to be stuck on a desert island with only one food trend from the past year….Bowl Food would be it.
Not only is the concept so simple it's almost silly (I mean, eating a whole bunch of food out of a bowl is not exactly rocket science), but it's also so open to interpretation that you can really go anywhere with it, and any trend that fosters food creativity is a trend worth following in my book.
Another thing to love about Bowl Food is that if done right it can be really good for you; after all, it's basically just salads made a bit heartier by adding a whole grain base. While you can put pretty much anything in a Bowl, one of my favorite things to do is to re-imagine some of my favorite non-Bowl foods in Bowl form, which brings us to these vegetarian sushi rice bowls!
I am pretty much a sushi addict, but my credit card doesn't love how exorbitantly priced a simple cucumber roll can be. While I would love to be able to make restaurant-quality sushi at home, it just hasn't happened yet, so the last time a craving struck I took it upon myself to recreate my favorite sushi flavors into this fabulous bowl!
This vegetarian sushi rice bowl starts with a layer of brown rice that is seasoned with a mixture of lime juice, rice vinegar, sugar, and soy sauce – basically the same flavors that are used to season rice for maki rolls. The rice layer is topped with string beans, edamame, and cubes of Nasoya Teriyaki TofuBaked that were sauteed in sesame oil and the remaining rice vinegar dressing. The bowl is then garnished with cucumber slivers, black sesame seeds, and pickled ginger so you get the full sushi flavor effect. I then like to serve it with soy sauce on the side, but you can feel free to add spicy mayo, sriracha, wasabi, or any of your favorite sushi toppings!
Vegetarian Sushi Rice Bowl
Ingredients
2 cups brown rice
juice of 3 limes
3 tbsp seasoned rice vinegar
3 tbsp sugar
1½ tbsp soy sauce, plus more to taste
2 tbsp sesame oil
1 lb string beans, cut into 1-inch lengths
1 lb frozen edamame
1 package of Nasoya Teriyaki TofuBaked, cut into ½-inch cubes
4 small seedless cucumbers, julienned
pickled ginger, for garnish
black sesame seeds, for garnish
Instructions
Cook the brown rice according to package directions. Meanwhile, in a small bowl, whisk together the lime juice, rice vinegar, sugar, and soy sauce until well combined. As soon as the rice is done cooking, toss it with half of the dressing. Set aside.
In a large skillet or wok, heat the sesame oil over medium-high heat. Add the string beans and edamame to the pan, along with the remaining dressing. Saute until just tender and edamame is heated through, about 5-6 minutes. Season to taste with salt and black pepper. Add in the tofu and saute until warmed through, about 2-3 minutes.
Divide the brown rice among 6 bowls. Top with the vegetable mixture, cucumber slivers, pickled ginger, and black sesame seeds. Serve with soy sauce on the side.
Notes
An Eats Well With Others Original