Kale and three cheese calzones stuffed with a hint of spice, ricotta, mozzarella, parmesan cheese, and sweet golden raisins.
Disclosure: This post was sponsored by Blue Apron. As always, my thoughts and opinions are my own. Keep reading to find out how you can get an AWESOME discount on your first order!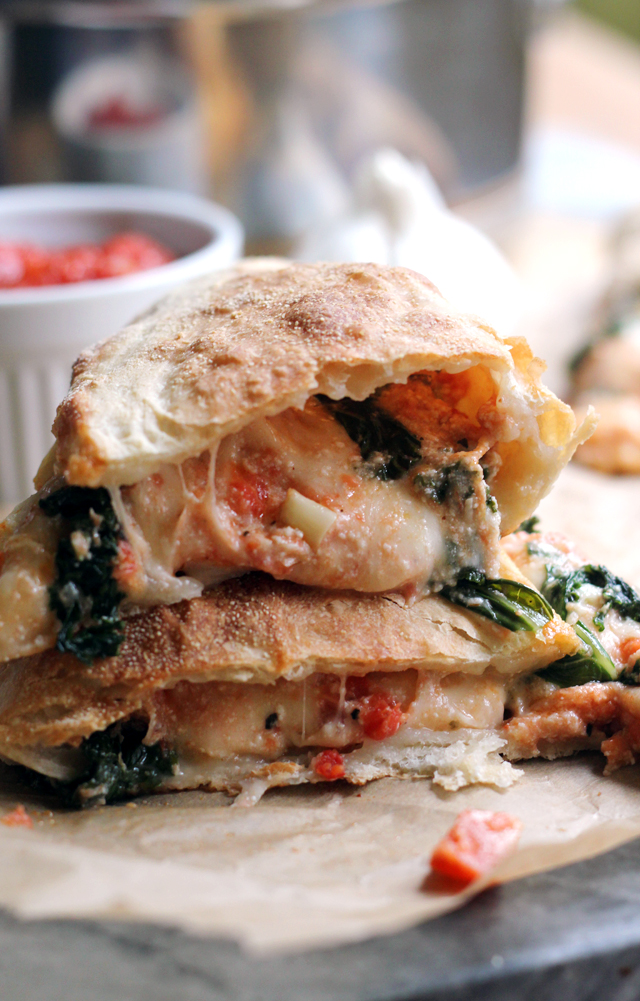 When my kid pops out shaped like a ball of mozzarella…I feel like none of us are going to be surprised.
Am I right?
I just can't stop with ALL THE CHEESE! It's really the best kind of craving, in my opinion.
And these calzones are packed with not one,
not two,
but THREE cheeses!
AND KALE.
All star status, right there.
I wish I could take credit for coming up with this comfort on comfort on LOADS OF VITAMIN A recipe, but I can't.
It was all Blue Apron.
Honestly, 99% of the time, Blue Apron is the only thing that gets me through the week. I've been obsessively using the service since going back to med school/becoming pregnant (at my own expense!) for a gazillion reasons, but mostly because (a) their recipes are always delicious, (b) I love that they deliver all the farm fresh ingredients I need right to my door in the perfect portions so that I don't have to go to the store, and (c) I don't have to do any of the grunt work of finding new recipes to make – they do all the hard work for me! They are always mixing it up and keeping it inventive, which is exactly my eating style.
For those of you who haven't heard my spiel of love about Blue Apron before, here's the deal: it is basically a meal delivery service that delivers ingredients and recipes to your door each week. They have either a Family (4-person) or a 2-person plan that delivers either 2 or 3 meals, respectively. Though, personally, I find that often the meals for the 2-person plan actually serve 3 (leftovers, FTW!). Each meal is between 500-700 calories and can be prepared in 40 minutes or less, making them totally doable for a weeknight. Even though I can't hand-select the ingredients myself, I know that they will be high quality because Blue Apron sources them from suppliers and artisans who practice sustainable farming and fishing.
The ingredients are delivered in a refrigerated box so that they stay fresh even if you're not home to receive them and you can recycle all of the packaging either by recycling as you would normally in your neighborhood OR, if there are no recycling options in your area, by returning it for free to Blue Apron via USPS so that they can recycle it for you (learn more about that here!).
One of my favorite parts of each week is checking to see which recipes are going to be coming up for delivery. Some that I'm already pining for are this Creamy Lemon Linguine with Caramelized Onion, Chard, and Walnuts, the Vegetable Bibimbap and Kimchi, and the Heirloom Carrot and Toasted Farro Salad with Labneh and Pickled Dates.
So now that I've won you over with cheese + carbs, are you ready for your first Blue Apron delivery?! The first 20 readers who sign up will get TWO FREE MEALS on their first order…so get to it! Just make sure you sign up using this link.

Kale and Three Cheese Calzones
Kale and three cheese calzones stuffed with a hint of spice, ricotta, mozzarella, parmesan cheese, and sweet golden raisins.
Ingredients
1 lb plain pizza dough
4 cloves garlic
½ lb fresh mozzarella
1 bunch of kale
4 tsp olive oil
1½ tsp Italian seasoning
½ tsp aleppo pepper
1 (15 oz) can crushed tomatoes
2 tbsp golden raisins
½ cup part-skim ricotta
⅓ cup grated parmesan cheese
¼ cup semolina flour
Instructions
Heat oven to 475F. If using refrigerated pizza dough, remove it from the refrigerator to bring to room temperature. Peel and thinly slice the garlic. Tear the mozzarella cheese into bite-sized pieces. Remove and discard the kale stems and roughly chop the leaves.
In a medium pot, heat 2 tsp of olive oil on medium-high heat until hot. Add half the garlic and cook, stirring frequently, 30 seconds to 1 minute, or until fragrant. Add the Italian seasoning and aleppo pepper and cook, stirring frequently, 30 seconds to 1 minute, or until toasted and fragrant. Add the crushed tomatoes and cook, stirring occasionally, 2-4 minutes, or until thoroughly combined and warmed through. Remove from the heat and season with salt and black pepper to taste.
While the tomato sauce cooks, in a medium pain, heat 2 tsp of olive oil on medium-high until hot. Add the remaining garlic and cook, stirring frequently, 30-45 seconds, or until fragrant. Add the kale, raisins, and 2 tbsp water. Season with salt and black pepper. Cook, stirring occasionally, 3-5 minutes, or until the kale has wilted and the water has evaporated. Try to cook out as much of the liquid as possible.
In a large bowl, combine the kale, mozzarella, ricotta, parmesan cheese, and ⅓ of the tomato sauce. Stir to thoroughly combine. Season with salt and black pepper, to taste.
Sprinkle half the flour on a clean, dry work surface. Divide the dough into 3 equal portions. Stretch each portion to a ¼-inch-thick round. Divide the filling between the centers of the rounds. Fold each round in half over the filling. Press or crimp the edges of the dough with a fork to seal the calzones.
Sprinkle the remaining flour on a sheet pan. Carefully transfer the calzones to the prepared pan and drizzle or brush the tops with olive oil. Bake for 15-18 minutes, or until golden brown. Remove from the oven and let stand for at least 2 minutes. Cut in half and serve with the remaining tomato sauce on the side for dunking.