In this spinach and artichoke pizza, homemade pizza dough is topped with white wine-braised spinach and artichokes in a creamy, cheesy sauce.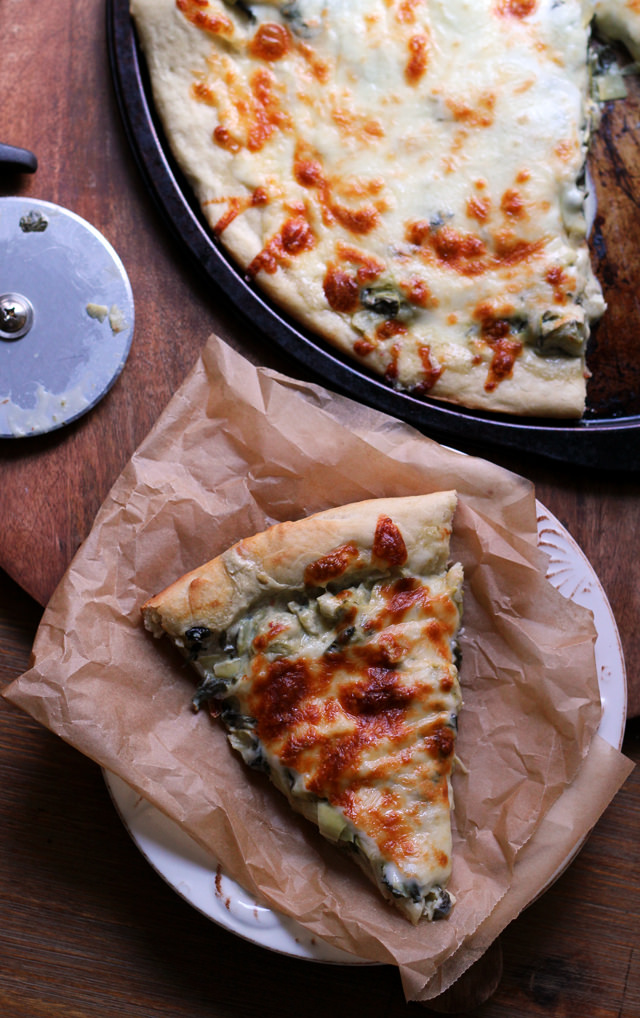 As if fashioning a pizza after your favorite dip wasn't enough to raise eyebrows, what would you say if I told you that this is actually based on a late night memory, and not the kind you go home and tell your mother about the next day?
Five years later, and it's all haze and nostalgia now, laced with just enough inebriation so that there is very little attention to detail, but there was a slice and a stoop, and by golly I ate and sat and in that moment it was glorious.
And I have Artichoke Pizza (also, vodka sodas – my heyday drink of choice) to thank for it.
If you have spent any part of your 20's in New York City, then you are likely familiar with this late night dining establishment. It's within walking distance of Everywhere That Is Worth Going To In NYC After Dark (at least when you're 22), stays open way past anyone's bedtime, and offers up the cheesiest, greasiest, most disgustingly delicious pizza you will ever get your hands on.
It's so gross that you can only really derive any pleasure from eating it once you're well on you're way to drunk-town, but in that moment it tastes like the best thing you've ever eaten. But better.
We can't all be ladies of the night forever, though, and some of us want to dredge up just a hint of this food memory in totally sober broad daylight, while sitting on the couch in our pajamas watching House of Cards on Netflix.
This pizza can do that for you.
It has the essence of what I can recall from my short-lived party girl days, but heavier on the veggies and lighter on the cream. To keep that sense of richness, I braised the spinach and artichokes in white wine, which makes this taste much naughtier than it is without adding tons of calories and saturated fat. A few tablespoons of cream cheese and handfuls of grated mozzarella later, and you have yourself a pizza that you will actually want to remember.
Stay away from the vodka soda haze, and maybe you actually will.
Spinach and Artichoke Pizza
In this spinach and artichoke pizza, homemade pizza dough is topped with white wine-braised spinach and artichokes in a creamy, cheesy sauce.
Ingredients
For the pizza dough
1 tbsp active dry yeast
pinch of sugar
1 cup lukewarm water, divided
3 cups bread flour
2 tsp sea salt
2 tbsp olive oil
For the pizza topping
1 tbsp olive oil
1 tbsp butter
5 oz baby spinach
½ tsp red pepper flakes
1 lb frozen artichoke hearts
1 cup white wine
2 oz low fat cream cheese
2 tbsp heavy cream
salt and black pepper, to taste
8 oz mozzarella, grated
Instructions
In a small bowl, combine the yeast with a pinch of sugar and ¼ cup lukewarm water, stirring to combine. Let sit for 5 minutes. If it becomes foamy, then the yeast is alive and raring to go! If not, then the yeast is probably dead or too old and your dough won't rise, so go buy more.
In the bowl of a stand mixer fitted with the bread hook attachment, combine the flour, yeast/water mixture, remaining ¾ cup water, olive oil, and salt. Stir on medium speed until dough comes together. Stir on medium-high speed for five minutes. Cover the bowl with plastic wrap and let rise in a warm place until doubled in size, about 2 hours.
Meanwhile, prepare the topping. Combine the olive oil and butter in a large skillet over medium-high heat. Once the butter is melted, add the baby spinach, red pepper flakes, and artichoke hearts. Saute until the artichoke hearts are heated through and the spinach is wilted, about 6-7 minutes.
Add the white wine to the pan, scraping up any brown bits that have gathered on the bottom. Simmer until it has reduced by half, about 5-6 minutes. Stir in the cream cheese and heavy cream. SImmer until sauce has thickened enough to coat the back of a spoon, about 6-8 minutes. Season to taste with salt and black pepper.
Heat oven to 500F.
Rub a 12-inch pizza pan with olive oil. When the dough has risen, spread it out over the prepared pan.
Spread the spinach and artichoke topping over the dough, leaving a ½-inch crust around the edges. Sprinkle evenly with the mozzarella. Bake for 10 minutes, or until the bottom starts to brown. Let rest for 5 minutes before cutting and serving.
Notes
An Eats Well With Others Original
More pizza!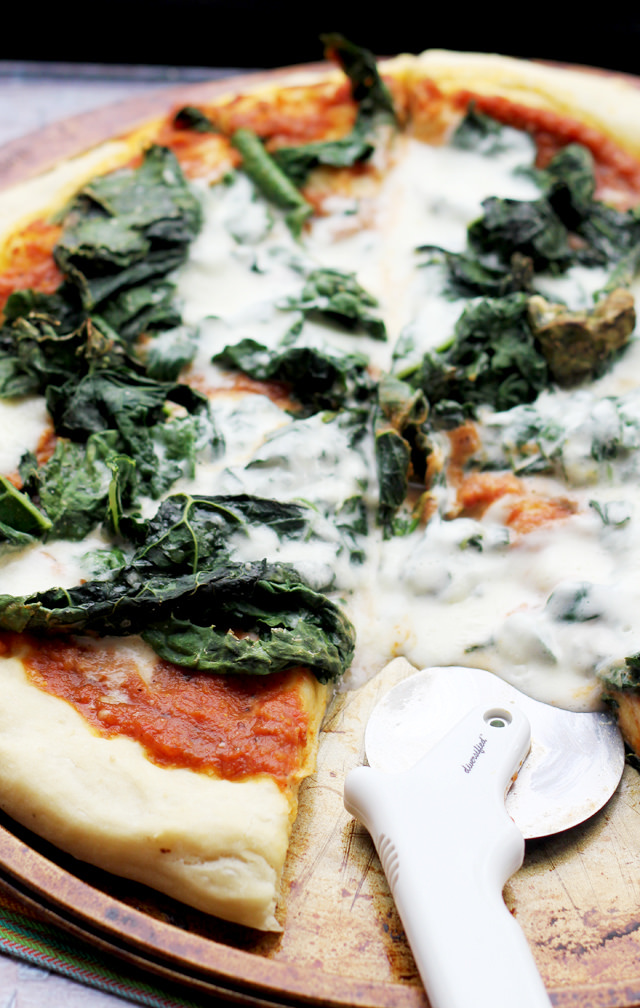 Pumpkin Chipotle Pizza with Kale and Burrata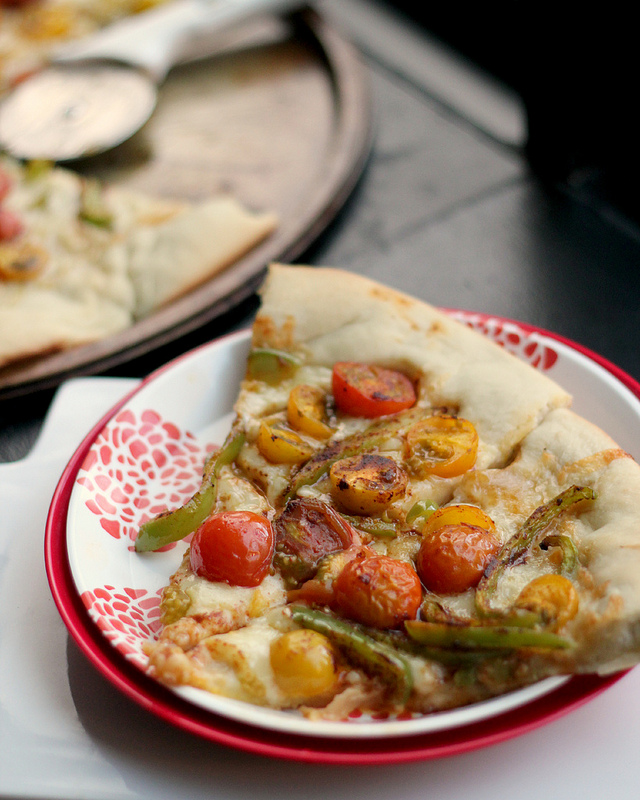 Chipotle-Roasted Pepper and Tomato Pizza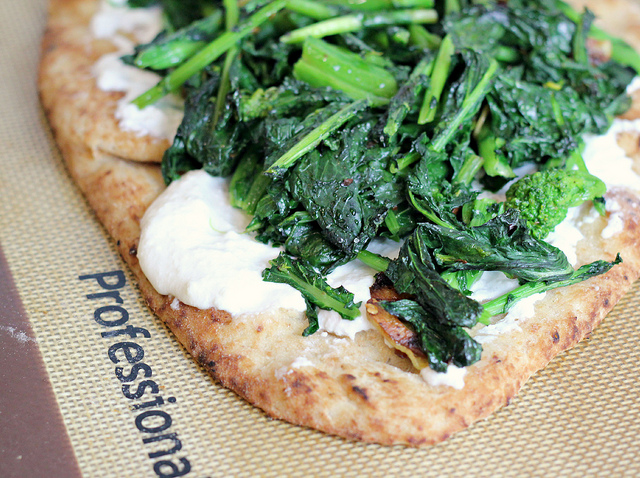 Flatbread Pizza with Broccoli Rabe and Ricotta
From Around the Web:
Sweet Potato and Caramelized Onion Pizza from Foodiecrush
Green Naan Pizza from Will Cook For Smiles
7 Layer Dip Flatbread from Hip Foodie Mom
Roasted Mushroom Pizza with Garlic and Rosemary from The Lemon Bowl
Shakshuka Pizza from My Name Is Yeh