Your morning will be off to a good start with one of these double decker chile rellenos vegetarian breakfast burgers – two veggie burgers, two layers of cheese, and a fried egg make this a sandwich to be remembered.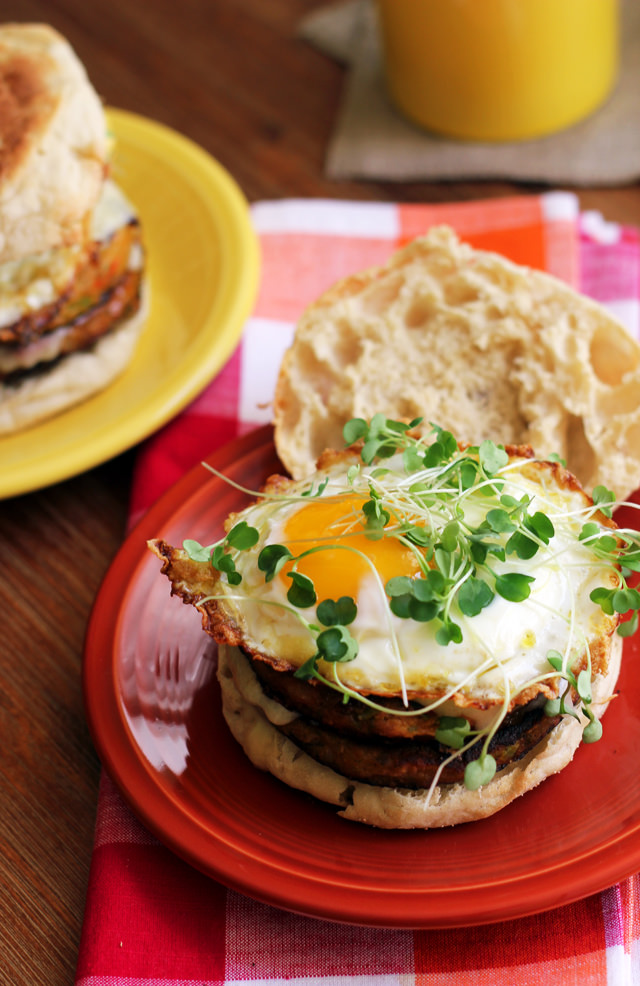 The.Boy and I had people over this weekend, which can only mean one thing.
SPRING CLEANING.
And we didn't even strangle each other more than five times!!!!
You can send me my world record in cookies, thankyouverymuch.
Or in liters of homemade Sangria, because why am I not drinking that all the time.
Life – just, so many questions.
Anyways, I guess I didn't realize how much clutter we were living in until I woke up this morning and could see our floor.
All of it. Every inch.
It was so…calming. I doubt it will stay this way for long since neither of us has a neat freak bone in our body, but a girl can dream.
Our little Saturday night get-together had a definite Mexican theme to it, so I kept the party going with Sunday morning brunch in the form of these chile relleno breakfast burgers!! Double-deckered, just because. It feels right.
These actually required minimal effort on my part, since they were made from the new Boca Essentials burgers – a line of vegetable- and grain-based patties that are packed with all nine essential amino acids, making them a great complete protein source for those of us who fall somewhere on the meat-free spectrum (or anyone who wants to get more protein into their diet!). All I had to do was remove the box from the freezer, throw the patties onto a non-stick skillet and spend 10 minutes casually monitoring them on the stovetop. Easy peasy.
The Boca Essentials line comes in three BOLD flavors – Breakfast Scramble, Roasted Vegetables and Quinoa, and (my flavor of the moment) Chile Relleno. I used the latter for these sandwiches, and what I loved about these patties was that I could actually see the veggies and beans in every bite. I really could have sworn I was eating leftover enchilada filling from the night before – that's how tasty they were.
I was in a hangry mood as I was making them, so I stacked my breakfast burgers two patties high with two layers of cheddar cheese, a sprinkling of microgreens, and the almighty crispy egg (simply an egg sauteed in HOT oil so that the whites get all crispy while the yolk stays all creamy). Each bite was a messy, yolk spilling everywhere, WOW moment. And I wouldn't change a thing about it.

Double Decker Chile Rellenos Breakfast Burgers
Your morning will be off to a good start with one of these double decker chile rellenos breakfast burgers - two veggie burgers, two layers of cheese, and a fried egg make this a sandwich to be remembered.
Ingredients
4 Boca Essentials Chile Relleno Patties
2 oz sharp cheddar cheese
2 English muffins
¼ cup olive oil
2 eggs
¼ cup arugula microgreens
Instructions
Heat a nonstick skillet on medium heat. Spray with cooking spray. Cook patties for 10-12 minutes, or until cooked through, turning occasionally. Set aside.
Heat oven to 350F. Cut open 2 English muffins and place the 4 halves cut side up on a baking sheet. Place in the oven and cook until toasted, 4-5 minutes. Top each bottom half with a Boca patty, a layer of cheese, a second Boca patty, and a second layer of cheese. Return to the oven to allow the cheese to melt, 4-5 minutes.
Meanwhile, cook the eggs. Heat a small cast-iron skillet over high heat for 1 minute. Add the olive oil and let heat for 30 seconds. Add one egg to the skillet and lower the heat to medium-high. It should sizzle and the whites should bubble. Let cook until the whites look like they are cooked through, about a minute or so. Remove to a plate and cook the second egg in the same oil.
Remove the patties from the oven and top each sandwich with an egg, a handful of microgreens, and the top half of an English muffin. Serve warm.
Notes
An Eats Well With Others Original
 More savory breakfasts: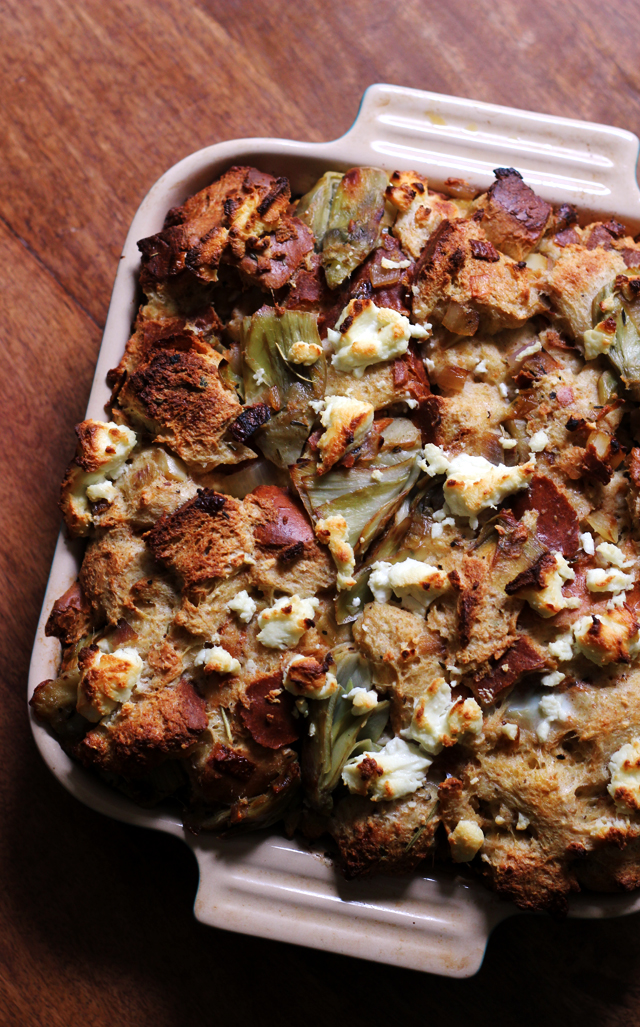 Artichoke and Goat Cheese Strata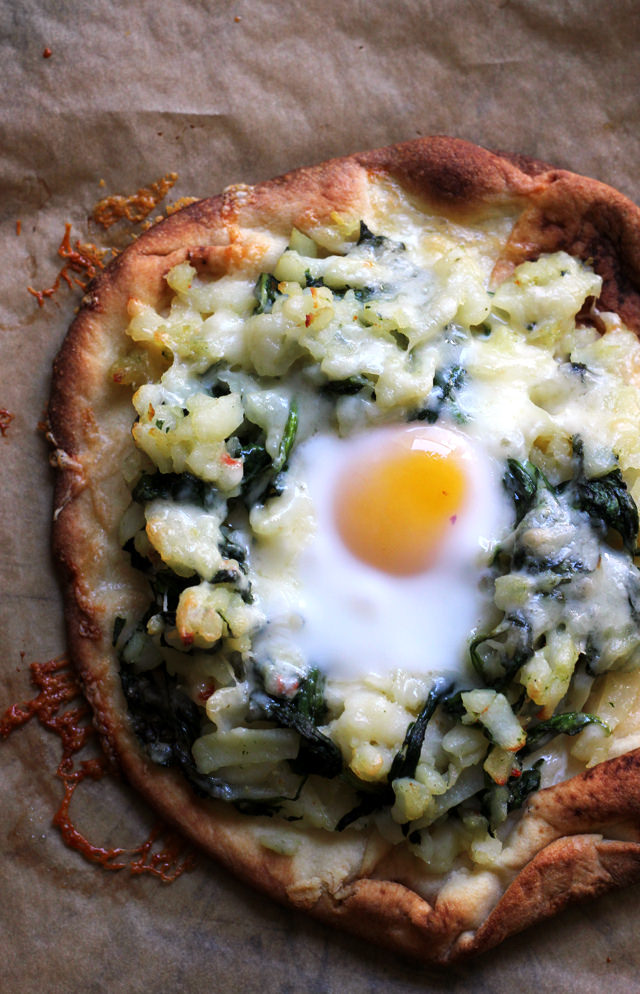 Breakfast Pizza with Hash Browns, Spinach, and Eggs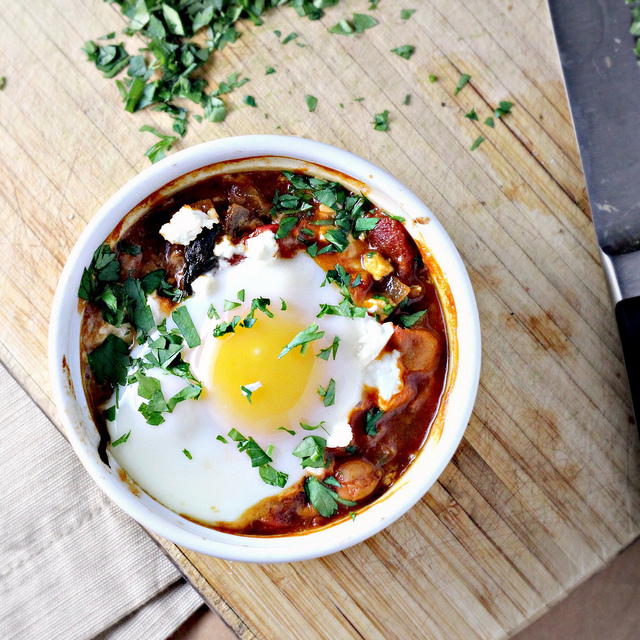 Poached Eggs in Tomato Sauce with Chickpeas, Feta, and Swiss Chard
From Around the Web:
Sweet Potato, Parsnip, and Broccoli Frittata from The Roasted Root
15-Seconds Creamy Scrambled Eggs from Lady and Pups
Baked Eggs with Smoky Caramelized Onions and Wilted Chard from An Edible Mosaic
Baked Chilaquiles with Black Beans and Kale from The Bojon Gourmet
Sweet Potato, Mushroom, and Brussels Spout Hash with Quinoa from The Vintage Mixer
I was selected for this opportunity as a member of Clever Girls and the content and opinions expressed here are all my own.