For those of us who have a savory tooth in the morning: artichoke and goat cheese strata. Cheesy comfort in every bite.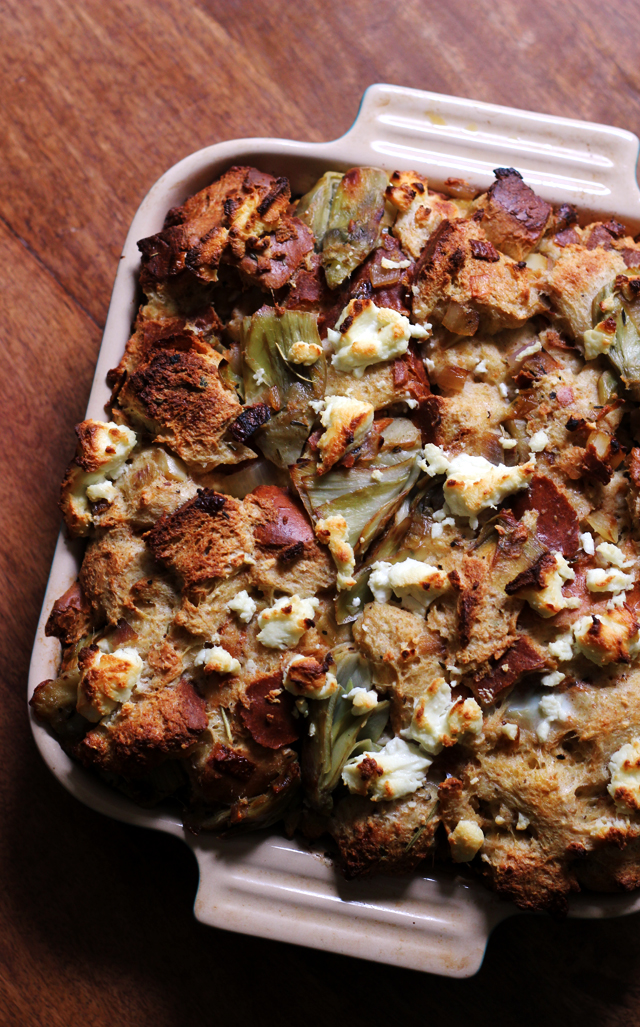 You can't even imagine the insanity.
Unless you've gotten married before. Then you can totally imagine the insanity.
SIX DAYS until wedding day. And only 40 jars of apple butter to go.
If I never attempt to can anything again after this, you'll know why.
Admittedly, I can see how canning six or eight jars would be totally reasonable. EASY, even.
Attempting to do 120 in 72 hours is just crazy talk. Really, I wouldn't wish this upon anyone.
BUT I'm 2/3 of the way there, so. Let's celebrate with carbs.
On Friday I shared a sweet celebratory breakfast option, but apparently there are some people in this world who prefer to wake up to something savory. I can't claim to understand such taste buds, but I can do my best to try to satisfy them. Compromise – it's what keeps this world turning.
Stratas are essentially bread puddings, but savory, and with a higher egg:bread ratio, making them an ideal brunch meal. Other than the fact that they are full of comfort with their perfect mix of bread and cheese, I also love that you can throw them together the night before and pop them into the oven the next morning for a stress-free breakfast. This strata in particular is a bit lighter than most but still big on flavor. It combines artichokes and goat cheese so that you feel like you're tasting a little bit of the Mediterranean with every bite.
Artichoke and Goat Cheese Strata
For those of us who have a savory tooth in the morning: artichoke and goat cheese strata. Cheesy comfort in every bite.
Ingredients
1 tbsp olive oil
1 large shallot, finely chopped
1 (10 oz) package frozen artichoke hearts, thawed
2 cloves garlic, minced
½ tsp dried herbs de provence
1¾ cup milk
½ tsp freshly ground black pepper
¼ tsp salt
4 large eggs
¼ cup grated pecorino romano
½ lb bread, cut into 1-inch cubes
4 oz goat cheese, crumbled
Instructions
Heat oven to 375F.
In a large nonstick skillet, heat the olive oil over medium heat. Stir in the shallots and a pinch of salt, and cook until translucent, 3-4 minutes. Add in the artichoke hearts and garlic. Saute until artichokes are golden, about 8 minutes. Stir in the herbs de provence and remove from the heat.
In a large bowl, whisk together the milk, black pepper, salt, eggs, and pecorino romano. Stir in the bread cubes and artichoke mixture. Let sit for 20 minutes.
Spray an 8x8-inch pan with cooking spray. Put half of the bread mixture in the pan. Top with half of the goat cheese crumbs. Add remaining bread and top with remaining goat cheese. Bake for 50 minutes or until bubbling and brown.
Nutrition Information
Serving size:
⅙th of recipe
For more savory breakfasts, check out these: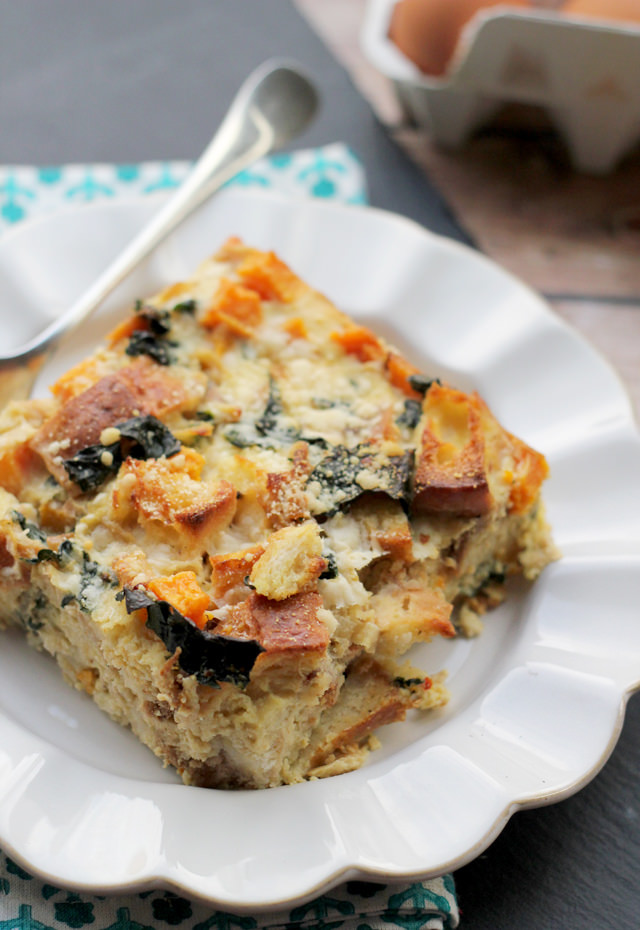 Butternut Squash and Kale Strata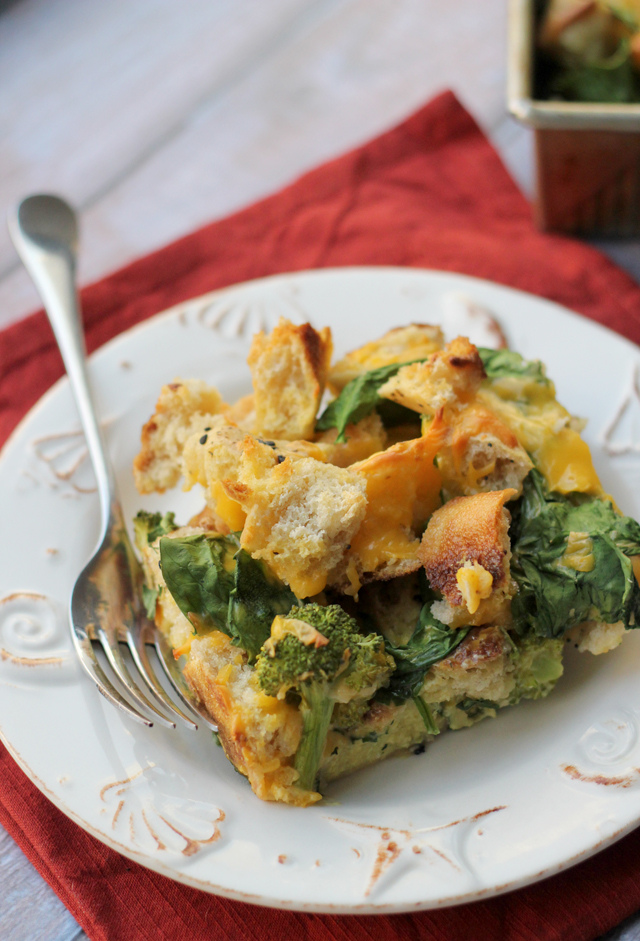 Bagel, Broccoli and Spinach Strata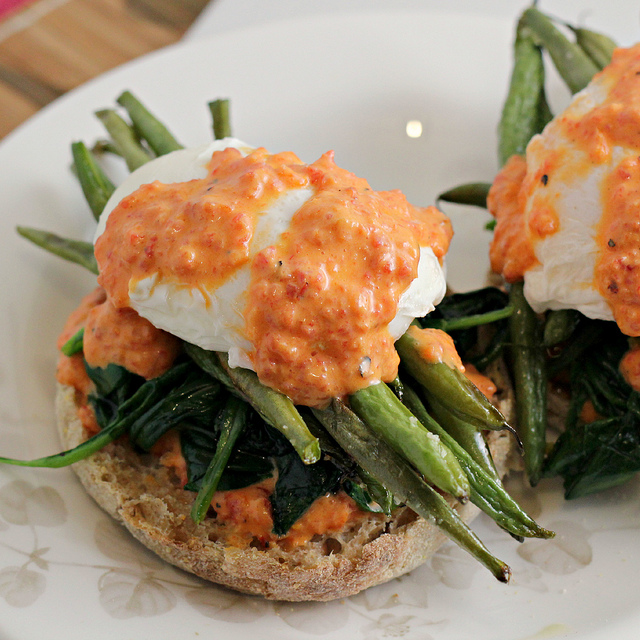 From Around the Web:
Corn, Cheddar, and Scallion Strata from Smitten Kitchen
Tex-Mex Eggs Benedict with Grilled Potato Slabs from An Edible Perspective
Baked Eggs in Stuffed Peppers from Foodiecrush
Moroccan Baked Eggs from See and Savour
Goat Cheese Scrambled Eggs with Pesto Veggies from Pinch of Yum