Super moist banana bread made extra decadent with chocolate hazelnut nutella swirls! This recipe makes two loaves – one to keep and one to share.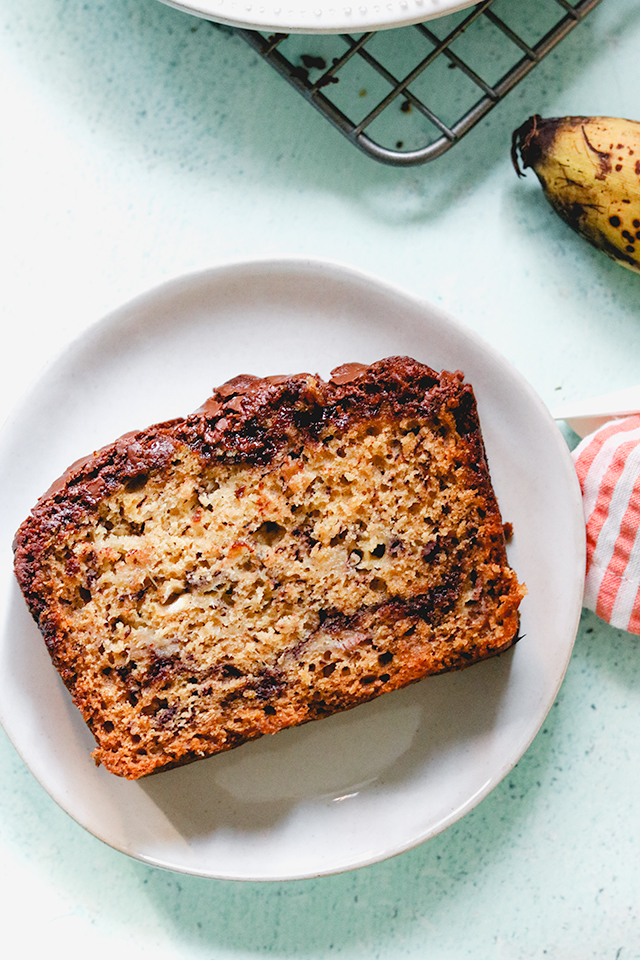 Week five of school and we have already landed ourselves in QUARANTINE.
Currently on day two (technically day 5 since Remy's last classroom exposure was Thursday) though it already feels like an eternity.
Send alcohol and extra tubs of nutella because clearly this banana bread is a true necessity right now.
I usually try to keep my sweet/dessert recipes for the end of the week, but these are desperate times and two loaves of nutella swirled banana sound completely reasonable for a family of three stuck in an apartment together for the next six days. What else could be more perfect for all of the morning snacks, afternoon pick-me-ups, I-need-something-sweet-in-my-mouth-just-because moments??
No really, I'm asking. 
This recipe is from the Zoe Bakes Cakes book and what I love about it is that for the most part it is low frills, made in one bowl (no mixer required!) and easy enough that a five year old monster can help with it. 
The ingredients are super basic:
Bananas – make sure you are using ripe, mostly brown bananas for optimal flavor and natural sweetness.
Brown sugar – I like to use dark brown sugar to maximize the sultry flavor but either light or dark will work here.
Unsalted butter – we're using melted butter to add moisture and rich flavor.
Whole milk – also helps to add moisture. You can probably use lower fat milks or milk alternatives, but I haven't tried it.
Eggs – to add structure and stability to our bake! You'll need two eggs to make this banana bread.
The baking basics – flour, baking powder, baking soda, salt, and vanilla. 
And finally, NUTELLA – the true star here. I use the name brand version but I suspect that any chocolate nut butter would be amazing. Cookie butter should also work but won't give the same color contrast.
As I alluded to earlier, making this banana bread is super straightforward.
First, you'll mix together all of your wet ingredients – this includes your bananas, brown sugar, melted butter, eggs, and vanilla. Then, in a separate bowl, the dry ingredients will be whisked together so that they are evenly distributed. Finally, they'll be folded together until just combined.
Half of the batter will be distributed between two loaf pans and then the first nutella swirl will be mixed in. This will be topped with the remaining batter and a second nutella swirl. Into the oven it goes to be baked!
The smells permeating your house as your loaves cook will be absolutely unreal and irresistible. This recipe makes two loaves and while in theory you could share one with family and friends, I have not had success in actually parting with it once it's baked. It just gets eaten too quickly, at least in my house!
Nutella Swirled Banana Bread
Super moist banana bread made extra decadent with chocolate hazelnut nutella swirls! This recipe makes two loaves - one to keep and one to share.
Ingredients
2 cups (480 g) mashed ripe bananas (about 4)
1 cup (200 g) brown sugar
½ cup (110 g) unsalted butter, melted
½ cup whole milk
2 large eggs, room temperature
2 tsp vanilla extract
3⅓ cups (400 g) all purpose flour
2 tsp baking powder
1½ tsp baking soda
1½ tsp kosher salt
½ cup (140 g) nutella
Instructions
Heat oven to 350F. Grease two 8x4-inch loaf pans, then line with parchment paper. Set aside.
Mix together the bananas, brown sugar, butter, milk, eggs, and vanilla in a large bowl.
In a separate smaller bowl, whisk together the flour, baking powder, baking soda, and salt. Add the dry ingredients to the wet ingredient mixture. Mix just until smooth.
Warm the nutella in the microwave for 20-30 seconds until soft.
Scoop a quarter of the banana batter into each of the prepared baking pans. Drizzle half of the nutella over the two pans, then use a knife to zigzag the nutella through the batter.
Add the remaining batter to the pans, then top with swirls of the remaining nutella. Swirl the nutella into the batter with the knife again.
Place in the oven and bake for 50 minutes or until a toothpick inserted in the center comes out clean. Allow to cool in the pans for 10 minutes, then remove to a wire rack to cool completely.