This is a sponsored post written by me on behalf of Truly Grass Fed. All opinions are 100% mine.
Apple cider caramelized onion and brie grilled cheese is the perfect grilled cheese sandwich for fall! Enjoy it with a bowl of soup or a light salad.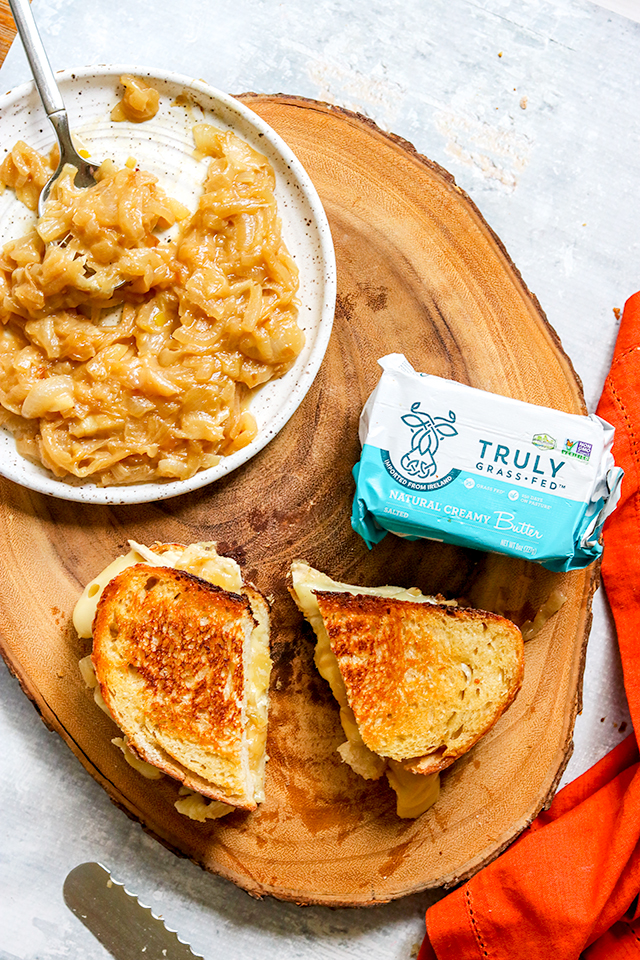 Apple cider caramelized onion and brie grilled cheese is here and it has a standing invitation to (be) dinner every night in my house for the foreseeable future.
I'm not even exaggerating when I say that my life was forever changed when I made this sandwich.
It is all my grilled cheese dreams rolled into one perfect melty savory sweet package. AND THEN SOME.
More and more I'm trying to figure out how to save time in the kitchen so that I can have dinner on the table within 30 minutes of getting home.
Sometimes that means pulling a jar of sauce out of the pantry and throwing it over pasta, but usually it means putting in some legwork on the weekend or whenever I find myself with a little pocket of time to prep smaller components that I can turn into larger meals on a whim. In addition to the usual staples like throwing a pound of dried beans into the pressure cooker or chopping up some veggies so that they're ready to go whenever I need them, I also like to make at least one or two "flavor boosters". These are things like sauces, garnishes, or condiments that can transform a meal from something ordinary to WOW.
Apple cider caramelized onions are my latest fridge staple obsession and its honestly unclear to me how I've lived this long without them.
The simple combination of Truly Grass Fed salted butter, sweet Vidalia onions, and fresh apple cider is something that is truly magical. It's sweet and salty in the best way.
To make them, all you'll do is combine the melted butter and thinly sliced onions in a large pot on the stove and cook them down until the onions are deeply brown and richly caramelized. The cider is added in at the very end of cooking to infuse the onions with one last hit of sweetness.
The caramelization step does take some time, but the stove does most of the work and once you have a batch in the fridge your options for using them are endless! Here I've chosen to incorporate them into the G.O.A.T. of grilled cheese sandwiches, but there are so many other ways to eat them – with eggs, in a frittata, on basically any sandwich or burger, in a burrito or quesadilla, on your favorite grain bowl, or mixed into a salad.
Now that we've got our caramelized onions made, the rest of our grilled cheese will come together in a quick snap, allowing us to have dinner on the table in under ten minutes.
All we need to do is top our bread slices with generous layers of brie cheese and caramelized onions, then butter the outer sides of our bread, and cook them in a hot pan until the cheese is melted and basically oozing out of all the edges.
The buttery crispy bread exterior paired with the gooey sweet and savory cheesy center is the perfect package.
As you guys know, I am really picky about my butter, which is why I have been using Truly Grass Fed butter nonstop in my kitchen.
In the spring, I highlighted their unsalted butter in my Spinach and Artichoke Quiche but today we're letting the salted butter have a chance to shine. 
It is full of flavor, along with a higher concentration of beta carotene, vitamin A, omega fatty acids, and conjugated linoleic acids that comes with using milk from grass-fed cows. The cows whose milk is used to make the butter live outside for most of the year, with a minimum of 250 days on pasture annually, only moving inside during the winter months when it would just be too cold for them to safely be outdoors. Animal health and welfare is truly paramount to Truly Grass Fed, and I am all about that!
There is nothing better than a schmear of Truly Grass Fed salted butter on a slice of freshly baked bread, other than using it to make this grilled cheese, of course.
In addition to butter, the Truly Grass Fed brand also makes Aged and Sharp Cheddar and ghee, all of which are non-GMO Project verified, rBST-free, and Animal Welfare Approved by AGW. Use the Truly Grass Fed product locator to find out where you can purchase a Truly Grass Fed product near you!
Apple Cider Caramelized Onion and Brie Grilled Cheese
Apple cider caramelized onion and brie grilled cheese is the perfect grilled cheese sandwich for fall! Enjoy it with a bowl of soup or a light salad.
Ingredients
5 tbsp Truly Grass Fed salted butter, plus more for buttering the bread
4 vidalia onions, thinly sliced
½ cup apple cider
salt, to taste
8 slices sourdough bread
8 oz brie, thinly sliced
Instructions
Melt the butter in a Dutch oven or heavy-bottomed pan over medium heat. Add the onions and cook until tender and caramelized, about 40 minutes, stirring every 5-6 minutes or so.
Once the onions are caramelized, add the apple cider to deglaze the pan. Increase the heat to medium-high and cook until the liquid has completely evaporated, about 5 minutes. Season to taste with salt.
When ready to make the grilled cheese, heat a large nonstick skillet or panini press over medium heat.
Butter one side of each piece of bread. These will be the outer sides of your sandwich. On the non-buttered side of half of the bread slices, add a layer of brie cheese topped with a layer of caramelized onions. Top with the remaining bread slices, ensuring the buttered side remains on the outside of the sandwich.
Place the sandwiches on the heated skillet and cook until toasted and the cheese is melted, about 2-3 minutes per side. Serve immediately.
Notes
An Eats Well With Others Original