This is a Sponsored post written by me on behalf of Cooper Cheese for SocialSpark. All opinions are 100% mine. The classic bagel, egg, and cheese gets a veggie update in this holiday-worthy breakfast strata!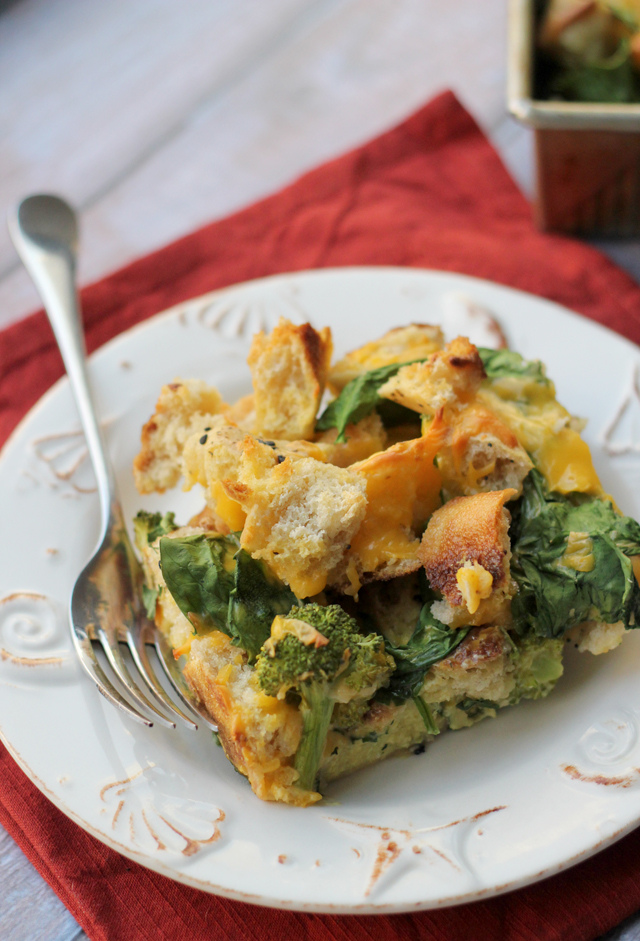 How do you breakfast sandwich?
That's a real question. As well as a real verb.
I Urban Dictionary'ed it in the future because we are going to breakfast sandwich our way into 2014 so.hard that it's going to become an official thing. I can feel it.
Except…we're breakfast sandwiching in strata form.
Say that five times fast.
Holiday breakfasts growing up were all about the incredible edible egg.
After presents were opened, my dad would turn into a short order chef – I was sunny side up, my brother was scrambled, my sister was too young to know what she wanted, my mom was probably too busy doing some last minute vacuuming, and if we were lucky he'd let us put slices of American cheese on top during the last minute of cooking so that it would get all melty and delicious.
Now, I may have a serious (borderline fanatic) love of some of the more "pinkies up" cheeses, but if anyone tries to tell you there is a better cheese to stuff into an omelet or a grilled cheese than American…they are lying.
Straight. Up. Deceit.
And if Christmas fell on a weekend? There would be bagels and we would have breakfast sandwiches. And it would be heavenly.
So when Cooper Deli sent me some of their American cheese varieties to try out (white! yellow! black pepper!), I knew I had to breakfast sandwich it. For old time's sake.
This strata translates a little bit better to entertaining than the sandwich itself does, as it can be made ahead and in one pan. The bagels can be stale, the veggies can be pre-chopped, and all of the ingredients can be tossed together the night before and then baked off the next morning so that everyone can wake up to a cheesy winter wonderland. And if that's not a Christmas miracle, it's hard to say what is.
Unbeknownst to me before this, Cooper deli cheese has been around since 1893! Its tried and true cheeses have definitely stood the test of time for good reason…they were super creamy and perfectly meltable. Just what you'd want in an American cheese. I used the yellow variety for this recipe but can't wait to try out the other two! Be sure to check out Cooper Cheese on Facebook and follow @TheCooperCheese on Twitter!
Bagel, Broccoli and Spinach Strata with Cooper Deli Cheese
The classic bagel, egg, and cheese gets a veggie update in this holiday-worthy breakfast strata!
Ingredients
5 bagels, torn into 1-inch chunks
1 head broccoli florets, coarsely chopped
8 oz baby spinach
8 oz American cheese
6 eggs
2 cups reduced fat milk
salt and black pepper, to taste
Instructions
Heat oven to 350. Place bagel chunks on a parchment-lined baking sheet in a single layer. Toast in the oven for 10 minutes. Let cool slightly while you prep remaining ingredients.
Toss the toasted bagels with the broccoli and spinach. Pour into a greased 9x13-inch pan. Sprinkle the grated cheese over the top.
In a bowl, whisk together the eggs, milk, salt, and black pepper. Pour over the bagel mixture in the pan. Stir together slightly to combine and make sure each bagel piece soaks in some of the egg mixture. (If you want to prepare this ahead of time, you can cover this and place it in the fridge overnight and then bake the next morning.)
Bake for 40-50 minutes or until set. Let sit 10 minutes before serving.
Notes
An Eats Well With Others Original
Nutrition Information
Serving size:
⅛th of recipe