This peppermint mocha tiramisu, made with homemade ladyfingers, will make your season bright and peppermint fresh!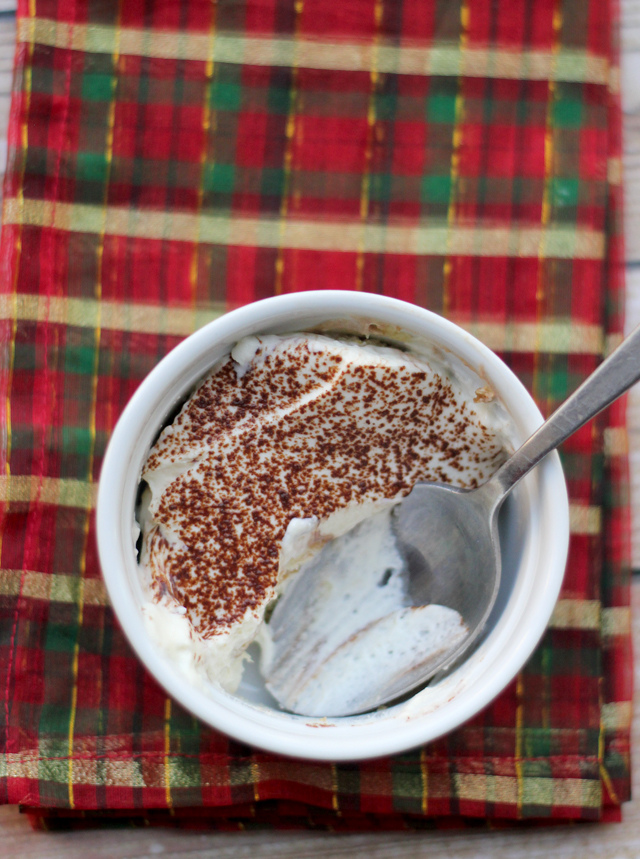 I have this recurring feeling that I'm forgetting some fundamental part of Christmas.
Like there's a gift I didn't buy, a basil plant I haven't decorated with ornaments, a cookie I haven't eaten (impossible. shamefully impossible), etc.
And then I realized there was an all too perfect holiday tiramisu I hadn't made.
Batten down the hatches, people. Because this is happening.
On a wing and a prayer and a batch of homemade ladyfingers, because it is beyond me how a cookie that contains so few ingredients can cost so much money in its pre-made form.
This peppermint mocha tiramisu was born. Praise be.
I have to admit, I shirked my mocha responsibilities a bit, as there's not much in the way of chocolate except for a cocoa powder dusting and some dark chocolate-infused tequila.
But you'll forgive that after your first creamy pepperminty bite.
And until then, don't let the prospect of making this keep you up at night. Just keep calm and make it. And that's a holiday order.
One year ago…Chili Mole
Two years ago…Spinach and Ricotta Roulade
Three years ago…Pappardelle with Smashed Peas, Sausage and Ricotta
Four years ago…Italian Sausage and Fennel over Pumpkin Polenta, Acorn Squash and Black Bean Calzones
Ladyfingers
Homemade ladyfingers are perfect for dipping in coffee, but also make for a great base layer in tiramisu!
Ingredients
½ cup (65 g) cake flour, sifted
3 large egg yolks, room temperature
5 tbsp sugar, divided
½ tsp vanilla extract
3 large egg whites, room temperature
⅛ tsp cream of tartar
confectioner's sugar, for dusting
Instructions
Heat oven to 350 and line two baking sheets with parchment paper. Have a pastry bag fitted with a ½-inch round tip ready.
In a stand mixer fitted with the paddle attachment, beat the egg yolks and 2 tbsp sugar for about 5 minutes on high speed, or until the mixture is pale yellow. Beat in the vanilla. Sift the cake flour over the batter.
In a separate bowl, whisk the egg whites until foamy. Add in the cream of tartar and continue whisking until soft peaks form. Add in the remaining 3 tbsp of sugar and whip until stiff, glossy peaks form. Fold the whites into the batter in three additions, only until just incorporated.
Transfer the batter to the prepared pastry bag and, holding it at a 45 degree angle, pipe the batter onto the baking sheet in 3-inch strips, leaving about an inch in-between cookies.
Place the powdered sugar in a fine-mesh strainer and sift over the cookies.
Bake for 8-10 minutes or until firm but barely browned.
Let ladyfingers cool on a wire rack for a few minutes, but release them from the parchment paper while they are still warm or they will stick! Store in an airtight container otherwise they will get stale very quickly!
Peppermint Mocha Tiramisu
This peppermint mocha tiramisu will make your season bright (and peppermint-y fresh!).
Ingredients
8 oz mascarpone, room temperature
½ cup confectioner's sugar
1 cup chilled heavy cream
1 tsp vanilla
1 tsp peppermint extract
1 cup strong espresso, room temperature
¼ cup Patron XO Cafe Dark Cocoa tequila or other chocolate/coffee-flavored liquor
40 ladyfingers
unsweetened cocoa powder, for dusting
Instructions
Beat together the mascarpone, confectioner's sugar, heavy cream, vanilla extract, and peppermint extract until fluffy and holds stiff peaks. Set aside.
In a shallow bowl, stir together the espresso and tequila. Dunk a ladyfinger into this mixture and then layer it into the bottom of a 9x9-inch baking dish. Repeat until the bottom of the pan is covered in a single layer.
Top with half of the mascarpone mixture.
Repeat with a second layer of ladyfingers and the remaining mascarpone mix. Dust with cocoa powder. Cover with plastic wrap and refrigerate overnight or for at least 6 hours.
Notes
An Eats Well With Others Original