This is a Sponsored post written by me on behalf of Love With Food for SocialSpark. All opinions are 100% mine. Good for you and full of great smoky flavor, this greens and beans dish topped with a fried egg is perfect for a lucky New Year's!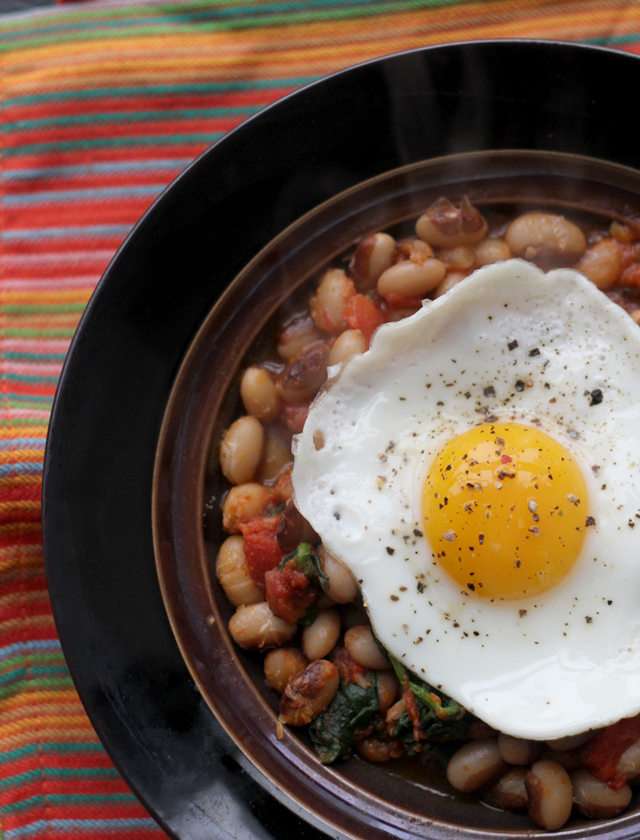 Let's get some good New Year's juju up in this joint.
Here's how it's gonna go. I'm gonna give you this rockstar beans and greens recipe that will bring you ALL THE LUCK when you eat it on January 1st. AND I'm gonna tell you about this rockstar monthly snack box subscription that will make you feel all warm and fuzzy inside, not only because it is full of totally scrumptious good-for-you no-guilt healthy snacks…but also because for every snack box that is sold, a meal is donated to a hungry child in the US.
SHAZAM! And that's how we're gonna get our good karma in this year. By stuffing our faces with things like Tuxedo Popcorn, Maple Fudge, Ginger Twist Tea, Rosemary Sea Salt Shortbread, and Sweet Potato Popchips.
And spinach and chickpeas with a fried egg on top.
This monthly snack box subscription I'm talking about is called Love With Food. Each box costs only $10 and arrives at your door full of unique, hard-to-find healthy snacks. Let me tell you, getting a box full of food in the mail is always fun. Love With Food also partners with various food banks so that for each box sent out, a meal is donated to someone who needs it. Another fun aspect of Love With Food is that by reviewing the organic and all-natural snacks you try each month, you can earn points that you can then use to buy more of the snacks you love from Love With Food's online store. It's really a win/win kind of situation, if you ask me.
Love With Food is currently running a holiday special such that with any order purchased until 1/1/14, you will receive a $15 gift from Soap.com or Little Black Bag. In addition, by using the code 'HOLIDAY2013', you can get $5 off your next purchase.
To get you even more excited about this, I am giving away a 3-month subscription to Love With Food! All you have to do to enter is leave a comment telling me what your favorite gift you got someone this year was. For additional entries, you can like Love With Food's facebook page and leave a separate comment telling me that you've done so.
Every country has its own set of lucky foods that one should eat on New Year's Day in order to have a prosperous year ahead, but by far my favorite is the south's greens and beans tradition. Traditionally, these are black-eyed peas and collard greens, but I went with some yellow-eyed peas and spinach for this hearty smoky healthy dish. You can use whatever you have sitting around your pantry! This is my submission to this month's Recipe Redux, the theme of which is Good Luck Foods!
Spinach with Yellow-Eyed Peas and Fried Eggs
Good for you and full of great smoky flavor, this greens and beans dish topped with a fried egg is perfect for a lucky New Year's!
Ingredients
3 tbsp olive oil, divided
4 garlic cloves, thinly sliced, divided
8 cups baby spinach
salt and freshly ground black pepper, to taste
1 onion, chopped
1 tsp cumin seeds
¼ tsp smoked paprika
1 lb dried beans, soaked overnight and boiled until tender or 2 (15 oz) cans chickpeas
28 oz canned diced tomatoes
3 cups vegetable broth
4 large eggs
Instructions
Heat 1 tbsp olive oil in a large heavy skillet. When the oil begins to shimmer, add 1 garlic clove worth of garlic. Stir until it starts to brown. Add the spinach to the pot and toss to coat. Season to taste with salt and pepper. Cook until wilted. Transfer to a medium bowl and set aside. Wipe out skillet.
Heat the remaining olive oil in the same skillet over medium heat. When the oil begins to shimmer, add the onion and remaining garlic. Cook until onion is softened, about 3 minutes. Add the cumin and paprika and cook, stirring constantly, 1 minute. Add the beans and tomatoes, stirring to combine. Cook for 8-10 minutes.
Add the broth and bring to a simmer. Reduce the heat to medium and simmer for 20 minutes, or until sauce is thickened. Stir in the spinach. Simmer for an additional 10 minutes.
Fry eggs, two at a time, in a bit of oil in a medium skillet. Spoon the chickpea stew into four bowls and top each with a fried egg. Serve.
Notes
Adapted from
Bon Appetit
Nutrition Information
Serving size:
¼ of recipe

Here is what the other Recipe Redux members made for this challenge: