Warmly spiced pumpkin scones that are topped with a sweet maple syrup glaze.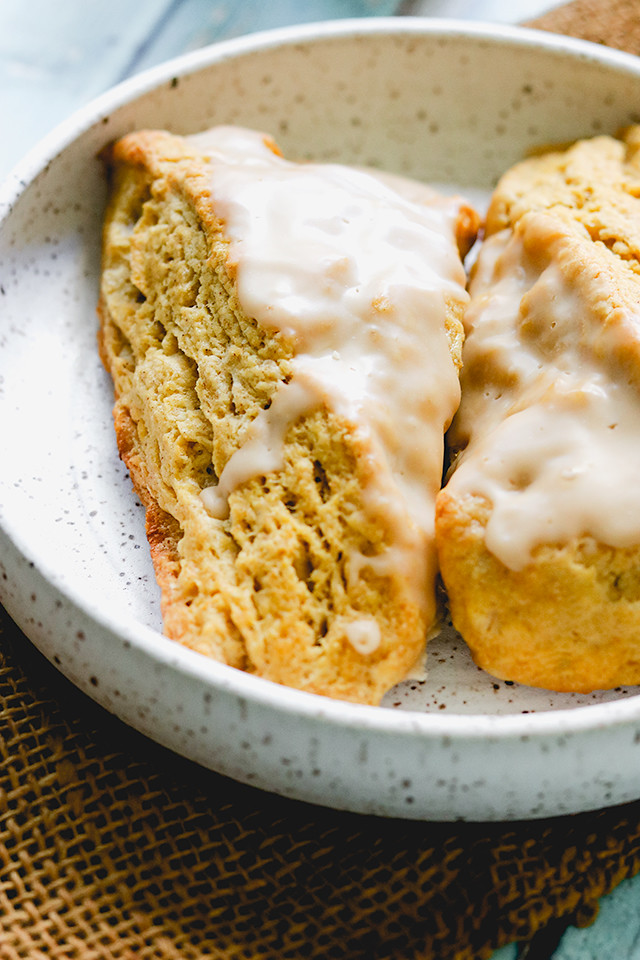 I'm going to need you to forget everything you thought you knew about scones.
Every dry, flavorless, rock hard scone brick you've ever had – throw that memory in the garbage.
Or better yet erase it, Men In Black-style.
These are not those scones.
These are soft buttery flaky pillows of pumpkin scone perfection!
After tasting them, you'll never be able to eat a scone any other way again. Guaranteed.
To make these, you have to start with fall's best ingredients:
all the spices
PUMPKIN (obvs)
and, my personal favorite, butter.
I've heard there's been a bit of a run on canned pumpkin this year. I was able to find some at a little local market near my house and also ordered some on Thrive Market. Did I hoard it like it's March and we're going into a three-month-long coronavirus lockdown? Yes. Yes I did.
Not my proudest moment, but necessary. If(/when) there's a second wave, I'll be ready.
The thing that really makes these scones is the folding method – you almost laminate the butter into the dough so that it forms the most incredible flaky layers.
Un.Real.
The pumpkin scones are pretty perfect as is, but then the maple glaze really takes them over the top.
It's just a super simple mix of maple syrup (the real stuff, not the artificial kind), powdered sugar, vanilla, and the slightest pinch of salt.
So many fall flavors in one. Ugh, I love it.
Maple-Glazed Pumpkin Scones
Warmly spiced pumpkin scones that are topped with a sweet maple syrup glaze.
Ingredients
2.25 cups (320 g) all purpose flour
⅓ cup (66 g) sugar
1 tbsp baking powder
1 tsp ground cinnamon
½ tsp ground ginger
¼ tsp ground nutmeg
½ tsp salt
½ cup unsweetened pumpkin puree
⅓ cup heavy cream, plus more for brushing
1 large egg
1 large egg yolk
½ tsp vanilla extract
12 tbsp (170 g) unsalted butter, cold and cut into ½-inch pieces
For the maple frosting
⅓ cup maple syrup
1 cup (113 g) powdered sugar
½ tsp vanilla extract
pinch of salt
Instructions
Heat oven to 400F. Stack two baking sheets on top of each other and line the top with parchment paper.
Whisk together the flour, sugar, baking powder, cinnamon, ginger, nutmeg and salt in a large bowl. Set aside.
In a smaller bowl, whisk together the pumpkin puree, heavy cream, egg, egg yolk, and vanilla. Set aside.
Cut the cold butter into the dry ingredients using a pastry cutter until the butter pieces are broken down to the size of peas. Add the wet ingredients to the dry ingredients and fold together until just combined.
Transfer to the dough to a lightly floured work surface and knead until it comes together. Roll the dough into a 12-inch square. Fold it into thirds as if you are folding a business letter. Fold it into thirds again, making a square. Transfer to a parchment-lined baking sheet and place in the freezer for 10 minutes.
Return the dough to the work surface. Roll again into a 12-inch square and fold it into thirds as if you are folding a business letter. Place it seam side down on your work surface and roll it into a 12x4-inch rectangle. With a bench scraper, cut the dough into 4 equal rectangles then cut each rectangle into 2 triangles. Transfer the triangles to the prepared baking sheet.
Brush the tops of the scones with heavy cream and then place them in the oven. Bake for 18-25 minutes, rotating halfway through, until the tops and bottoms of the scones are golden brown.
Allow the scones to cool slightly, then glaze with the maple frosting.
For the maple frosting
Whisk together the maple syrup, powdered sugar, vanilla, and salt until smooth.