The nutty smell of brown butter will fill your kitchen and have you wanting to make this roasted sweet potato, brown butter, and fried sage pizza again and again.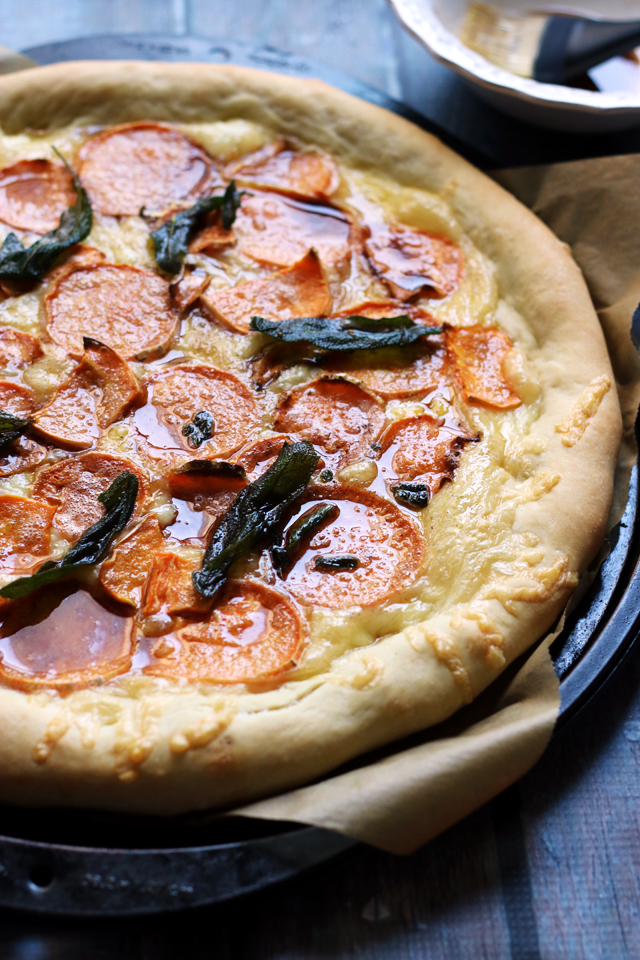 It's the first week of October and I feel strangely compelled to tell you that I have kept NONE of my new year's resolutions this year. I mean, this feels like as appropriate a time as any to check in, especially since in the blink of an eye I'll be making new ones that I'm sure will go as swimmingly well as these did.
Hah.
No more of my pre-maternity pants fit than they did at this point last year,
I have done no regular exercise despite my best laid plans since pre-Remy,
I go to bed too late every night,
and I have not read a single book for pleasure.
BUT!!!!
Can we talk about my mid-year resolution to make more pizza?
Because I am killing at that.
It started back in June when I realized that pizza is the only thing my child will reliably eat without putting up a fight. And while I can't control that per se, I can control what goes into/onto the pizza.
Like vegetables. And fruit. And not-super-weird-processed good quality cheese.
MOM WIN.
So basically, I've been making a pizza a week since then with different toppings each time, all with vegetables and other good stuff on top depending on what was in season or sounded good to me.
So OF COURSE the pizza I'm showing you today is covered with carbs on carbs and butter. I promise this is not representative of what I've been feeding my child on a regular basis.
But this week it is fall, and it feels right.
Sweet Potato, Brown Butter, and Fried Sage Pizza
The nutty smell of brown butter will fill your kitchen and have you wanting to make this roasted sweet potato, brown butter, and sage pizza again and again.
Ingredients
For the pizza dough
1 tbsp active dry yeast
pinch of sugar
1 cup lukewarm water, divided
3 cups bread flour
2 tsp sea salt
2 tbsp olive oil
For the pizza topping
1 lb sweet potatoes, peeled and thinly sliced crosswise
1 tbsp olive oil
salt and black pepper, to taste
4 tbsp butter
6 sage leaves
8 oz mozzarella, grated
Instructions
For the pizza dough
In a small bowl, combine the yeast with a pinch of sugar and ¼ cup lukewarm water, stirring to combine. Let sit for 5 minutes. If it becomes foamy, then the yeast is alive and raring to go! If not, then the yeast is probably dead or too old and your dough won't rise, so go buy more.
In the bowl of a stand mixer fitted with the bread hook attachment, combine the flour, yeast/water mixture, remaining ¾ cup water, olive oil, and salt. Stir on medium speed until dough comes together. Stir on medium-high speed for five minutes. Cover the bowl with plastic wrap and let rise in a warm place until doubled in size, about 2 hours.
For the pizza
Heat oven to 475F.
In a large bowl, toss the sweet potatoes with the olive oil. Spread on a parchment-lined baking sheet in a single layer. Season with salt and black pepper. Roast for 9-10 minutes or until lightly browned and crispy. Remove from the oven and let cool.
To make the brown butter, melt the butter in a small heavy-bottomed saucepan over medium-high heat. It will become foamy and then start to brown. Once it is a light amber and fragrant, stir the sage leaves into the butter. Let sizzle for about 30 seconds, or until crispy, then remove the whole pan from the heat and let cool slightly.
Once pizza dough is ready, grease your hands with olive oil and spread the dough out over a parchment-lined pizza pan. Top with the grated mozzarella in an even layer, leaving a ½-inch border for the crust. Top the mozzarella with the roasted sweet potato coins. Place in the oven and bake for 15-20 minutes, or until crust is crispy and lightly browned on the bottom. Let rest for 5 minutes to allow the cheese to set.
Top the pizza with the fried sage and drizzle with the brown butter just before serving.
Notes
An Eats Well With Others Original
Pizza, pizza!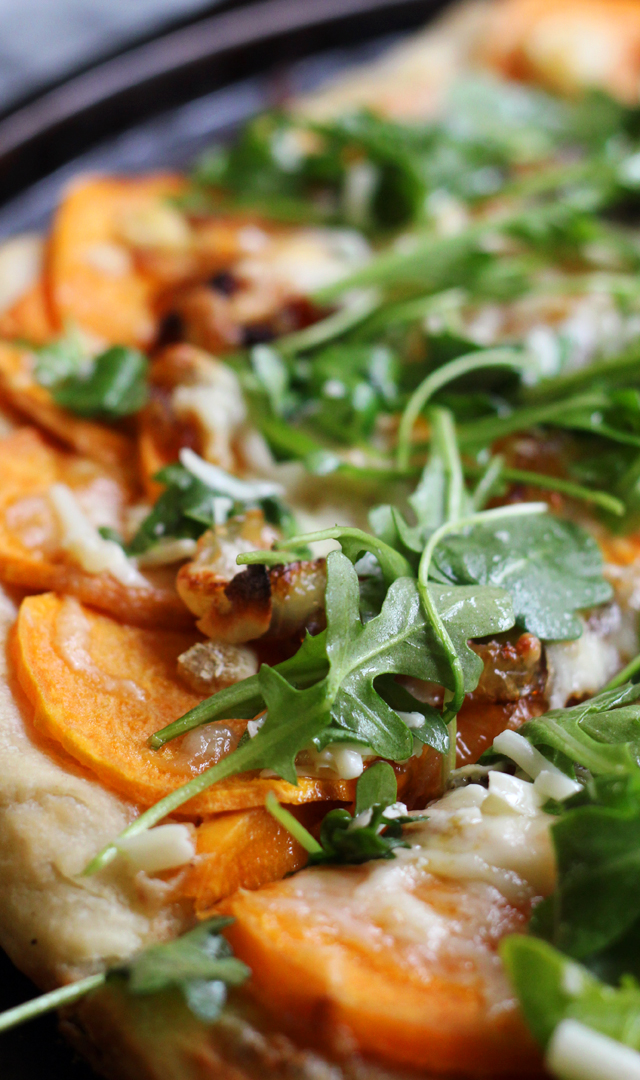 Roasted Sweet Potato and Caramelized Onion Pizza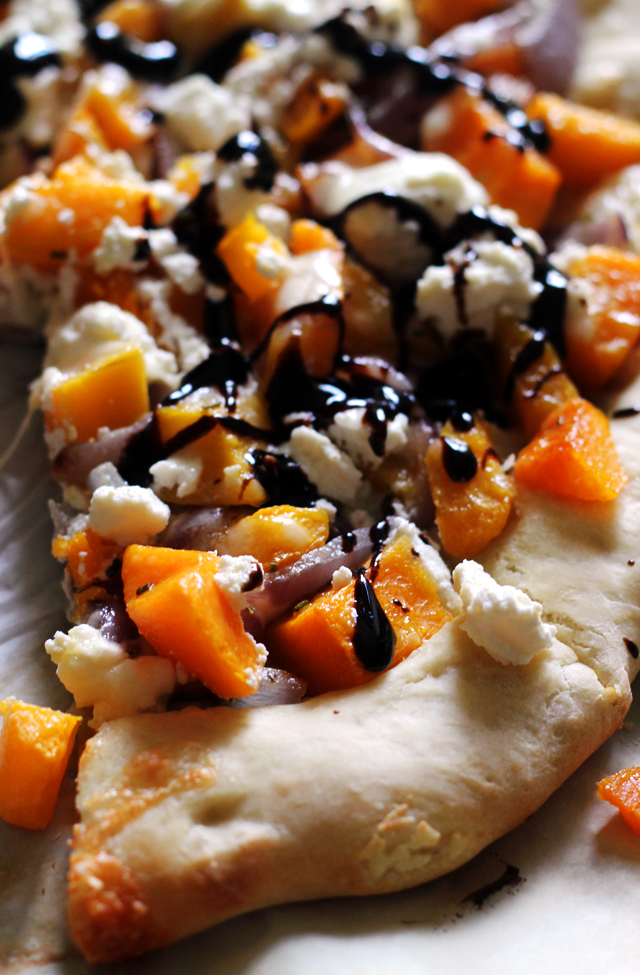 Butternut Squash Pizza with Ricotta and Balsamic Syrup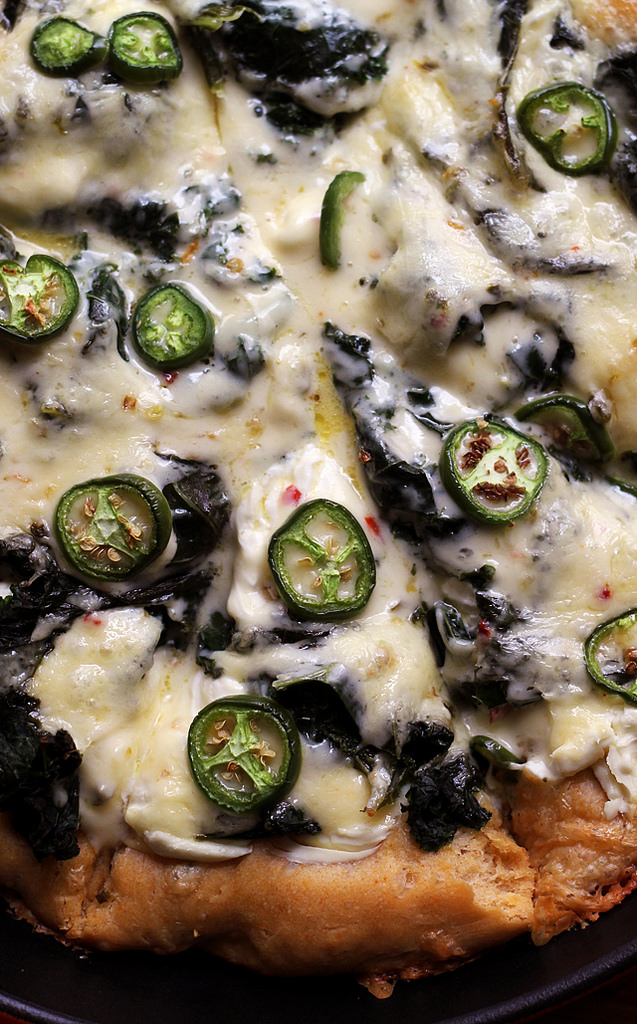 Jalapeno Popper Deep Dish Pizza